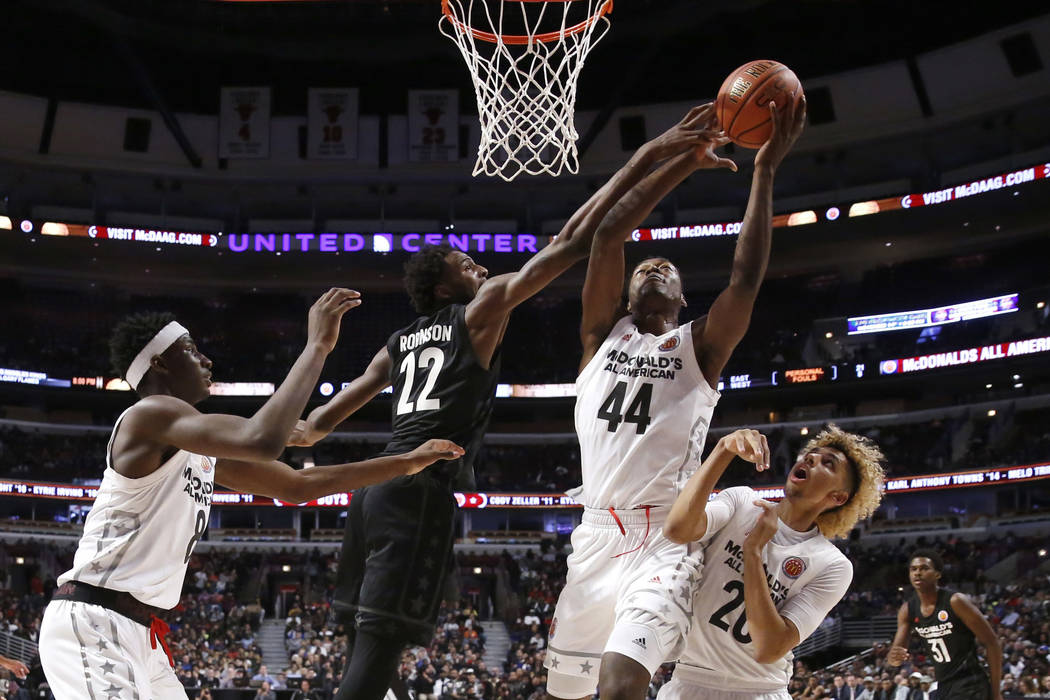 Now there is hope.
That's what the two-day period in the final week of April when three highly recruited players committed and signed with UNLV provided second-year coach Marvin Menzies and his storied basketball program.
"That's the great part of what recruiting classes can bring," said Gary Parrish of CBS Sports. "When you get a good one, it provides hope, and that hope creates energy, and that energy creates enthusiasm. Energy and enthusiasm buys you time. In the win-or-else high stakes game of college basketball coaching, time is an incredible thing to have on your side."
When five-star recruit Brandon McCoy tweeted April 25 he had chosen UNLV and two other top prospects signed the following day, the mood and expectations of Rebels fans soared.
"(McCoy's) the sort of player that wherever he went, whether it was Oregon, UNLV, Michigan State, he's going to be a guy who is going to start right away and come in and be a double-double threat every night," ESPN's Jeff Borzello said. "For UNLV, that's huge because he gives them somebody that they can throw the ball to, he can score in transition, he can rebound, block shots.
"Recruiting-wise, seeing someone like him go to UNLV with the new coaching staff, I think that could get a domino effect going. It's already helped."
Adding Shakur Juiston, the nation's top junior-college player, and former Oklahoma State commit and probable point guard of the future Amauri Hardy were those next dominoes.
The three additions grabbed the attention of those who rate recruiting classes for a living, with 247Sports (part of CBS Sports) ranking the Rebels' class No. 15 nationally and ESPN putting it at No. 25. Both sides slotted UNLV at the top of the Mountain West rankings.
"Shakur Juiston was the most sought-after player in junior college basketball in terms of people who could come into college basketball next season," said Jon Rothstein of CBS Sports, who also writes for FanRag Sports. "Brandon McCoy could've went anywhere in the country. In college basketball circles, there was a strong feeling he was going to go to Oregon. That speaks volumes about the magnitude of the recruit that UNLV was able to get in landing Brandon McCoy."
Short-term expectations
UNLV comes off a 11-21 record, the worst season in program history, so the Rebels have the challenge of going from the bottom of the Mountain West to at least near the top.
Parrish: "If there was ever a good time to take over a mess of a situation that Marvin took over last year, now is the time because that league is not very good right now. San Diego State's going to go through a transition. (UNR), I guess, is going to be the favorite, but whatever. They don't terrify you, I don't think. So from the bottom to the top third makes sense."
Borzello: "I think they should compete for at least some sort of postseason berth. If they win 18, 19 games, that's some sort of postseason berth, maybe even fewer than that. Twenty wins is attainable given the talent on the roster, and that's postseason. I think that's the realistic next step. If they go 17-16, I think a lot of people would look at it and be a little bit disappointed."
Rothstein: "I think obviously saying they're going to be an NCAA Tournament team or anything of that nature would probably be a little bit premature because we don't know about chemistry, we don't know about role allocation. But I think right now it's realistic to say that with the job the staff has done with recruiting that UNLV should expect to be significantly improved next season and should have a chance to be competitive in the Mountain West conference and hopefully be in the top half of that league and be in the top half of that league with relative ease."
Long-term expectations
Going to the National Invitation Tournament next season would be acceptable to much of the UNLV fan base. The long-term expectations, for fans and Menzies, are much higher than that.
Parrish: "You get the second year of the junior college kid. Your freshmen become sophomores, assuming you can keep them in school. Now you've got something where, OK, let's go win the Mountain West, let's go back to the NCAA Tournament in Year Three."
Borzello: "I think (the timetable has advanced), and I think it puts a little more pressure on (Menzies). If he didn't get McCoy and the two guys that committed after him, maybe the expectations wouldn't be as high for next year. … There's talent on the roster now. Given that in the league there is room for improvement, there's room for movement in the standings."
Rothstein: "What we've seen right now are moments that move the needle on social media. What really UNLV fans need to see are moments that move the needle between November and March."
Bottom line
There was general agreement the Mountain West needs the Rebels to be good, to get the conference back to being a multiple-bid league for the NCAA Tournament.
Parrish said it would be important on a national level as well. He lives in Memphis, Tennessee, noting his producer is a UNLV graduate who is elated by the recruiting class.
A year ago, Tubby Smith left Texas Tech for Memphis, leading to Chris Beard departing UNLV for the Red Raiders and opening the way for Menzies to move over from New Mexico State.
"I've actually mentioned UNLV on my radio show a lot lately because in Memphis the exact opposite has happened," Parrish said. "Tubby Smith got hired at the same time as Marvin. They've been able to get nothing accomplished on the recruiting trail, they've lost their best players to transfer, and Memphis fans are miserable.
"Tubby says he doesn't care about recruiting rankings and I believe him, but I also think that's insane because what recruiting rankings can do, if nothing else, is create enthusiasm within a fan base. And you've noticed that to be true in Las Vegas."
Contact Mark Anderson at manderson@reviewjournal.com or 702-387-2914. Follow @markanderson65 on Twitter.
Breaking down UNLV's roster:
Point guard
Senior Jordan Johnson, who sat out last season after transferring from Wisconsin-Milwaukee, should provide a significant upgrade. Freshman Amauri Hardy, a former Oklahoma State commitment, is the point guard of the future and expected to receive major minutes.
Shooting guard
Senior Jovan Mooring ran the point last season, averaging team bests of 12.6 points and 4.0 assists, but he is much better suited for two-guard. Junior Kris Clyburn could see time here, and freshman Jay Green also might get a look. Clyburn is athletic, but was inconsistent. Green has the vertasility to play both guard positions as well as small forward.
Small forward
Expect Clyburn to battle junior college transfers Shakur Juiston and Anthony Smith and freshman Tervell Beck for playing time. Juiston was the nation's top JC player after averaging a double-double and making 60.9 percent of his shots. Smith averaged 20.5 points and 8.8 rebounds. Beck averaged 25.2 points at an Oklahoma prep school.
Power forward
Juiston, Smith and Beck could push for playing time, and Dwayne Morgan will be a factor if he remains with the team. If he does, Morgan will provide plenty of athleticism and experience.
Center
Five-star recruit Brandon McCoy was the headliner of coach Marvin Menzies' class, and the freshman carries heavy expectations into next season. Sophomore Cheickna Dembele was the starter last season. Also look for freshman Chiekh Mbacke Diong to make a run at playing time.