Colorado State hopes to overcome loss of 2 key players
October 22, 2017 - 4:11 pm
Updated October 22, 2017 - 4:36 pm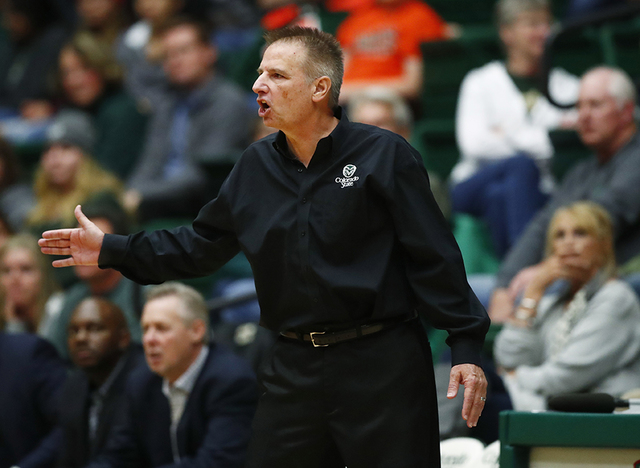 Note: This is the third in a series of 10 season previews of Mountain West basketball teams.
Colorado State coach Larry Eustachy proved last season he could win with two players.
They relied heavily on Gian Clavell — the Mountain West Player of the Year — and Emmanuel Omogbo to go 24-12, including 13-5 in the conference. The Rams finished second in the regular season and made it to the conference tournament final, and Eustachy was named Coach of the Year.
But now both players are gone, and Eustachy's task is even more difficult this season. His track record, however, should help the current Rams know the system works.
"I think you're constantly as a player and as a coach trying to gain credibility, and I think Gian's a great example," Eustachy said. "He came in and struggled with our directness and brutal honesty, fought it, finally bought in, became a leader. And (Dallas Mavericks coach) Rick Carlisle tells me he's the most prepared rookie he's ever had, so these guys see that. Absolutely, there's a belief system in what we do."
Colorado State returns four players who received substantial playing time last season, so the Rams aren't bereft of talent. That and the fact Eustachy is as good a game coach as any in the Mountain West is why the conference media selected them fifth and not lower after losing two such important players.
"We're just trying to learn how to play," Eustachy said. "We have so many new guys that just don't know how to play at the speed and physical-ness that you have to.
"I think we can surprise people. We'll be much better in February than we will be in November."
Contact Mark Anderson at manderson@reviewjournal.com. Follow @markanderson65 on Twitter.
COLORADO STATE
Predicted finish in MW: Fifth
Last season: 24-12, 13-5 MW
Coach: Larry Eustachy, sixth season (111-60)
Returning starters/lettermen: 3/5
Top returning scorer: Guard Prentiss Nixon (13.2)
Top returning rebounder: Forward/center Nico Carvacho (5.7)
Notable nonconference games: vs. Florida State in Jamaica, Nov. 19; at New Mexico State, Nov. 22; at Oregon, Dec. 8