Cougars star makes name for himself
January 6, 2010 - 10:00 pm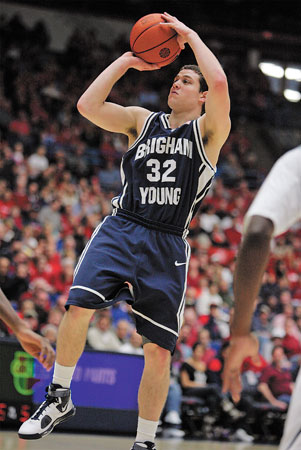 PROVO, Utah — It was apparent early in his career that Brigham Young guard Jimmer Fredette was a future star. His game, similar to his unique first name, made an impression.
Fredette, a junior, was the Mountain West Conference's marquee player going into this season. With several teams suffering mass graduation losses, Fredette was almost the league's lone star.
He has lived up to the billing, and the rest of the conference has in no way been disappointing.
"I just believe the league is as tough as it's ever been," Cougars coach Dave Rose said. "It doesn't surprise me. It's going to be hard to get wins every night you go out there.
"We're ready for league. Our opener is against a great team, probably the best team we've played all season."
That "great team" is UNLV, which is 12-2 heading into its MWC opener against 25th-ranked BYU (14-1) at 7 p.m. today at the Marriott Center.
"When you're playing in league, there's a real emphasis on protecting your home court," Rose said.
The Rebels swept the Cougars last season, winning 76-70 on Jan. 21 at Provo to stop BYU's 25-game home winning streak in the conference.
"You trust me, UNLV came up here last year and beat us and put it on us, and we haven't forgotten about that," said Cougars senior forward Jonathan Tavernari, a former Bishop Gorman High standout. "We know it's going to be a battle.
"The league is fun. If it was easy, then it wouldn't be fun."
BYU, ranked for the first time this season, seems to be in better shape as far as Fredette and junior guard Jackson Emery are concerned. Fredette has had strep throat and said he lost 8 pounds in the past week. Fredette and Emery (bruised heel) are both back to practice and expected to play today.
Fredette, the league's scoring leader at 21.6 points per game, made headlines when he scored a school-record 49 points in the Cougars' 99-69 victory at Arizona on Dec. 28. He hit nine 3-pointers and also compiled nine assists and seven rebounds.
"It was one of those nights as a player you just hope to have once or twice in a career," Rose said. "Jimmer has had a target on him, and I've been pleased with how he's been able to adjust and change his game and help our team win."
BYU played without Fredette and Emery on Saturday in a 95-49 victory over Division II Eastern New Mexico. Palo Verde High product Michael Loyd Jr. had 17 points, and Tavernari scored 15 in his first start since Dec. 2.
Rose promoted freshman guard Tyler Haws to the starting lineup and has been utilizing Tavernari in a reduced role off the bench.
"Scoring, which is what I do, isn't one of the things the team needs from me right now," Tavernari said. "If Coach wants me to score, pass or rebound, I'm waiting for the call. I'm a guy who will do whatever the team needs. Hopefully I'm doing a good job of being a team guy."
The Rebels' deep backcourt, led by veterans Oscar Bellfield, Derrick Jasper and Tre'Von Willis, matches up well against the Cougars and their high-scoring guards.
Both teams are relatively soft in the middle. BYU's big men, 6-foot-11-inch Chris Miles and 6-8 Noah Hartsock, aren't especially strong rebounders.
UNLV's defense will be put to a stern test. The Cougars average 85.1 points per game and lead the Mountain West in almost every significant offensive category.
Tavernari averaged 20 points and Fredette 16 in the two games against the Rebels last season.
BYU has won the MWC regular-season title three years in a row.
"We've always felt we're the best team. We have great leadership. We have a great team," Tavernari said. "When somebody asked me if the conference is going to be weak, I said, 'Everybody is going to be loaded.'
"We should have been ranked awhile ago. We feel our work has been recognized by people around the country. But we're not going to sit back on our heels and enjoy our Top 25 ranking. We're ready to get the league rolling."
Contact reporter Matt Youmans at myoumans@reviewjournal.com or 702-387-2907.
GAME DAY
UNLV VS. BRIGHAM YOUNG
• WHEN: 7 p.m. today
• WHERE: Marriott Center, Provo, Utah
• TV/RADIO: The Mtn. (334), KWWN-AM (1100)
• LINE: BYU -91/2