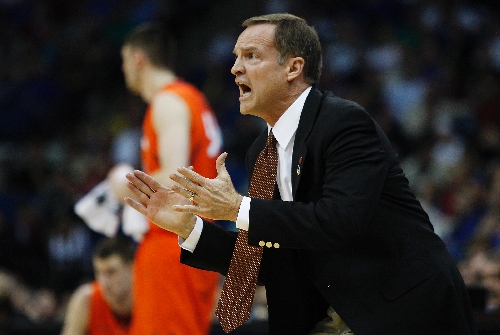 Lon Kruger is a good coach who has a solid track record at several quality programs.
So, why does this feel like such a letdown?
Kruger met with Oklahoma officials Friday to finalize a deal to become the Sooners' basketball coach. His hiring is expected to be made official soon, ending a three-week search that began when Jeff Capel was fired.
No one knows exactly where Sooners athletic director Joe Castiglione has been since then. Milwaukee? Memphis? Boulder? Wichita? We might never know exactly where this search has taken him, but we allowed our imaginations to run wild.
And now that the reality is Kruger, it seems a bit anticlimactic.
It probably shouldn't be. Kruger is a program fixer. Five times, he has taken over a program in need of renovation, and five times, he has done the job well and done the job quickly.
Within four years, teams have won wherever he's been.
That doesn't sound too bad, does it, Sooner Nation?
Take his latest rebuilding job. Kruger took over UNLV seven years ago. At the time, the once-proud Rebels hadn't won a game in the NCAA Tournament in more than a decade and had been to the tournament only twice in 15 years.
Three years later, the Rebels won 30 games, claimed the Mountain West Conference tournament title and advanced to the Sweet 16.
Those tournament wins put Kruger in elite company as one of only three coaches to lead four schools to NCAA victories.
The other two — Eddie Sutton and Jim Harrick.
No doubt Kruger can coach, recruit and win.
But admit it, Sooners fans, when you heard about his hiring, you weren't fired up about it. This isn't a jump-up-and-down hire. This isn't let-out-a-shriek news. This isn't rearrange-your-schedule-to-attend-the-pep-rally-announcement motivation.
Maybe as you've heard more about Kruger, the hire is growing on you. Still, the vibe isn't what it could've been.
There's no buzz because there's no Buzz.
Everyone became so enamored with Buzz Williams during this search process. Media lauded him. Fans wanted him. Castiglione probably even called him. But like several other coaches, the Marquette coach used the OU vacancy to get a hefty raise.
Not getting Williams is a letdown.
Well, that's not exactly true. The bummer is not getting someone like Williams. Someone energetic. Someone enthusiastic. Someone engaging.
It's not to say that Kruger is a stick in the mud. He's from small-town Kansas, for goodness sakes. It's bred into him to be a good guy, a friendly lot.
But the 58-year-old isn't running around with his hair on fire, doing YouTube karaoke, spouting witty one-liners. He just isn't the youthful, vibrant hire that pretty much everyone in crimson and cream anticipated.
There might be a day — and it might come very soon — when every Sooners fan is fired up about Kruger. That's because he has a chance to win big. He could put the Sooners back on track with his expertise. He could build a powerhouse with Oklahoma's resources.
But today, that type of excitement about Sooners men's basketball seems a ways off.
Is this a bad hire? No way.
Is it an exciting hire?
Meh.