November 13, 2015 - 8:05 am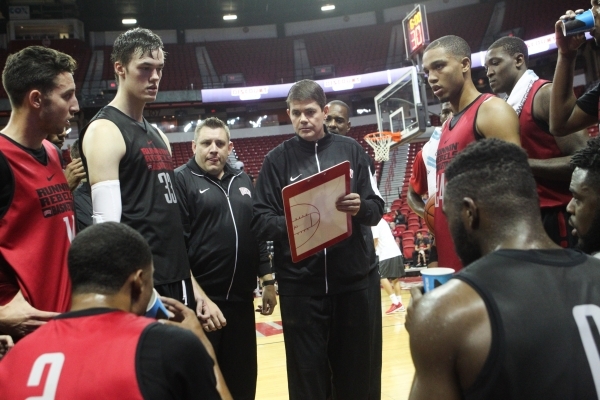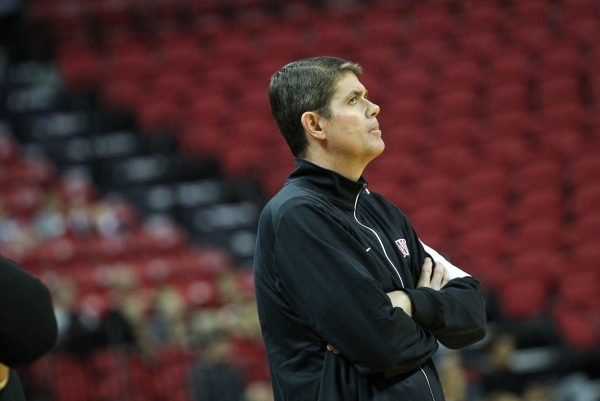 Questions about job security shadowed Dave Rice in the spring. The UNLV basketball coach was granted another year, at least, to find the right answers. Four months from now, he hopes to avoid a "Groundhog Day" scenario and the same questions.
In Rice's first four seasons, the Rebels' win totals declined from 26 to 25 to 20 to 18. The past two seasons ended abruptly with no NCAA Tournament invitations, and the low point of last season was a seventh-place finish in the Mountain West.
After a suspenseful weekend in March, UNLV athletic director Tina Kunzer-Murphy retained Rice for what is being interpreted as his make-or-break year. And that time is now.
When the Rebels open the season against Cal Poly at 7 p.m. today at the Thomas & Mack Center, Rice will step back under a hot spotlight, and he's not shying away from it.
"There's always pressure at UNLV," Rice said. "There was pressure my first year when I never coached a game, and there's pressure this year. That's why I wanted the job. That's part of the excitement of being the coach at UNLV. People care and our players care and our coaches care.
"The goal every year is to get to the NCAA Tournament and try to win a regular-season Mountain West championship. It's always the same."
This time around, the Rebels are playing a higher-stakes game, with the coach's future seemingly on the line. In mid-March, Rice said, "We need to have a breakout year, and we will."
So, how is a "breakout year" defined, and did Kunzer-Murphy draw that line? A conference title probably would be enough. A trip to the NCAA Tournament probably would be enough. But when pressed for an answer, Kunzer-Murphy was elusive and supportive of the coach she got behind in 2014, when she handed Rice a two-year contract extension through the 2018-19 season.
"I have a lot of conversations that are between the head coach and myself, and that's not something I talk about," Kunzer-Murphy said. "Dave and I talk about things, and he understands and knows what our expectations are, and we're on the same page. Our expectations are very, very high.
"I can tell you that I'm very excited about our team this year. It's a different feel in the air. I like what I see."
Rice's offseason could not have gone much better. In mid-April, he signed 7-foot Stephen Zimmerman Jr., a McDonald's All-American from Bishop Gorman High School, and 6-7 Derrick Jones Jr., who was considered the best high school dunker in the nation. Zimmerman and Jones are NBA prospects.
Rice and his staff hauled in big-time recruiting classes in back-to-back years to put together what might be the Mountain West's most talented roster. San Diego State will test that theory in conference play.
Zimmerman was raised in Las Vegas and is well aware of the lofty expectations for the Rebels. The results from Rice's fourth season — an 18-15 record represented the most losses for UNLV since the 1995-96 season — fell woefully short.
"I think everybody is under a little pressure to win," Zimmerman said. "I'm sure we all know, and we're all on the same page, that getting to the tournament is the main goal. He was the first coach to offer me a scholarship, so I've had those years to be able to become a friend to Coach Rice."
Rice has a record of 89-47 and two NCAA Tournament trips on his resume. He also has produced two NBA first-round draft picks (Anthony Bennett and Rashad Vaughn) while recruiting at UNLV's highest level since the Jerry Tarkanian era. Still, winning significant games is the primary goal, and developing draft picks should be secondary.
"I want every kid in my program to have aspirations of playing in the NBA and playing professional basketball, but it can never be at the expense of making team plays and winning college basketball games," said Rice, who played on the Rebels' 1990 NCAA championship team. "I think that people in general are egocentric, and I think that's true with all of us. It's the way life works. We've been much more selective in terms of bringing in players who are talented but also are team oriented. We have good kids in our program who understand what the goal is, and the goal is winning the next game and the next game.
"I think the hardest thing to manage is starting positions and playing time. It's going to be one of things I will have to manage the entire season. We can only play five players at a time, and I can only start five players in a game."
Jones gives the impression he's one of those team-first players. He has bigger hoop dreams. But he's also coming off the bench today and not complaining about it.
"We have a lot of great players. I have a lot of confidence in my teammates, and we play well together. I think we're going to be good," Jones said. "If (the NBA) happens, it happens. But I'm not rushing it. If it's one years, two years, three years, it's going to happen soon. I'm just waiting my turn."
Is Rice too nice? That question is asked a lot. It's often said that he's a better recruiter than a coach. He has the talent to work with this season, a team deep enough to fulfill his plan of playing at a faster pace with full-court pressure defense as the trigger. He has talked about developing a tougher team, an attitude that he admitted starts from the top.
If he has the answers, it should become obvious by March. If not, he'll face more of the same questions.
"None of us enjoyed it as we were getting knocked down in conference play last year, but I liked our resiliency," Rice said. "The competitor in you can't wait for the season to start again. This is the first step of many moving forward. It's a tough opener. If we win, it motivates us to win again. If we lose, it motivates us not to lose again.
"There are going to be challenges along the way, there will be adversity. The schedule is tough. We didn't go into this season saying we're going to play a cupcake schedule. I like our depth, I like the fact we have a lot of versatility on this team, and I like our experience. I have a lot of confidence in this group."
Contact reporter Matt Youmans at myoumans@reviewjournal.com or 702-387-2907. Follow him on Twitter: @mattyoumans247