Documents show payments to ex-UNLV player Brandon McCoy's guardian
Updated April 6, 2019 - 7:19 pm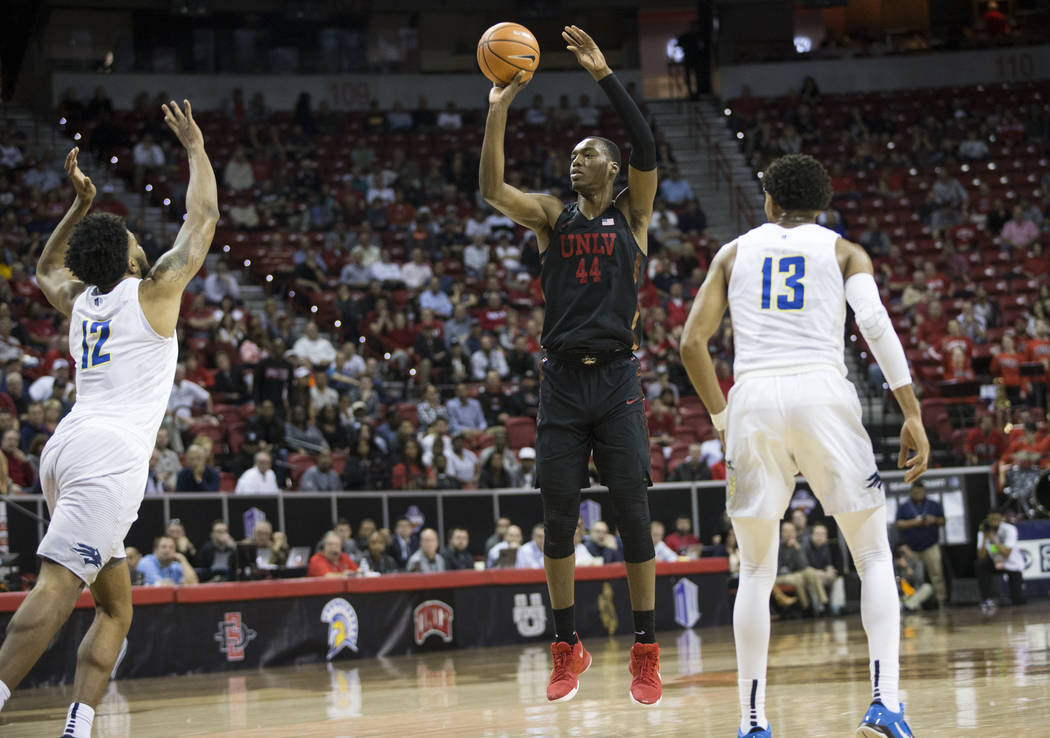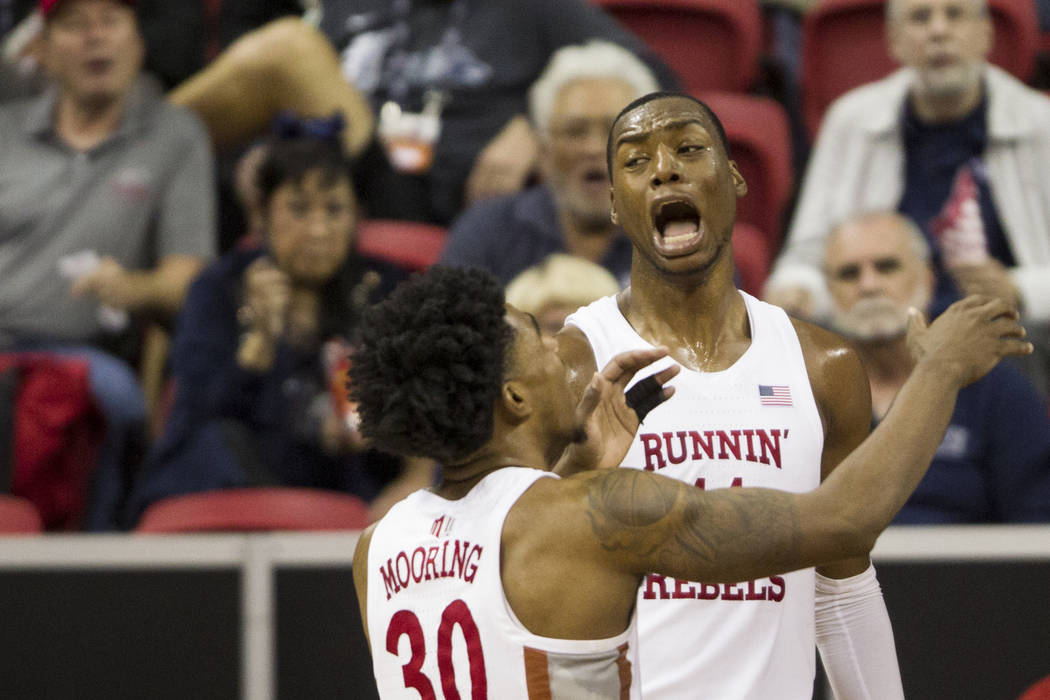 Nike paid $15,000 over three separate transactions from July 1, 2016, to Aug. 10, 2016, to former UNLV basketball player Brandon McCoy's guardian, Shaun Manning, according to documents that noted defense attorney Michael Avenatti tweeted Saturday morning.
2/2 – Nike should be criminally indicted on well over 200 counts and should also explain why they misled their investors/the SEC. If I'm lying or the docs are not legit, I challenge @nike to issue a stmt claiming no bribes were ever paid. Just Do It Nike!https://t.co/4gi8MQRcQB

— Michael Avenatti (@MichaelAvenatti) April 6, 2019
McCoy, a five-star recruit, signed in April 2017 with UNLV, which has a shoe and apparel contract with Nike that expires May 31.
UNLV is not mentioned in the documents, and Avenatti told the Review-Journal last week "it's unclear" if anyone at the university was aware of any payments to Manning. The athletic department has been conducting an internal investigation since Avenatti indicated March 26 that McCoy came to UNLV through nefarious means.
UNLV's athletic department issued a statement Saturday that read: "Our compliance office is continuing its due diligence."
Avenatti told the RJ on Saturday that more documents are to come regarding McCoy and Manning, "among others," but wouldn't provide a timeline on when those would be released.
Among the documents Avenatti posted on Twitter included what he called "a falsified invoice for $60,000" that was submitted to Nike Elite Youth Basketball on June 20, 2016. That invoice was to provide payments of $15,000 to Manning and $45,000 to those close to Deandre Ayton, who played collegiately at Arizona and now is with the NBA's Phoenix Suns.
The invoice listed $30,000 for "16U & 15U Travel Expenses" and $30,000 for "Cal Supreme Back To School Event."
Avenatti tweeted an attachment of a PDF file that included bank records and text messages that he said backed up his claims regarding those involved with McCoy, Ayton and Bol Bol, a Findlay Prep product who was a freshman at Oregon this season.
According to the documents, Manning received a check for $10,000 on July 1, 2016, approximately $2,500 in cash on July 18, 2016, and another $2,500 in cash on Aug. 10, 2016. Attempts to reach McCoy and Manning were unsuccessful.
Avenatti told the RJ last week that Nike executives Carlton DeBose and Jamal James instructed California Supreme coach Gary Franklin to submit dummy invoices. McCoy, Ayton and Bol played for the Los Angeles-based AAU team. Then, Avenatti said, the money is distributed to the players and their "handlers."
The purpose, he said, was to try to influence players to sign with Nike-affiliated schools.
Avenatti also tweeted Saturday that the fact DeBose hasn't been suspended or fired by Nike "will tell you everything you need to know about how high this goes. And trust me, it goes well North of him. Nike is terrified to fire him because they know he will flip on those above."
If Carlton Debose of Nike has not been suspended or terminated yet, that will tell you everything you need to know about how high this goes. And trust me, it goes well North of him. Nike is terrified to fire him because they know he will flip on those above. Buckle up @Nike.

— Michael Avenatti (@MichaelAvenatti) April 6, 2019
A spokesperson for Nike emailed a statement to the RJ on Saturday that read:
"Nike will not respond to the allegations of an individual facing federal charges of fraud and extortion and aid in his disgraceful attempts to distract from the athletes on the court at the height of the (NCAA) tournament. Nike will continue its cooperation with the government's investigation into grassroots basketball and the related extortion case."
Avenatti has been charged with extortion as well as bank and wire fraud in separate federal cases in California and New York.
The attorney posted detailed text exchanges Saturday.
In one such exchange in June 2016 — the exact date was not listed — that Avenatti said was between Franklin and DeBose, there was a discussion on how to submit an invoice to pay Manning.
Franklin: "Any word on a date I can expect to receive payment?"
DeBose "I'm not listening to a 2min 30 sec message, you already know that. Have you sent me an invoice? Your normal next check will be there every June around the 15th."
Franklin: "Lol.. Also payment for Shaun date and do I send a separate invoice?"
DeBose: "It can be sent in all one invoice. I can hit you today to discuss the amounts and then you can submit the invoice."
Franklin: "Ok cool the sooner the better bcuz Manning is on me as to when …"
Another text exchange between Manning and Franklin on June 30, 2016, Avenatti said, discussed how to handle the remaining $5,000 of the $15,000 total payment. After Franklin asked what form of payment he preferred, Manning responded, "I thought he said cash but u can put it in my name."
Manning appeared to be referring to DeBose, but that was not clear.
Bol committed to Oregon, also a Nike-affiliated school, in November 2017.
Avenatti's documents claim that Nike paid California Supreme $36,000 on April 10, 2017, and that Franklin wired almost $30,000 the following day to American All-Star Basketball. Melvin McDonald is the director of the nonprofit and reportedly an associate of Bol's.
Documents, according to Avenatti, also show a false invoice submitted to Nike on June 12, 2017, for $15,000 for a "Middle School Challenge." California Supreme wired $12,500 to American All-Star Basketball on June 28, 2017.
Oregon coach Dana Altman told The Oregonian last week that Bol and McDonald know each other.
"What the relationship is, I'm not quite sure, but they definitely know each other," Altman said.
Contact Mark Anderson at manderson@reviewjournal.com. Follow @markanderson65 on Twitter.
Nike Corruption by Las Vegas Review-Journal on Scribd