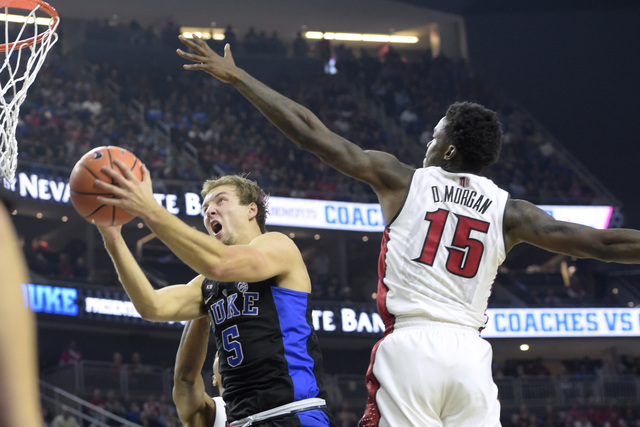 Dwayne Morgan plans to graduate from UNLV in December, but his Rebels basketball days are over.
He had been suspended from participating in team activities after his arrest in May for a misdemeanor charge of disorderly conduct.
Because UNLV had been one over the scholarship limit of 13, Tuesday's announcement by the university was not much of a surprise. Now with Morgan gone, the Rebels are at the maximum number.
Dwayne's life is what is most important, not basketball," coach Marvin Menzies said in a statement. "He was not operating in the correct manner before his incident, and the months since have provided him with an opportunity for change. He has been great in his response to the demands that were put on him. He completed all assigned coursework over the summer and has done a phenomenal job with a rigorous schedule. His plan is to graduate with his fellow students in December."
Morgan, a 6-foot 8-inch forward, averaged 9.4 points and 7.3 rebounds in eight games last season before hip and shoulder injuries sidelined him.
"I am grateful to Coach Menzies for treating me like his own son through this process," Morgan said in a release. "I don't know how many coaches are out there that would have helped me through my mistake like he has. I came to UNLV to get a college degree and plan to accomplish that. I promised my mom I would earn my degree, and I am looking forward to walking across the stage with a proud family in attendance. I will always consider myself a Runnin' Rebel and will be rooting for the guys this season.
"I have been taught to turn a negative into a positive, and as I look back, the situation that occurred was a real eye-opener. I feel very blessed to have a coaching staff that cares so much about me as a person."
More Rebels: Follow all of our UNLV coverage online at reviewjournal.com/Rebels and @RJRebels on Twitter.
Contact Mark Anderson at manderson@reviewjournal.com. Follow @markanderson65 on Twitter.