February 11, 2009 - 10:00 pm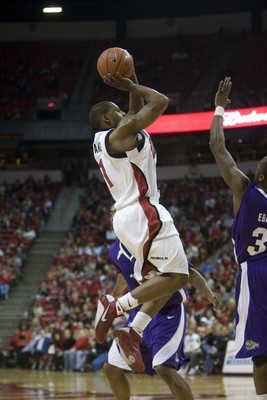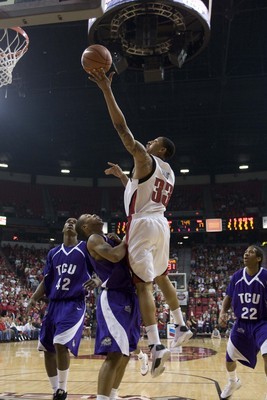 A nightmare of a week was continuing, and Wink Adams could not believe what he was seeing. He also was afraid of what he was about to hear.
"The crowd was going to start booing us," UNLV's senior guard said. "I definitely had to go out and start doing something."
The Rebels broke their huddle after a first-half timeout, and Adams triggered a rally that stopped the team's two-game losing streak.
He scored seven straight points, and UNLV was on its way to a 71-57 victory over Texas Christian on Tuesday night.
Adams finished with 21 points, and the Rebels' performance eventually pleased the crowd of 12,178 at the Thomas & Mack Center.
Senior forward Joe Darger made four 3-pointers and scored all of his 14 points in the first half. Tre'Von Willis finished with 11 points, and Rene Rougeau added 10.
"We opened it just horribly," UNLV coach Lon Kruger said.
The Rebels (18-6, 6-4 Mountain West Conference) committed eight turnovers and fell behind 17-7 in the first eight minutes. Their lackluster play drew a few boos before a timeout, and Adams said the players were embarrassed while they huddled.
"Everybody started playing with enthusiasm," Adams said, "and we created a lot of turnovers."
Adams hit three jumpers, including a 3-pointer, as UNLV scored 11 consecutive points.
The Rebels' run swelled to 23-2 and their lead reached 30-19 on Darger's 3-pointer with 3:40 remaining in the half.
"We put it together and took care of business. Wink started attacking, and it opened the game up for me on the outside," said Darger, adding that UNLV's pressure defense and trapping "rattled" the Horned Frogs into an array of errors.
TCU (13-11, 4-6) was forced into a season-high 26 turnovers, 17 in the first half, while losing its fifth straight game.
"We maintained pretty good pressure defensively," Kruger said.
Darger said the Rebels were feeling the pressure emotionally after overtime losses to San Diego State and New Mexico last week.
"It was heartbreaking to lose two games like that. We were definitely disappointed," Darger said. "It felt great to get a win. It's a nice win to get our heads up."
Kruger started Darger with a four-guard lineup that included Adams, Rougeau, freshman Oscar Bellfield and sophomore Kendall Wallace. The plan was to press and be more active on defense, Kruger said, and it worked.
The Horned Frogs, who shot 56.6 percent and had only eight turnovers in an 80-73 victory over UNLV on Jan. 10, struggled to get into their offensive sets and shot 19-for-52 (36.5 percent).
"We've got to pressure the basketball and take them out of their offense," said Darger, who had four of UNLV's 13 steals. "In some games we got away from that."
Adams said the Rebels recaptured their aggressive attitude.
"This is the first time we've played defense that way for a 40-minute game," he said. "That's how we've been playing for the last couple years, and we've been successful. But we kind of shied away from that this season."
UNLV shot 24-for-48 from the field and 14-for-18 on free throws but committed 21 turnovers and allowed TCU to grab 17 offensive rebounds.
"We haven't rebounded it well with any lineup," Kruger said. "It's something we've got to keep working on."
Wallace went scoreless in his first career start. Willis came off the bench because of a sore hamstring but shot 4-for-4 and had five assists in 28 minutes.
Ronnie Moss had 15 points to lead the Horned Frogs.
Contact reporter Matt Youmans at myoumans@reviewjournal.com or 702-387-2907.
Audio slideshow
UNLV – 71
TEXAS CHRISTIAN – 57
KEY: Wink Adams scored 21 points to lead the Rebels, who forced the Horned Frogs into a season-high 26 turnovers.
NEXT: Colorado State at UNLV, 7 p.m. Saturday, KWWN-AM (1100)