Ex-Las Vegas preps star among potential transfers visiting UNLV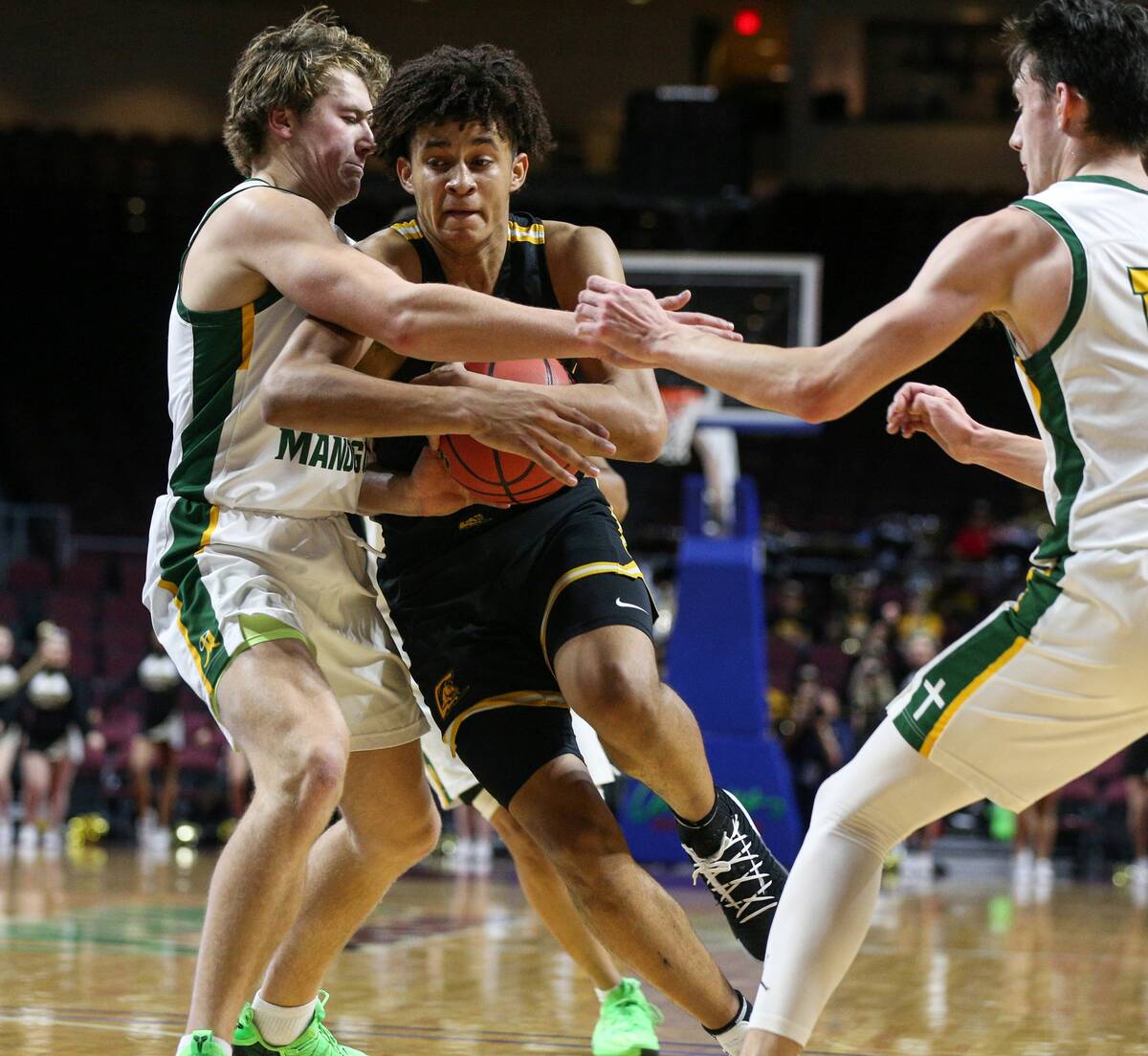 The transfer portal is in full swing, and UNLV coach Kevin Kruger, preparing for his third season in charge, must once again replace several players on his roster.
Second-team all-Mountain West guard EJ Harkless, point guard Jordan McCabe and wing Elijah Parquet exhausted their eligibility. Guard Keshon Gilbert, guard Keyshawn Hall, forward Victor Iwuakor and center David Muoka all entered the transfer portal. Gilbert recently committed to Iowa State and former UNLV coach T.J. Otzelberger.
But the transfer portal works both ways. While the Rebels suffered significant attrition, they can also use the portal to land some talent and upgrade their roster.
UNLV is hosting three potential transfers on campus visits this week, sources familiar with the program told the Review-Journal: former Oklahoma wing and Las Vegas native Jalen Hill, wing Kalib Boone, who most recently played at Oklahoma State, and his twin brother, Keylan Boone, who spent last season at Pacific.
The 6-foot-6-inch Hill, a former Clark High standout, played the past four seasons at Oklahoma, appearing in 122 games and helping the Sooners reach the 2021 NCAA Tournament. He played his first two seasons for coach Lon Kruger, father of Kevin.
As a senior, Hill played in 32 games, all starts, while averaging 9.7 points, 1.3 assists and 5.8 rebounds to earn an All-Big 12 honorable mention. He also made 49.8 percent of his shots from the field, but hasn't been a prolific 3-point shooter. He made a career-best 16 3s as a senior on 55 attempts.
UNLV can offer Hill an expanded role, along with a chance to finish his college career in his hometown. The departure of Harkless, the Rebels' 2021-22 leading scorer and a former teammate of Hill's at Oklahoma, has left a void in the offense that Hill can potentially help fill.
The Boone twins can also add some size to UNLV's frontcourt, which lost its top two contributors to the transfer portal in Muoka and Iwuakor.
Kalib Boone, a 6-9 forward, played in 36 games, making 30 starts for the Cowboys as a senior last season. He averaged a career-best 10.6 points on 58.4 percent shooting and grabbed 4.9 rebounds per game. However, he fell out of the starting lineup near the end of the season as Oklahoma State went on a five-game losing streak and came off the bench for the final six games.
Keylan Boone, a 6-8 forward, had a little more success at Pacific. He spent three seasons at Oklahoma State with his brother before transferring to the West Coast Conference. He became a regular starter just as conference play began, and averaged 13.9 points and 4.2 rebounds. He also showed off some range, shooting 41 percent from 3 on 144 attempts.
Name, image and likeness licensing will play a factor in the recruitment of all three players, sources said. Hill, in particular, has interest from schools across the country, including Arkansas, Arizona State, Auburn, Baylor, Miami and Texas.
Lady Rebels update
Unlike the men's basketball team, coach Lindy La Rocque and the Lady Rebels haven't faced any roster turnover outside the losses of guard Essence Booker, wing Justice Ethridge and forward Keyana Wilfred, who all ran out of eligibility following the team's 71-59 loss to Michigan in the first round of the NCAA Tournament.
UNLV is monitoring the transfer portal for a guard who can fit La Rocque's system, sources familiar with the situation told the Review-Journal, but with three incoming freshman — forward McKinna Brackens, guard Amarachi Kimpson and forward Meadow Roland — the Lady Rebels also have a future core they can develop.
Contact reporter Andy Yamashita at ayamashita@reviewjournal.com. Follow @ANYamashita on Twitter.