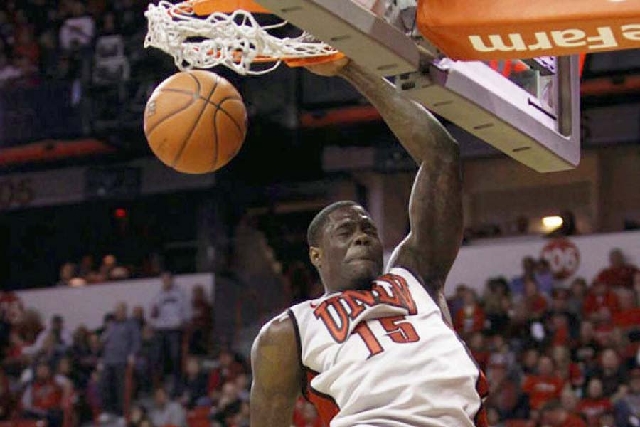 In November, junior Mike Moser and freshman Anthony Bennett were planning to lead UNLV deep into the NCAA Tournament before they left school for the NBA Draft.
That was the plan, anyway. It didn't quite play out as expected.
Shortly after the Rebels were knocked out in their tournament opener, both players announced they were leaving UNLV. Bennett is headed for the NBA, but he needs shoulder surgery first. Moser is staying in school, but he's transferring to Oregon.
Bennett and Moser were reconnected Tuesday, when they each made news for different reasons, and Moser shot down speculation he heard throughout the season that the Rebels' troubles on the court were related to the two stars' failed relationship.
"That was so frustrating because me and Bennett were best of friends. We roomed together on the road and hung out together on weekends," Moser said. "That was never the problem."
Bennett, who averaged 16.1 points and 8.1 rebounds in 35 games, declared for the NBA Draft on April 1. The 6-foot-8-inch forward is set to undergo rotator cuff surgery on his left shoulder today, according to a report from Chad Ford of ESPN.com.
The surgery will cause Bennett to miss all of the NBA predraft workouts and the summer league. Assuming his recovery is successful, Bennett's stock is not expected to slip. Ford ranks Bennett the No. 4 prospect in the draft, which will be June 27 at Madison Square Garden in New York.
A Findlay Prep product, Bennett is about to become the first UNLV player drafted since 2003. Moser declined to enter the draft last year, when he was projected as a late-first or second-round pick, and hoped to improve his status with a strong junior season.
"Moser was the chief guy who helped get Bennett to UNLV," said Kumbeno Memory, Moser's AAU coach in his hometown of Portland, Ore. "Mike wanted to win, and he wanted to get to the Final Four."
Moser, the Rebels' leading scorer and rebounder as a sophomore, had his NBA plans derailed when he suffered a dislocated right elbow Dec. 9 in a game at California. He was considered one of the top 10 players in the nation entering the season, but his playing time decreased after the injury, and he averaged just 7.1 points and 6.1 rebounds in 28 games.
After completing online courses, Moser is set to graduate from UNLV in July and transfer to Oregon, where he would be eligible to play next season.
Moser announced his intention to transfer April 5, and sources said he was headed to Washington. But he settled on a different Pacific 12 Conference destination after also considering Arizona and Gonzaga.
"I definitely thought about staying. I love Vegas so much. Vegas has been great for me the past three years," Moser said. "At the end of the day, I felt like I needed a different situation that was a better fit for me.
"I was never really set on Washington. I'm just trying to get back home. I've had North Carolina, Indiana and all kinds of schools contact me. You name it, they were calling."
Ironically, Moser said he even got a call from UCLA, after former New Mexico coach Steve Alford took over the Bruins' program. Moser played as a freshman at UCLA prior to transferring to UNLV.
Oregon coach Dana Altman made a persuasive pitch, Moser said. Altman is a close friend of Lon Kruger, the former Rebels coach who brought Moser to Las Vegas.
"Altman has done an excellent job since he has been at Oregon, and they have had great success with fifth-year guys," Memory said. "There's a big, gaping hole for Mike to step in and play 35 minutes a game and be a focal point of their offense."
Memory said the Rebels, who finished the season 25-10, had issues, but none of them were because Moser and Bennett could not coexist.
"I watched all of UNLV's games, and I wouldn't say they were a model of good chemistry and team basketball," Memory said. "The chemistry was not there with that team."
Moser said his decision to transfer should not be viewed as a negative reflection of Rebels coach Dave Rice.
"I wouldn't say we had a bad relationship. Not at all," Moser said. "Coach Rice is a players' coach, one of the best I've ever played for, to be honest. He has been more than helpful to me."
Contact reporter Matt Youmans at myoumans@reviewjournal.com or 702-387-2907. Follow him on Twitter: @mattyoumans247.