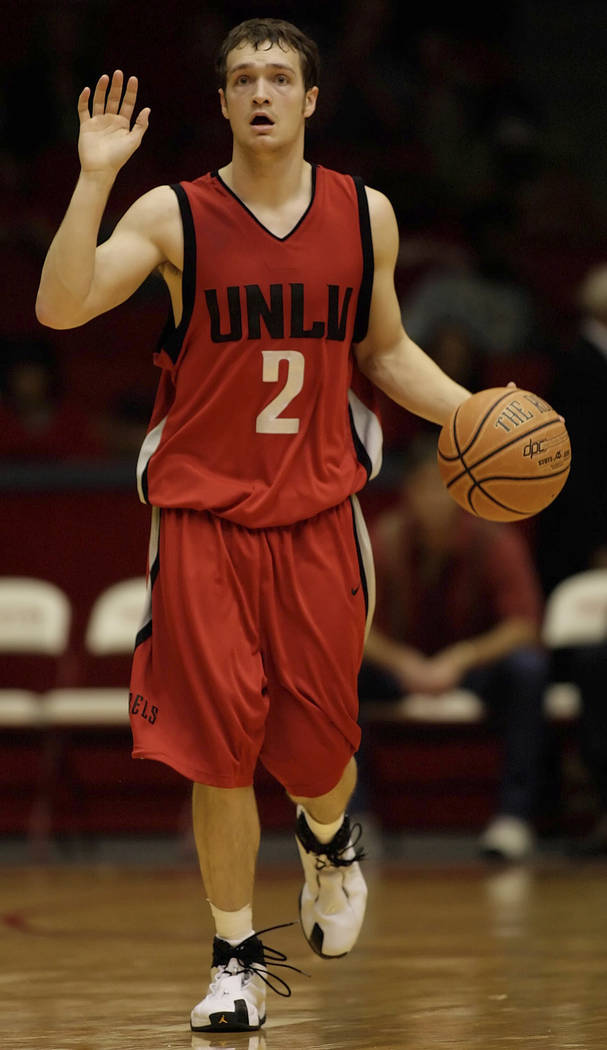 When Kevin Kruger arrived as an assistant basketball coach at Northern Arizona in 2014, he spent a lot of time shooting baskets with Torry Johnson, a guard who was redshirting and needed help finding his range.
The daily work together paid off, and last season Johnson led the Lumberjacks with 103 field goals and 11.5 points per game. That production caught the attention of Wake Forest, which picked up Johnson as a graduate transfer.
"When Torry came to us, he was not a great 3-point shooter," NAU coach Jack Murphy said. "I think Kevin really developed those skills. I think that's one of the reasons (Johnson's) now going to be playing in the ACC."
Kruger, a former standout UNLV point guard, recently completed his second season on the bench at Oklahoma assisting his dad and ex-Rebels coach Lon.
Learning from a different voice, though, was important in the younger Kruger's development as a coach. That opportunity was what Murphy — who went to Durango High and then UNLV for two years — and NAU offered.
"It was really invaluable," Kruger said. "I grew up with Dad being a head coach for as long as I can remember. Everything I knew was kind of from him. Working with Coach Murphy was good. I got to learn a different coaching tree, if you will, and a different perspective.
"Coach Murphy was great because he was always willing to take opinions from all different avenues."
Kruger, 35, is back in Las Vegas for Coaches vs. Cancer, an event that Lon Kruger helps run each year. Sanford Health agreed to a five-year sponsorship extension Sunday worth $500,000 annually.
The younger Kruger and his new wife, Alli, were at the MGM Grand pool for the private fundraiser.
Kruger is used to being around his dad as a coach and a player. As UNLV's point guard in 2007, with his dad on the bench, he led the Rebels to the Sweet 16 before the team lost by four points to Oregon. UNLV hasn't been to the second weekend of the NCAA Tournament since.
Maybe Kevin Kruger will eventually coach his own team deep into the tournament. Lon Kruger said the fact Kevin went somewhere else before returning to Oklahoma — he was a grad assistant there in the 2013-14 season — should benefit his son.
"Everyone does it a little differently," Lon Kruger said. "Anytime you can have experience with different staffs, that's good. You take a little bit from everyone, and when he gets out there and has that opportunity on his own, he'll have a lot of varied backgrounds to draw on."
Murphy said he doesn't see why Kevin Kruger wouldn't get a chance to lead a program.
"He's got great leadership, competitiveness, along with an even-keeled demeanor," Murphy said. "I think those are more and more becoming important skills when you're talking about becoming a head coach. So much of it isn't 'Xs' and 'Os,' it's managing people, and Kevin's one of those guys that people would want to play for and want to compete with. There's no question in my mind Kevin's going to be a future head coach."
Contact Mark Anderson at manderson@reviewjournal.com. Follow @markanderson65 on Twitter.