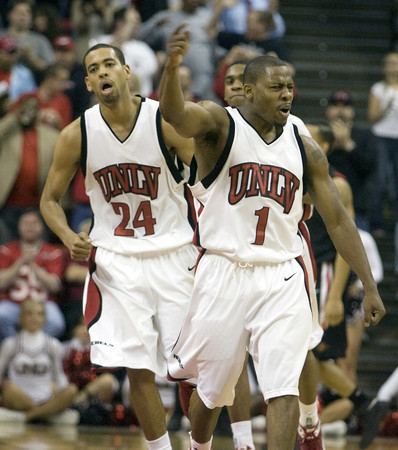 It's a rare exception for Rene Rougeau to make, but he's assessing his future and setting low expectations. He refuses even to dream. He's realistic in the realization he has no chance.
Rougeau is not fooling himself into thinking he has an outside shot to be selected Thursday in the NBA Draft.
"I'd be shocked if I see my name come up," the former UNLV star said.
His pessimism will last just one day. When the draft ends, Rougeau will resume dreaming and begin his assault on a pro career that he hopes someday reaches the NBA.
It would be unwise to rule him out, if history is a lesson.
Rougeau, a 6-foot-6-inch swingman, traveled a similar path five years ago. He was not a starter on his team at Etiwanda High School in Rancho Cucamonga, Calif. But in the summer of 2004, when even friends doubted his ability to be a Division I basketball player, Rougeau talked his way onto the Rebels' roster as a walk-on by lobbying coach Lon Kruger.
Eventually, he matured into UNLV's most versatile player while becoming a two-year starter. Of course, it won't be as easy to crack an NBA roster.
"All I need is a chance, just like Coach Kruger gave me a chance," Rougeau said.
His former UNLV teammate Wink Adams is more certain he will get an NBA opportunity, and Adams expects it to come in free agency from the New York Knicks.
While Rougeau did not get invited to a pre-draft workout, Adams had one with the Oklahoma City Thunder on June 15.
"My agent called me and said it's a guarantee I'll be playing for the Knicks. Hopefully it's a guarantee," said Adams, who's unsure why the Knicks targeted him. "I'm not really the type to ask questions. I'm just going with the flow. I'm really excited about it."
If all goes according to plan, Adams will stay in Las Vegas and play for the Knicks in the NBA Summer League from July 10 to 19.
A 6-foot guard, Adams averaged a team-high 14.3 points as a senior, and he finished sixth on the Rebels' career scoring list with 1,875 points. But an abdominal injury and bouts with shooting slumps last season caused his pro stock to drop.
"I could have had a better year. There was more adversity," Adams said. "I could have put myself in a better position. But I'm not looking back.
"I've been watching the Summer League for four years. I'm really anxious to put on a jersey and get ready to play."
Adams said he performed well in his workout for Oklahoma City but was told he needed to "drop some weight and do some conditioning." He said he has cut his weight to 209 after it was 216 two weeks ago.
"It's hard to lose weight," he said. "The way my body is, for some reason, it's so easy to gain weight. I've got to watch what I eat."
Being overlooked in the NBA Draft was not a crushing blow for former UNLV players Lou Amundson and Joel Anthony.
Amundson was distraught when he went undrafted in 2006, but he has established a role with the Phoenix Suns. Anthony signed as a free agent in 2007 with the Miami Heat and started 28 games last season.
Point guard Kevin Kruger, who also went undrafted in 2007 after his senior season with the Rebels, has been a two-year standout in the NBA Development League.
"It's not a huge negative that they don't go straight to the NBA," UNLV coach Lon Kruger said of Adams and Rougeau. "It isn't that unusual to bounce around a little bit and get some experience."
Rougeau, who averaged 10.9 points and a team-best 6.7 rebounds last season, has been training at the Impact Sports Academy in Las Vegas with other NBA hopefuls, including former New Mexico star Tony Danridge.
Rougeau said he might play in Germany next season, and he's hoping more options surface this summer.
"I would for sure go overseas," Rougeau said. "I'm definitely not negative about this at all."
Contact reporter Matt Youmans at myoumans@reviewjournal.com or 702-387-2907.