Ex-Rebels manager, now NAU coach, gets rude welcome
November 13, 2012 - 2:00 am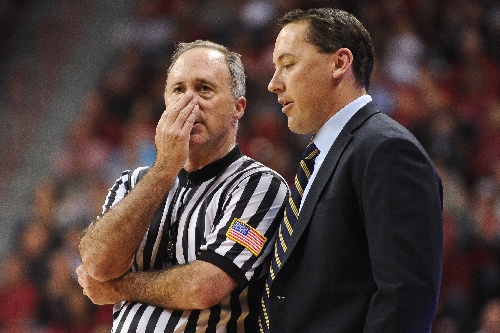 It was a game neither Dave Rice nor Jack Murphy wanted to play.
And given what happened Monday at the Thomas & Mack Center, it's unlikely UNLV and Northern Arizona will face each other again anytime soon.
Rice's Rebels took it strong to Murphy, the first-year coach at Northern Arizona, hammering the Lumberjacks, 92-54.
Playing against the school where he spent his first two years of college was difficult emotionally for Murphy.
"It's always hard when you're playing against friends," Murphy said. "I'm just glad we don't have to play them again."
Rice echoed those comments.
"I never like playing against friends, and Jack is first and foremost a friend," Rice said.
It wasn't like Murphy didn't know what to expect. After all, he grew up in Las Vegas, graduated from Durango High School and attended UNLV from 1996-98. As a student manager during Bill Bayno's tenure as Rebels coach when Rice was an assistant, Murphy saw firsthand what things can be like when the Rebels have their game in gear.
Unfortunately, he was on the wrong side of things Monday, and there wasn't much he could do about it. UNLV showed up in a foul mood off its less-than-stellar exhibition performance last week against Dixie State.
"I told my staff this was the worst possible scenario for us, coming here after Dixie State played them so tough the other night," Murphy said. "I knew they would try to put a whipping on us, and that's what they did."
Even the presence of longtime Las Vegas high school coaching legend Al La Rocque on the NAU bench wasn't enough to help keep the Lumberjacks close. And Murphy got no sympathy from the crowd of 18,187, save for his 3-year-old twin daughters Emma and Isabella, who were being chaperoned by Murphy's father-in-law – UNLV athletic director Jim Livengood.
La Rocque will help mentor his former player through the choppy waters of Division I basketball. Murphy also has Las Vegan Che Jones on his staff as a graduate assistant and a local player in 6-foot-7-inch freshman forward Jordyn Martin, who played at Palo Verde High School .
"I wouldn't have done it for anyone else," La Rocque said. "I had Jack in class at Durango, and I knew he was going to be successful at anything he did. He has a great passion and love for basketball, and he has taught me a lot in the short time I've been here with him.
"He's so intense and competitive. I talk to him about making sure that doesn't become a negative."
Murphy admits it's a bit awkward looking to his left and seeing his old high school coach taking direction from him.
"It's very weird; I'm still getting used to it," he said. "But Coach La Rocque has been such an important part of my life. When I had the opportunity to bring him on board and he accepted, I was so happy. He's going to be great for me and our players."
Contact reporter Steve Carp at scarp@reviewjournal.com or 702-387-2913. Follow him on Twitter @stevecarprj.