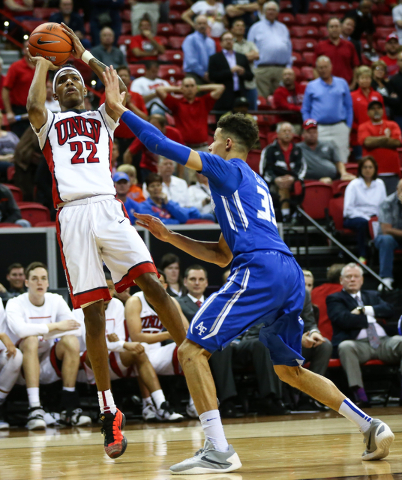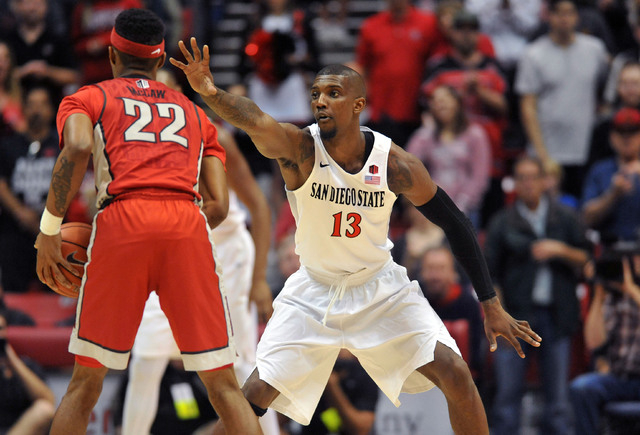 Each of the three players who left UNLV early with the legitimate hope of getting selected in the NBA Draft will find out Thursday if he made the right decision.
Stephen Zimmerman Jr. and Patrick McCaw have been projected to go from late in the first round of the draft, which begins at 4 p.m. in New York, to a spot in the second round. Derrick Jones Jr. isn't expected to be drafted, but could go late.
Zimmerman, a 7-foot forward who graduated from Bishop Gorman High School, played one season at UNLV. He dealt with various injuries, including a sprained left knee that cost him five games in February, but wound up averaging 10.5 points and 8.7 rebounds.
His potential has attracted plenty of attention, and Zimmerman reportedly worked out for at least nine teams. He also participated in the league's combine in Chicago in May.
"I think that he's got a lot of upside," said a veteran Eastern Conference scout, who did not want to be named because he was not authorized to speak on the record. "He's going to have to get used to the physicality of the game. He's going to have to understand how hard you have to work, because I don't think he's ever been taught how hard you have to work. He's going to have to gain a minimum of 30 to 40 pounds (on his 234-pound frame).
"But on the positive side, he does have the ability to run, the maneuverability to move laterally. His stroke is OK. I would say he goes somewhere 20 to 35."
Attempts to reach Zimmerman were unsuccessful.
McCaw, a 6-7 guard, averaged 14.7 points and 5.2 rebounds and showed the willingness to do what the team needed, even playing center when injuries hit hard late in the season.
After two seasons at UNLV, he left early and also took part in the combine, and McCaw said he has visited with at least eight teams.
"I think teams just want to know what type of person I am and how hard I work as a player," he said. "At the end of the day, I think teams are trying to figure out how I am as a young man on and off the floor."
McCaw said he hasn't paid any attention to projections and has focused on what he needs to do for the draft. He wasn't heavily recruited and became UNLV's best player and has gone into the draft with similar external expectations.
"My dad has always been on me and helped me grow as a young man and a player," McCaw said. "I've grown from a basketball player not being highly touted to now being talked about as an NBA Draft pick. I've worked extremely hard, and I know one day it will pay off."
The unnamed scout said he thought McCaw should have stayed at UNLV another season.
"He's a long ways away," the scout said. "I think the key issues are his length and his play in space. I don't think he's a point guard. I don't think he shoots the ball well enough to be a two (shooting guard). Another guy who needs to demonstrate how to play hard all the time. Another guy whose body needs to improve. I see somewhere in the 40- to 60-(pick) range. I've heard other people talking a lot higher."
Jones, a 6-7 forward, showed tremendous athleticism in his one year at UNLV and improved his overall game as the season progressed. He averaged 11.5 points and 4.5 rebounds, but Jones' season ended in late February because his American College Test was vacated because of concerns about the exam site.
Whether he would have gained eligibility at UNLV next season was questionable, so Jones' decision to leave early wasn't a surprise. But the NBA future for Jones, who could not be reached for comment, is equally uncertain.
"As good an athlete as he is, somebody may take a flier on him late in the second round," the scout said. "Sometimes guys like that, it's better if they don't get drafted, so then they can pick where they want to go."
Contact Mark Anderson at manderson@reviewjournal.com or 702-387-2914. Follow him on Twitter: @markanderson65