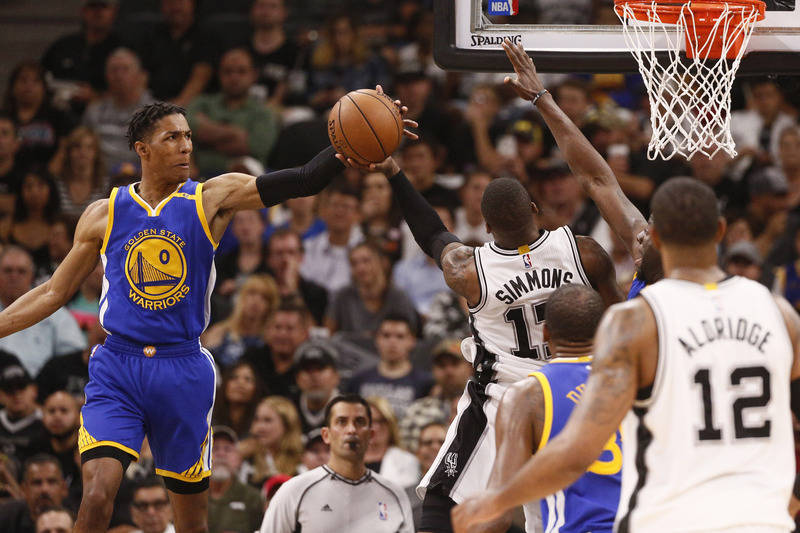 Former UNLV basketball player Patrick McCaw was linked in a Yahoo Sports report Friday of players possibly receiving improper benefits from agents.
The story posted a document that purportedly shows McCaw and his family receiving a meal for $178.01 on March 23, 2016, from Christian Dawkins, then an agent representing ASM Sports.
McCaw, a sophomore at the time, played his final UNLV game March 10, 2016, but he didn't declare for the NBA draft until April 4. NCAA rules prohibit student-athletes from receiving "transportation or other benefits from" agents even if they had no interest in representing the player. The player would be ruled ineligible if proven that occurred.
Attempts to reach McCaw, in his second season with the NBA champion Golden State Warriors, for comment were unsuccessful. An NCAA spokeswoman referred questions specifically about McCaw's situation to UNLV.
"We learned this morning through media reports of the allegation concerning a former player from 2016, and we have initiated our standard compliance protocol to review the matter," UNLV athletic director Desiree Reed-Francois said in a statement.
The FBI investigation has been a cloud hanging over the season. It got darker for the sport Friday night when ESPN reported that Arizona coach Sean Miller was heard on FBI wiretaps discussing over the phone with Dawkins the idea of paying $100,000 to get Deandre Ayton, who wound up signing with the Wildcats.
Ayton could become the No. 1 overall pick in this year's NBA draft. He averages 19.6 points and 10.9 rebounds, a key reason No. 14 Arizona is in first place in the Pac-12 Conference.
Miller and Dawkins spoke several times about Ayton, according to ESPN. The story also said Dawkins asked Miller if he should go through assistant coach Emanuel "Book" Richardson, and Miller said he himself would handle the financial details.
Richardson was one of four assistant coaches arrested Sept. 26 as the FBI went public with its investigation into alleged corruption in college basketball. Arizona fired Richardson on Jan. 11.
McCaw wasn't mentioned in the Yahoo story itself and probably is a small part of the FBI investigation. By having dinner after the season, the timing is an indication that McCaw had made the decision to leave UNLV even if he hadn't officially declared for the draft and wanted to do his homework on which agent to hire.
At the time, UNLV was going through a coaching search, having fired Dave Rice in January 2016 before handing the job to Todd Simon on an interim basis. An attempt to reach Rice, who recruited McCaw and now is an assistant at Washington, was unsuccessful. Simon, the head coach at Southern Utah, declined comment.
A current Mountain West player, San Diego State senior Malik Pope, also was mentioned in the Yahoo report for having received a $1,400 loan from an agent. The Aztecs have suspended Pope, according to the San Diego Union-Tribune.
The FBI investigation has sent reverberations throughout the sport's landscape.
Louisville coach Rick Pitino and athletic director Tom Jurich lost their jobs, two players and two support staff members at Auburn were suspended and Southern California's De'Anthony Melton is withdrawing from school to turn pro.
News stories last week by Yahoo and ESPN said the FBI investigations could have an enormous impact on the state of college basketball, with Yahoo reporting as many as 50 schools might be affected.
If that's true, the latest Yahoo report of the investigation involving Dawkins, former NBA agent Andy Miller and ASM Sports is part of a much larger probe that could change the way college basketball operates in relation to what constitutes an amateur. The story reported documents showing the agents providing potentially improper benefits to more than 25 players from at least 20 Division I programs.
Among the most notable mentioned were Michigan State's Miles Bridges, Duke's Wendell Carter and Alabama's Collin Sexton. Markelle Fultz, last year's No. 1 overall NBA draft pick, and lottery pick Dennis Smith Jr. were among the former college players listed in the report.
NCAA statement on Yahoo! Sports story: https://t.co/aJ2pQIoTDx

— Inside the NCAA (@InsidetheNCAA) February 23, 2018
"These allegations, if true, point to systematic failures that must be fixed and fixed now if we want college sports in America," NCAA president Mark Emmert said in a statement. "Simply put, people who engage in this kind of behavior have no place in college sports. They are an affront to all those who play by the rules. Following the Southern District of New York's indictments last year, the NCAA Board of Governors and I formed the independent Commission on College Basketball, chaired by Condoleezza Rice, to provide recommendations on how to clean up the sport.
"With these latest allegations, it's clear this work is more important now than ever. The Board and I are completely committed to making transformational changes to the game and ensuring all involved in college basketball do so with integrity. We also will continue to cooperate with the efforts of federal prosecutors to identify and punish the unscrupulous parties seeking to exploit the system through criminal acts."
Contact Mark Anderson at manderson@reviewjournal.com. Follow @markanderson65 on Twitter.
FBI investigation fallout
— Brad Augustine, AAU coach — Arrested but had charges dismissed
— Tony Bland, USC assistant coach — Arrested, fired
— Merl Code, Adidas contractor — Arrested
— Christian Dawkins, agent — Arrested
— Lamont Evans, Oklahoma State assistant coach — Arrested, fired
— James Gatto, Adidas executive — Arrested, placed on leave
— Tom Jurich, Louisville athletic director — Fired
— De'Anthony Melton, USC player — Withdrawing to turn pro
— Rashan Michel, clothier — Arrested
— Chuck Person, Auburn assistant coach — Arrested, fired
— Malik Pope, San Diego State player — Suspended
— Rick Pitino, Louisville coach — Fired
— Danjel Purifoy, Auburn basketball player — Suspended
— Emanuel Richardson, Arizona assistant coach — Arrested, fired
— Munish Sood, financial adviser — Arrested
— Frankie Sullivan, Auburn support staff member — Placed on administrative leave
— Jordan VerHulst, Auburn support staff member — Placed on administrative leave
— Austin Wiley, Auburn basketball player — Suspended