FINAL: UNLV 75, Boise State 72
December 8, 2010 - 6:57 pm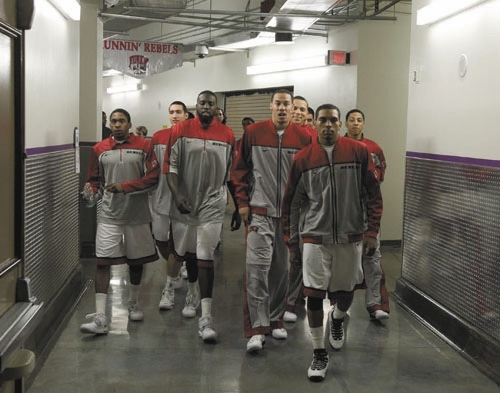 Chace Stanback scored 14 of his 16 points in the first half as UNLV built a huge early lead and barely held on to defeat Boise State 75-72 at the Orleans Arena.
Tre'Von Willis and Derrick Jasper each scored 14 points and Anthony Marshall had 11 for the 20 th-ranked Rebels, who improved to 9-0.
La'Shard Anderson's 3-pointer from the corner cut the Broncos' deficit to 73-69 with 31 seconds remaining. After an offensive foul by UNLV, Anderson hit a 15-foot jumper to slice the deficit to two.
Boise State, which trailed by 22 points early and 41-27 at the half, pulled within 50-42 on Anderson's 3 with 14:30 remaining.
Stanback scored 14 points in the first 10 minutes to put UNLV up 25-6. Marshall made a 3-pointer to stretch the lead to 28-6 before the Broncos (6-2) slowly started their comeback.
The Rebels next play Saturday at 24th-ranked Louisville (7-0).
View slideshow