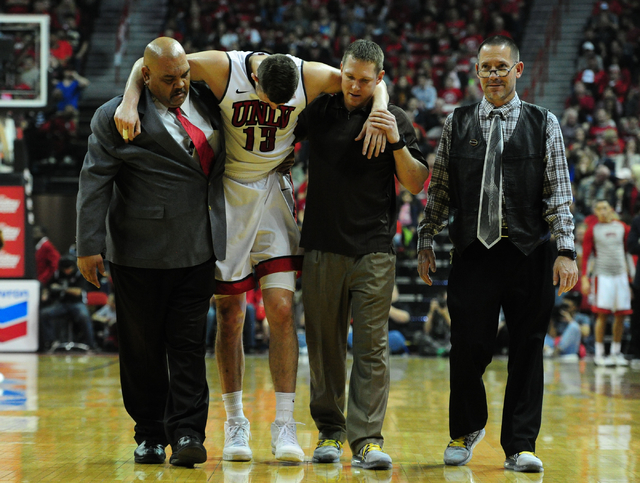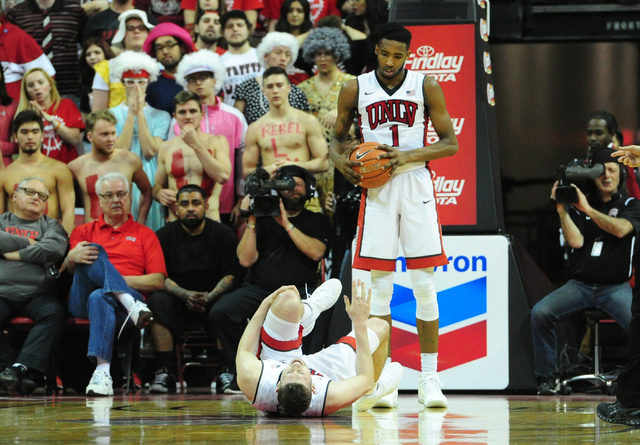 Ben Carter announced Wednesday on Twitter he will transfer from UNLV to play basketball at Michigan State.
"Leaving UNLV and the city of Las Vegas was not an easy decision for me to make, but I believe it is what's best for me and my college career," Carter wrote.
For those who have been waiting for my announcement. I'll be heading to Michigan state next season to finish my college career.

— Ben Carter (@Ben_Carter13) May 4, 2016
@Ben_Carter13 we're sad to hear that 🙁

— City of Las Vegas (@CityOfLasVegas) May 4, 2016
Carter visited Michigan State last weekend. He also had visits with Arizona and Arizona State.
The 6-foot-9-inch forward is a graduate transfer who will be eligible to play immediately for the Spartans.
He was one of the key members for UNLV last season, averaging 8.6 points and 6.0 rebounds. A torn left anterior cruciate ligament ended his season Jan. 30 against San Diego State.
Carter, a Bishop Gorman High School graduate who began his college career at Oregon, gave a first-person account to runrebs.com about his decision to leave UNLV.
"When I injured my knee and was out for the season, it was one of the worst experiences of my life," Carter wrote. "But coming back to Las Vegas and playing at UNLV was what I always wanted. I got to be close to my family again. My father has been through so many health problems, he honestly shouldn't even still be with us right now. Being close to him was important. I wouldn't trade these last two years at UNLV for anything.
"But when I really thought about it, I realized how I want my college career to end. I want it to end on a ladder. I want to stand on a ladder, cut down a piece of a net and look into the stands and see my father. I want to share that moment with him."
Carter was not immediately available for comment to the Review-Journal. Previous attempts to reach him regarding his transfer plans were unsuccessful, and he has limited his public comments to Twitter until now.
His former UNLV teammates wished him success.
"Congrats brother!" Jordan Cornish tweeted. "Much love go get it! (Praying hands emoji) behind you 100 percent."
Congrats brother! Much love go get it! behind you 100 percent https://t.co/gApongkcaw

— Jordan Cornish (@JordanCornish5_) May 4, 2016
"good luck kill it Brody," Derrick Jones Jr. tweeted.
@Ben_Carter13 good luck kill it Brody

— Derrick Jones Jr. (@TheRea1DJones) May 4, 2016
Cornish, who recently left UNLV and committed to California, then decommitted and reopened his recruiting process, reportedly has narrowed his choices to Butler, Iowa State, Grand Canyon, and Purdue, according to CBSSports.
This is a developing story. Check back later for updates.
Contact Mark Anderson at manderson@reviewjournal.com or 702-387-2914. Follow @markanderson65 on Twitter.