Former UNLV assistant Ryan Miller returns with rising TCU program
November 24, 2016 - 12:28 pm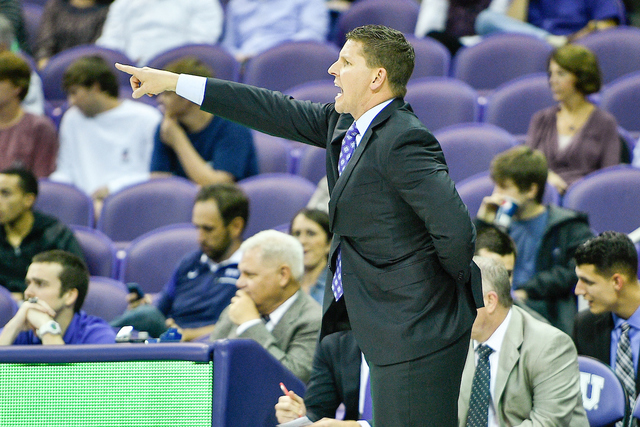 The Thomas & Mack Center will be a familiar place for former UNLV assistant basketball coach Ryan Miller, but there will be little normal about Friday night.
He will walk in with the visiting team, go to the visitors' locker room and sit on the visitors' bench.
"It's going to be strange for sure," Miller said. "I spent two years there, two really good years. It will be weird to be on the opposing bench."
Miller is now an assistant coach at Texas Christian (4-0), which plays the Rebels (3-1) at 7:30 p.m. in a final-round game of the Global Sports Classic. Washington plays Western Kentucky at 5 p.m., and the winners of both games meet at 7:30 p.m. Saturday. The losers face off at 5 p.m.
Also in action Friday are Cal State Fullerton against Jacksonville State at 11 a.m. and Alabama State versus Northern Arizona at 1:30 p.m. The l0sers of those two games meet at 11 a.m. Saturday, and the winners play each other at 1:30 p.m.
Miller comes to Las Vegas with a TCU program that has been energized by the hiring of coach Jamie Dixon, who went 328-123 at Pittsburgh and made 11 NCAA Tournament appearances in 13 seasons.
Now Dixon is trying to create similar success at TCU, which won just eight Big 12 Conference games in the prior four seasons.
"The transition from the Mountain West to the Big 12 has been very difficult, so they needed to hire someone like Coach Dixon and the staff like we have to help turn it around," Miller said. "The process started, and the community is behind us 100 percent, so it's exciting to be a part of."
Even before hiring Dixon, TCU already was raising its commitment to the program, spending $72 million for a complete renovation of its arena.
And now the Frogs are off to a strong start, and are ranked No. 64 in the KenPom ratings.
"We're in a rebuilding process," Miller said. "It's going to take a little bit of time, but things are going good, probably a little bit ahead of schedule. You've got to keep battling and keep defining a culture that's a championship and winning culture. That happens every single day. We're in the process of that, but we've got a long way to go, but excited about the future."
Part of the future involves freshman Jaylen Fisher.
Miller had recruited him to UNLV, and Fisher even signed with the Rebels last year. But after coach Dave Rice was fired in midseason and the rest of the staff later went separate directions, Fisher's commitment to the Rebels became uncertain.
Miller retained a relationship with Fisher, and not long after getting hired at TCU, Fisher decided to follow. Now the starting point guard, Fisher averages 11.5 points and 6.0 assists.
"He's a heady point guard, a high IQ point guard, a pass-first guy," Miller said. "Whenever you have a point guard who is an extension of the coaching staff on the floor, it makes our job a lot easier. Getting guys in places, making the right pass at the right time, making the right play … he has a good feel for what it takes to do that."
As for what Miller left behind at UNLV, he has kept tabs on his old school and looks forward to seeing his former players.
"Coach (Marvin) Menzies and their staff are doing a heck of a job," Miller said. "I couldn't be prouder of where they're at with the current players that we coached."
Contact Mark Anderson at manderson@reviewjournal.com or 702-387-2914. Follow @markanderson65 on Twitter.