Former UNLV coaches expect emotional day for Dave Rice
February 24, 2017 - 4:30 pm
Updated February 24, 2017 - 8:54 pm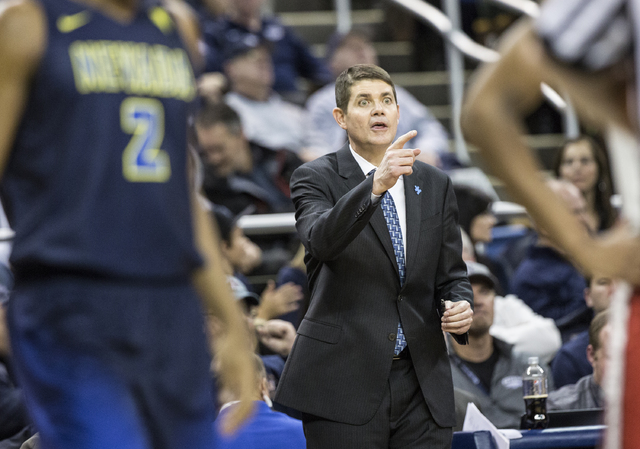 When Ryan Miller returned to the Thomas & Mack Center on Nov. 25, he had two objectives in mind: Focus on the game and find a way to get through it.
And he suspects Dave Rice will come in with that same mindset when UNR visits UNLV at 3 p.m. Saturday.
Rice, the Rebels' coach for 4½ seasons before being unceremoniously dumped in midseason last year, will be on the Wolf Pack's bench as an assistant.
"There will be more pressure on Dave, obviously, because he was the head coach," said Miller, a UNLV assistant under Rice the prior two seasons. "He's got a lot of friends and family in Las Vegas that he had over the years he was there as a player and coach. So it's going to be a weird deal for him, and he's going to be relieved when it's over."
This, of course, isn't the first time Rice will have faced his former team and alma mater. UNLV played in Reno on Feb. 8 and was blasted 104-77.
A photo was tweeted afterward of Rice entering the UNR locker room to a smiling group of players.
That tweet was quickly taken down, and UNR has tried to downplay the Rice-UNLV storyline, not making him available to the media before either meeting.
No matter, the Wolf Pack (22-6, 11-4 Mountain West) come to Las Vegas chasing a championship.
UNR, which is tied with Colorado State for first in the conference, is favored by seven points in a game that will be televised by CBS Sports Network.
UNLV (10-18, 3-12) is one loss shy of tying a school-record nine consecutive defeats set during the 1958-59 season. The Rebels, last in the Mountain West, have set a school mark for most losses in a season.
Miller said he didn't know what kind of reaction Rice would receive upon his return to the Thomas & Mack, but said his own experience "was mostly positive" with some heckles mixed in. He is an assistant coach at Texas Christian, which defeated UNLV 63-59 in the November meeting.
"It was very nerve-racking," Miller said. "It was weird. There were relationships with people that supported you as fans and alumni. Now you're looking across the way on the other side of the bench. You're relieved when the game is over because the pressure of it is intense."
One Horned Frogs player, point guard Jaylen Fisher, drew even more attention than Miller. Fisher, who originally signed with the Rebels before following Miller to TCU, was booed every time he touched the ball. Miller said he told Fisher to feed off the energy of the crowd by making plays.
"To hear that is very difficult … but we tried to use it as a positive as far as they're doing it because you're doing something right," Miller said.
This has been a season of ex-UNLV coaches facing their former team. Southern Utah, coached by Todd Simon, hosted the Rebels on Nov. 30, an 89-81 victory by UNLV. Simon, who was elevated to interim coach after Rice's firing last season, took a similar approach to how Miller handled facing the Rebels.
"There was the nostalgia of seeing a lot of familiar faces," Simon said. "It was a little surreal to be on the other side of it, but in terms of the basketball, you get so wrapped up in preparation and your own team that you don't get a whole lot of chance to experience it at the time. But it was certainly a different experience."
Simon's Thunderbirds will visit UNLV each of the next two seasons, so he will have his own homecoming.
As for this weekend's UNLV-UNR matchup, he has mixed emotions.
"I will always have a love for UNLV and the city of Las Vegas," Simon said. "It's a place we hold near and dear and know a lot of people there and we certainly root for.
"On the flip side, we're rooting for Dave as well. It's a game of interest for sure because there are so many people we care about."
Contact Mark Anderson at manderson@reviewjournal.com or 702-387-2914. Follow @markanderson65 on Twitter.
UNR at UNLV
When: 3 p.m. Saturday
Where: Thomas & Mack Center
TV/Radio: CBS Sports Network; KWWN (1100 AM, 100.9 FM)
Line: UNR -7; total 149
UNR (22-6, 11-4 MW)
Coach: Eric Musselman (46-20, second season)
Probable starters
(Player ; Pos. ; Ht. ; Ppg.)
Marcus Marshall ; G ; 6-3 ; 19.4
Lindsey Drew ; G ; 6-4 ; 5.8
D.J. Fenner ; G ; 6-6 ; 15.0
Jordan Caroline ; G/F ; 6-7 ; 13.9
Cameron Oliver ; F ; 6-8 ; 15.6
UNLV (10-18, 3-12 MW)
Coach: Marvin Menzies (10-18, first season)
Probable starters
(Player ; Pos. ; Ht. ; Ppg.)
Jovan Mooring ; G ; 6-2 ; 12.5
Kris Clyburn ; G ; 6-6 ; 6.8
Uche Ofoegbu ; G ; 6-4 ; 7.4
Christian Jones ; F ; 6-7 ; 10.1
Cheickna Dembele ; F ; 6-11 ; 4.1