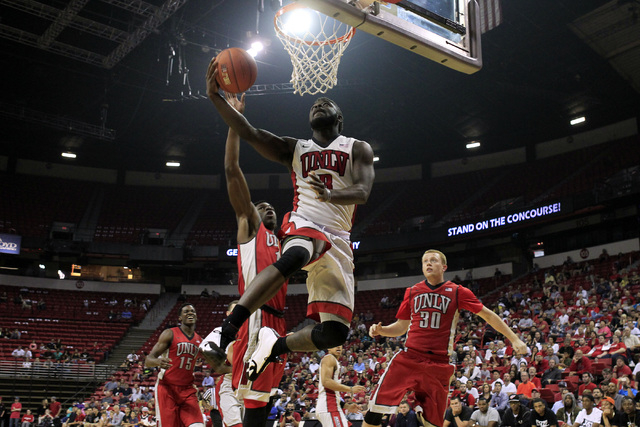 A self-described "mama's boy," Jordan Cornish is no pushover for anyone else. He is a product of inner-city New Orleans, where the streets imprinted a mean streak in his personality.
During the course of a conversation, Cornish does laugh and smile, but for that side of him to emerge it sometimes takes awhile, and he never jokes about the neighborhood where he was raised.
"It's a tough place," he said. "Seeing friends that you grew up with be killed is tough. Last year, my friend died. It was just constant violence. It just never stops, and you have to choose how you want to get out of that, and I chose basketball.
"Being from New Orleans, you're hard-nosed and tough and not going to back down from anything. Basketball got me away from a lot of different things I could have been doing that were bad."
Cornish, a 6-foot-6-inch guard, is part of a five-man freshman class that will debut for UNLV when it hosts Florida National in an exhibition at 7 p.m. today at the Thomas &Mack Center.
The Rebels' recruiting class, ranked as high as fifth in the nation, features shooting guard Rashad Vaughn from Findlay Prep. A friendship with Vaughn, struck at a summer camp in 2013, helped pull Cornish to Las Vegas.
"We were with each other every day, staying in the same room," Vaughn said. "I went to his games, and he went to my games."
Cornish signed with Tennessee last fall and tried to talk Vaughn, uncommitted at the time, into committing to play for the Volunteers.
"I was like, 'I don't know about Tennessee,' " Vaughn said, smiling.
Vaughn committed to UNLV in February. In mid-April, when Cuonzo Martin left Tennessee to take the coaching job at California, Cornish was released from his letter of intent, and Vaughn was on the phone.
Rebels assistant Ryan Miller, who spent last season at Auburn before joining Dave Rice's coaching staff, was the lead recruiter because of his past connection with Cornish and his family.
"Coach Martin and I had a great relationship, but things happen for a reason, and this was a better situation for me," said Cornish, who also considered Nebraska and Wake Forest. "I kind of wanted to get away from home."
As with most people in New Orleans, home never was the same for Cornish after Hurricane Katrina surged into the city on Aug. 29, 2005. The hurricane, one of the five deadliest in U.S. history, had sustained winds of 125 mph and left approximately 80 percent of New Orleans flooded for weeks.
Cornish was 8 and living with his parents, Albert and Monique, when the storm hit.
"The next day, it was 20 feet of water," Cornish said. "There was a lot of wind damage and trees on top of the house. My dad's side of the family lost everything."
Two of Cornish's relatives died in the hurricane. Within days, he said, 15 relatives had moved into his house. In need of a safer place, he relocated to Baton Rouge, La., to stay with his aunt for a year, and during that time he was talked into trying a new sport in fourth grade.
"I was a football guy. I was a quarterback. That was my first love," he said. "That's when I started playing basketball. I tried it, and I fell in love with it. So it was a blessing."
Cornish returned to New Orleans, where his dad is a police officer, and blossomed as a basketball prospect. He averaged 23.5 points and 10.3 rebounds last season at Brother Martin High School and was Most Valuable Player of the Louisiana state all-star game.
A physical 215-pounder, Cornish will see playing time for the Rebels at shooting guard and both forward spots, even as a power forward when Rice goes with a small lineup.
"Jordan is strong enough, aggressive enough and a good enough rebounder that he will see some minutes at the 4-spot," Rice said. "We want him to be aggressive driving the ball. He brings it every day. There is no doubt he's going to compete on every possession."
Cornish pointed to the success Kentucky has had with freshmen in recent years and said he, Vaughn, Dwayne Morgan, Goodluck Okonoboh and Patrick McCaw expect to help UNLV win immediately.
"That's part of the reason we came here, to start our own legacy," Cornish said. "We're five talented freshmen. We have a chance to do something big."
Backing down from a challenge is not part of his personality.
"I bring all my negative energy on the court," he said. "I'm a hard-nosed guy."
■ NOTES — Rice said his probable starting lineup will include Vaughn, senior guards Cody Doolin and Jelan Kendrick, sophomore forward Chris Wood and Okonoboh at center. … Florida National is starting a program and competing in the United States Collegiate Athletic Association. The Conquistadors are 2-0, with blowouts over Trinity Baptist College and Johnson University of Florida.
Contact reporter Matt Youmans at myoumans@reviewjournal.com or 702-387-2907. Follow him on Twitter: @mattyoumans247.
FLORIDA NATIONAL vs. UNLV
-WHEN: 7 p.m. Wednesday
-WHERE: Thomas & Mack Center
-BROADCAST: KWWN (1100 AM, 98.9 FM)