Gimpy Seagears drains six 3-pointers in UNLV win
February 28, 2016 - 12:32 am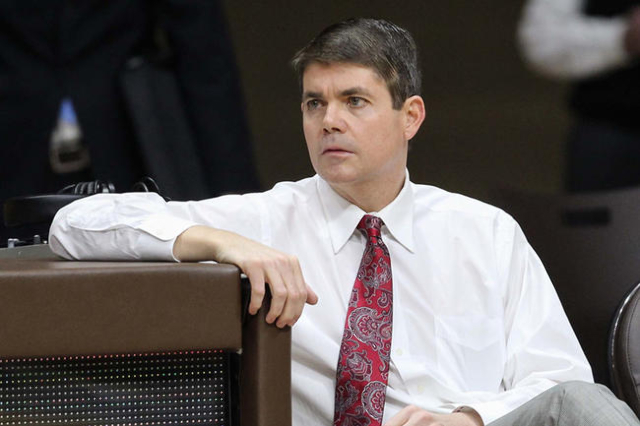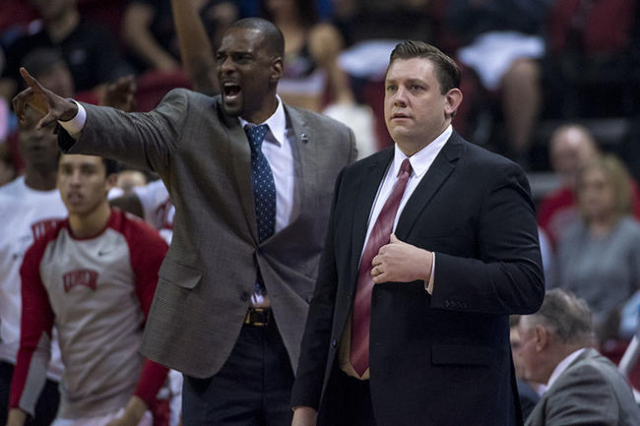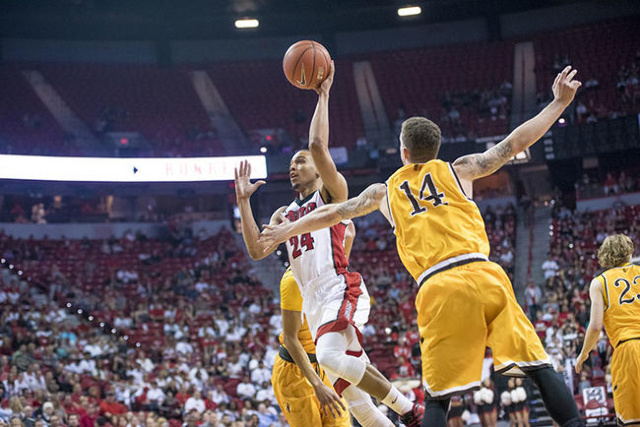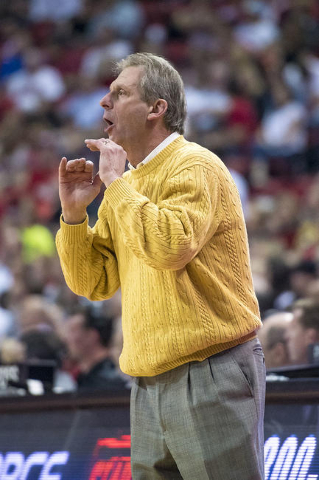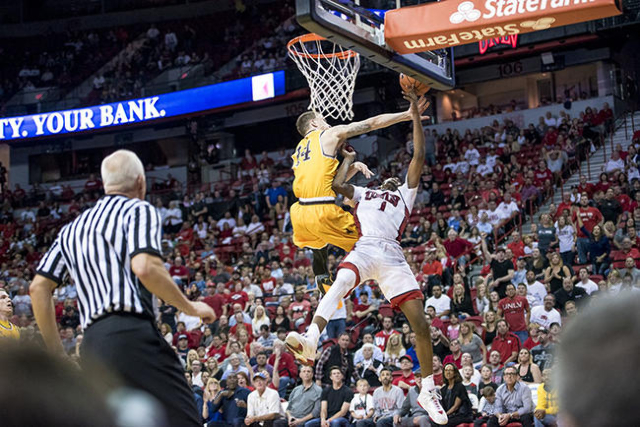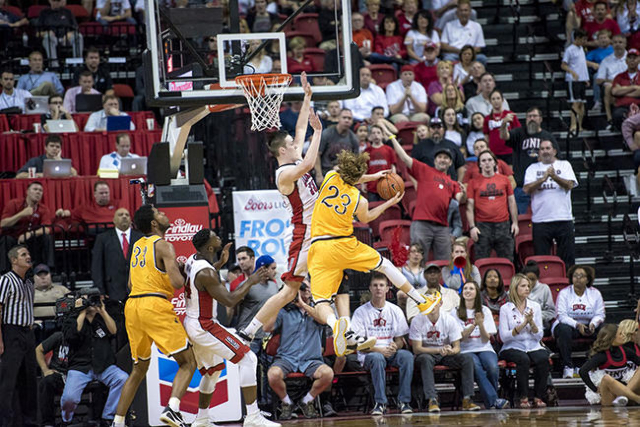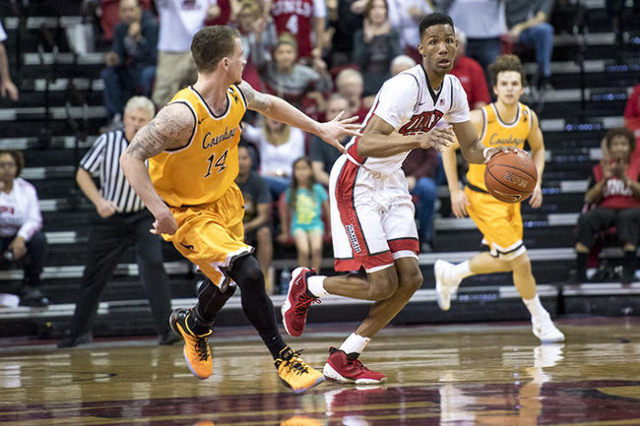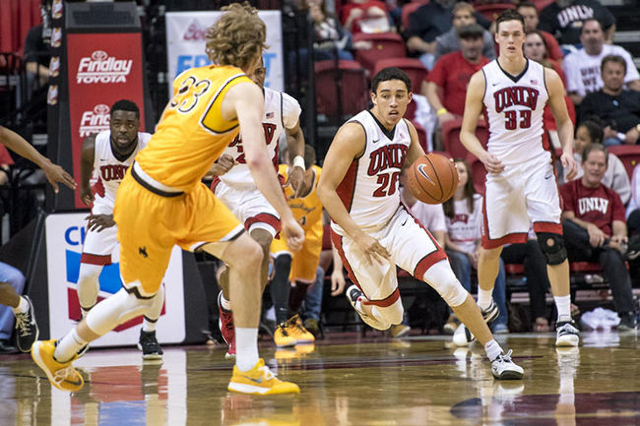 After spending the two previous days as a spectator at UNLV's basketball practice, Jerome Seagears didn't even do much at Saturday's pregame shootaround.
Coaches didn't want to do anything to worsen a bruised right heel that desperately needs the rest that comes with the offseason.
But with games to play, Seagears is going to find his way onto a court.
He set the early tone against Wyoming by making three consecutive 3-pointers, then with the game on the line late, he made back-to-back 3s to put the Rebels ahead for good in their 79-74 victory at the Thomas & Mack Center.
"I'm just so proud of this guy's toughness," UNLV interim coach Todd Simon said. "He gave us 24 hard minutes. He gave everything he had."
The victory closed out the regular-season home schedule for the Rebels (17-13, 8-9 Mountain West), and they were very good at the Mack, going 12-3. UNLV has one more game, Saturday at San Diego State, before returning to the T&M for the conference tournament.
As of now, UNLV would be the sixth seed, but No. 7 Colorado State (15-13, 7-8) visits UNR (17-10, 9-6) today.
Wyoming (13-17, 6-11) tried to play spoiler on UNLV's Senior Night and nearly did with the teams tied at 62 late.
That's when Seagears stepped up with a 3-pointer with 3:45 left to give the Rebels the lead for good at 65-62. After two free throws from the Cowboys' Jeremy Lieberman, Seagears came through with another long-range shot, this one from 28 feet, to extend the lead to 68-64.
Seagears, who finished with 18 points by making 6 of 8 3-pointers, opened the game with three 3s to give the Rebels a 9-0 advantage.
"Shooting every shot with confidence, as long as you can make it, that's all I think about," Seagears said.
His shooting helped answer a barrage from Wyoming's Josh Adams, who entered the game leading the conference at 24.6 points per game, which ranked fourth nationally.
Adams kept the Cowboys competitive, scoring 31 points on 7-of-14 shooting from 3-point range.
But he fouled out with 39 seconds left. Remarkable considering Adams didn't pick up his first foul until 6:53 remained in the game.
"They did a good job of hiding him in the zone," Simon said. "He's a very smart player, and he's a terrific basketball player. But I think once we were able to get the ball in transition a little bit in that stretch, we were able to attack his feet."
The Cowboys relied on Adams and Jason McManamen (19 points) to carry them.
For UNLV, it was much more of a team effort.
Derrick Jones Jr. finished with 23 points and nine rebounds, Ike Nwamu matched Seagears' production with 18 points, and in his return from a sprained left knee, Stephen Zimmerman Jr. totaled 12 points and 11 rebounds. Patrick McCaw had nine assists.
Zimmerman practiced Thursday and Friday, so making his first start since Feb. 6 at Fresno State when he got injured was no surprise. The question was how effective he would be and how many minutes he would log.
Zimmerman, who played the entire second half and 36 minutes overall, showed early he was willing to be aggressive, collecting 10 rebounds in the first half.
"That was really a big thing," Zimmerman said.
His best play occurred when he blocked a shot, hustled down court and took the pass from McCaw for an alley oop with 6:16 left.
"What (Zimmerman's return) does is give us another shot-blocking presence in there," Simon said. "And on the offensive end, he draws so much attention, it really collapses Wyoming's defense. They have to account for him when he gets the ball deep in the paint, and he's a such a good passer, he's able to find people. It really changes the entire outlook of what we kind of go through.
"We can still play it small and spread it out, but it gives us that outlet anchor in the middle that people need to be cognizant of."
Now the banged-up and thin Rebels can certainly use this week off before playing again.
"I definitely could," Seagears said.
"Not me," Zimmerman said. "I've had two weeks off."
— Contact Mark Anderson at manderson@reviewjournal.com or 702-387-2914. Follow him on Twitter: @markanderson65
Check our GameDay page for full coverage of the UNLV-Wyoming game.
–Box score