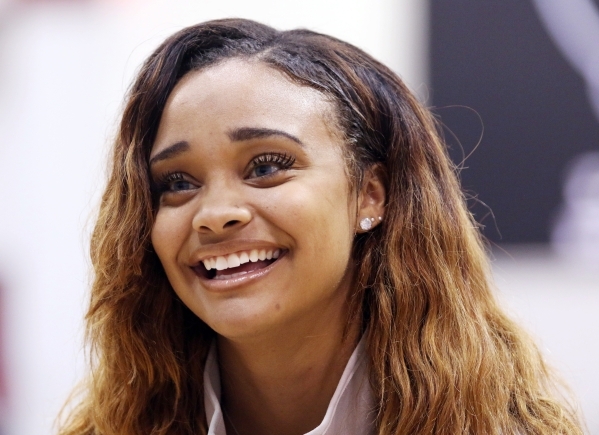 The rise to social media fame was almost over before it began for UNLV's Gonzalez twins — 6-foot junior transfers Dylan and Dakota — who will make their Lady Rebels debuts today at 3 p.m. in the team's season opener against Southern Utah at the Thomas & Mack Center.
Dylan joined Instagram first, during her junior year at Highland High School in Pocatello, Idaho, but quickly became disenchanted with the online photo sharing and social network platform.
"At first I didn't like it because I didn't have any followers," said Dylan, 20. "I was like, 'What's the point of this?'"
That changed one day when a woman with more than 20,000 followers posted a picture of Dylan on her page.
"I got a ton of followers, and from there it just kind of continued to build and accumulate, and I would post a picture and get like 5,000 followers," she said. "It still hasn't processed in my mind that those numbers are people."
The numbers are staggering, with more than 1.5 million combined followers and counting for the photogenic sisters as of Friday night — 805,000 for Dakota (@misss_kota) and 763,000 for Dylan (@miss_dyl), who was up to about 60,000 when her sister joined.
"She got like 50,000 followers in a day," Dylan said. "I was like, 'I had to work for those.' Just kidding. For the most part, we don't view it as a competition. It's just kind of something fun we do.
"We're just going to try to use it as a positive platform to help the program and hopefully get some good publicity and more Rebels fans. That would be great."
The twins' Instagram popularity soared during their 2013-14 freshman year at the University of Kansas, where their mother, Angie Snider (now Angela Gonzalez), was one of the top players in the program's history.
"As we committed to it and people knew we played basketball and finally caught on that we were twins, it just kind of started snowballing," Dakota said. "Once we were freshmen in college, then it just kind of exploded and it was huge."
Both sisters claim to still be a bit mystified by their Instagram fame.
"I guess we just kind of sparked people's interest. It was quite curious to us then, and we're still curious about it now," Dylan said. "I guess people think that we're kind of cute and we play basketball, so that's interesting. And we sing, so that's interesting. And we're twins, so I guess that kind of draws people in. I'm still curious about it myself."
Dakota said she hopes people are also attracted to their positive energy.
"We really try to put out positivity, and we want to be inspiring people to follow their own path," she said.
Because of their notoriety, the twins have gotten their share of good-natured grief from their coaches and teammates, who at times will playfully impersonate their bodyguards.
"I'm always saying to them, 'You guys have got to teach me how to smile, so I have the right look going on,'" UNLV coach Kathy Olivier said. "They have the perfect looks on Instagram. They have a flair to them that is good for Vegas.
"With that said, we love them as coaches because they work their butts off and they take a lot of pride in how they are as student-athletes."
While the twins' teammates might poke fun at them, the Lady Rebels will welcome any positive publicity after averaging less than 1,000 per game last season, their third straight with a losing record.
"Hopefully it brings attention to our team and gets more people in the stands, too," sophomore point guard Nikki Wheatley said.
Olivier said now it's a matter of her squad backing up the sizzle with some steak.
"They're created this buzz, and it's a good thing. We all like it," she said. "But I always tease our team that we have a potential buzz, because what are you going to do with it? Now you have to back it up with some wins and some success."
Dylan scored 15 points off the bench, making 3 of 7 3-pointers, and Dakota had five points, five rebounds and five assists in UNLV's 84-75 exhibition win over Alaska-Anchorage on Monday at Cox Pavilion.
Along with being good students, the sisters — who have six other siblings, including St. Mary's freshman guard Stefan Gonzalez — pride themselves on being hard workers, strong defenders and fierce competitors.
They have a healthy sibling rivalry in school and on the hardwood, but mostly it's them against the world.
"Dakota always says we're better together. Most of the time, we'll get challenged to 2-on-2," Dylan said. "We always play against guys. They love to challenge us. We haven't lost yet."
Contact reporter Todd Dewey at tdewey@reviewjournal.com or 702-383-0354. Follow him on Twitter: @tdewey33