Guards turn in good performance against Albany
November 29, 2014 - 6:30 pm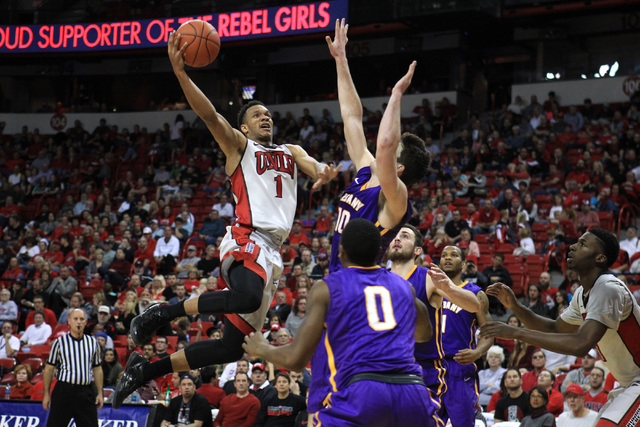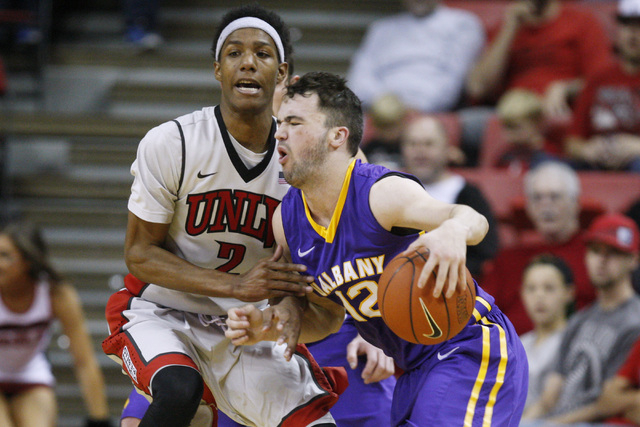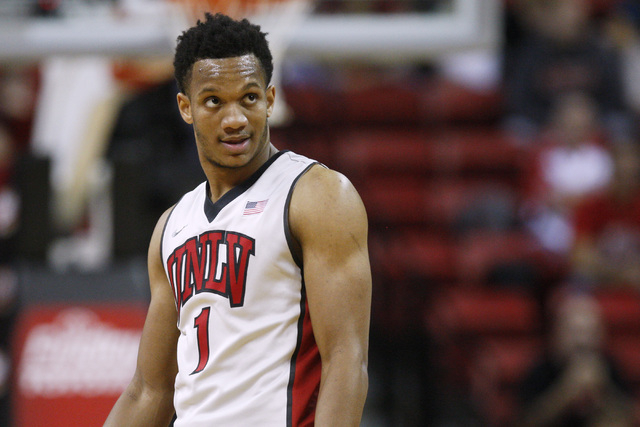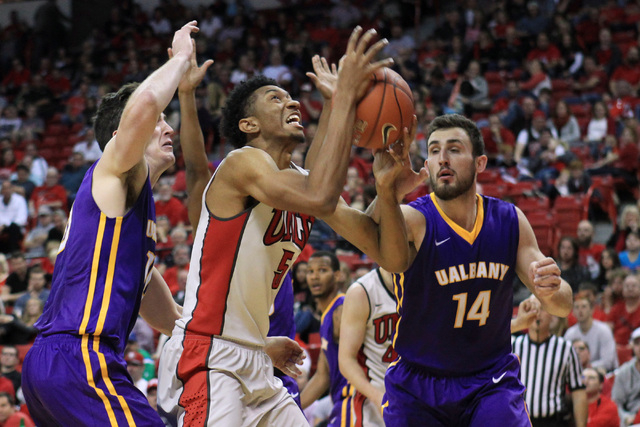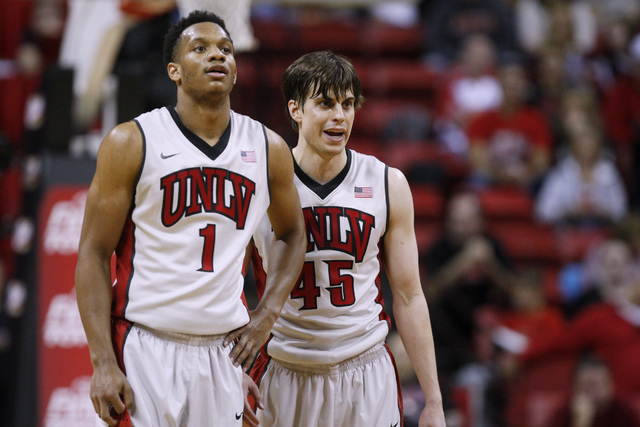 BACKCOURT: A
Whether it was playing away from home for the first time as a collegiate player or dealing with illness, Rashad Vaughn was not his usual self during UNLV's games in Brooklyn last week. He certainly bounced back in his return home on Saturday. The freshman guard scored 29 points as UNLV pulled away from Albany for a 75-59 victory at Thomas & Mack Center. He made 11 of 18 shots, including 5-for-11 from 3-point range. Vaughn also hit 2 of 3 from the free-throw line. He said after the game he had bronchitis while the team was in New York, which affected his energy and stamina. If so, he recovered quickly. Point guard Cody Doolin dished out six assists and directed a very effective offense. Jelan Kendrick scored all nine of his points in the first half and helped the Rebels build the lead. He did turn the ball over five times, though.
FRONTCOURT: B
Chris Wood used his sensational second half against Temple as a springboard to another strong game. The sophomore finished with 19 points and 10 rebounds in the victory over Albany. Wood also blocked three shots on the interior. Goodluck Okonoboh may have had his most disappointing game as a Rebel, however. He had no points and just three rebounds in 21 minutes. The usually stingy UNLV interior defense allowed crafty Albany forward Sam Rowley to post 17 points and 10 rebounds.
BENCH: B-
Dwayne Morgan was the unquestioned star off the bench for UNLV on Saturday. The freshman knocked down 4 of 8 shots from the field and finished with 10 points and three rebounds. Patrick McCaw didn't put up big numbers in his 20 minutes of action, but Dave Rice raved about his contributions to the game. McCaw was able to provide steady minutes at the point to give Doolin some time to rest. Rice says he wants to limit Doolin to 32 or 33 minutes a game instead of 38 and McCaw's improving ability to run the team will be vital to that plan. Jordan Cornish provided seven solid minutes, making his only shot, a 3-pointer from the corner.
COACHING: A
There wasn't really a whole lot to this game from an in-game coaching perspective. The Rebels grabbed an early lead and stayed in front throughout the afternoon. Dave Rice and his staff certainly deserve credit for UNLV getting off to a good start despite the afternoon tip and securing its first halftime lead of the season. This grade goes beyond that, though. Saturday's win was all about just letting Rashad Vaughn and Chris Wood do what they do best. Both players are immensely talented and it was Rice and his staff that recruited them.
Contact reporter Adam Hill at ahill@reviewjournal.com or 702-224-5509. Follow him on Twitter: @adamhilllvrj.