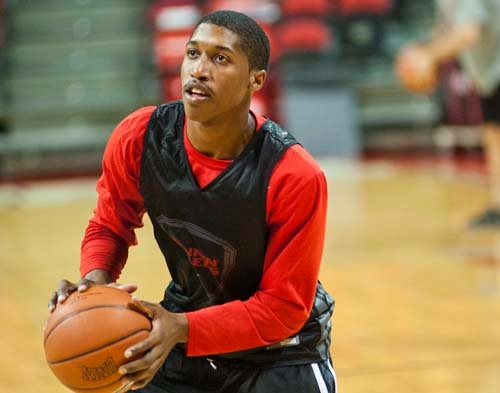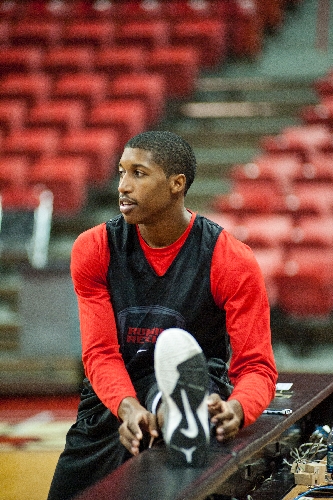 In his first three seasons at UNLV, Justin Hawkins developed a reputation for bringing defensive intensity and a boost of energy off the bench, while leaving his ego behind.
The 6-foot-3-inch combo guard plans to do the same things today, but the senior will be in the starting lineup for only the fourth time in his career. Not that he cares, because it's not an ego thing. Starter or reserve, he's a team leader either way.
"Whatever the coaches want, I'll do it. They know they can count on me no matter what the situation is," Hawkins said.
The situation at hand is the opening night of the basketball season. The Rebels, ranked No. 18 in The Associated Press preseason poll, raise the curtain against Northern Arizona (0-1) at 7 p.m. at the Thomas & Mack Center. The game, part of the preliminary rounds of the Global Sports Classic, was nearing a sellout as of Sunday, with approximately 500 tickets remaining.
The Lumberjacks opened Saturday with an 83-73 loss at Oregon, which visits UNLV on Nov. 23.
The Rebels avoided a potentially embarrassing loss in their only exhibition, edging Division II Dixie State 81-80 in overtime Wednesday. Heading into a season surrounded by hype, coach Dave Rice watched his team get humbled and outhustled.
"It was a real wake-up call," Hawkins said. "I feel like that helped us out. We have a lot of talent, and we have a lot of toughness. We have a lot of guys on this team who want to compete and win at all costs. I never really question our toughness.
"I just hope that sometimes our talent doesn't overshadow everything else. We know we're talented, and I hope we don't get lazy and just think our talent is going to beat everybody."
That's the message Rice expects his senior leaders – Hawkins, point guard Anthony Marshall and backup forward Quintrell Thomas – to absorb and preach. Hawkins and Marshall will start with freshman guard Katin Reinhardt, junior forward Mike Moser and freshman forward Anthony Bennett.
Hawkins has played in all 102 of the Rebels' games since his freshman year. His first start came in last season's opener, and he scored a career-high 25 points in a victory over Grand Canyon. But his scoring normally is secondary in importance to his intangibles.
"He has been invaluable as a sixth man. He's vitally important to our team in that role," said Rice, who guided UNLV to a 26-9 record and a third straight NCAA Tournament appearance in his first season. "You're talking about the ultimate team guy in Justin. It's important for me as a coach to know that I've got someone of his character and his quality of play coming off the bench.
"But he's not just a glue guy anymore. He has improved his game dramatically. He made timely defensive plays and big shots for us last season. He is definitely one of the most valuable players on our team. With as many new faces as we have, his leadership is probably as important as anything."
Marshall and Moser are the Rebels' only returning starters. Hawkins, Thomas and junior forward Carlos-Lopez Sosa also have plenty of experience as reserves, and all three have exhibited a willingness to accept their roles.
The freshmen who will play today – Bennett, Reinhardt and Savon Goodman – and sophomore guard Bryce Dejean-Jones, a transfer from Southern California, know where to turn for advice.
"Justin's understanding of our system has helped our new guys in terms of the learning curve," Rice said. "He's a coach on the floor. He's got such a high basketball IQ, and he's got credibility because of how hard he works. He brings it every day."
Hawkins has been through the big games and handled all the hurdles college life presents. He earned his bachelor's degree in hotel administration over the summer and is taking three classes toward a Master's in public administration.
"Senior leadership is very important," said Hawkins, from Taft High School in Woodland Hills, Calif. "The young guys listen to what I say because they value my experience."
The older guys listen, too.
"We go to him as a leader," Lopez-Sosa said. "It's good to have him on the team, especially when you're going through some tough times, because he always has an answer for everything. He's always calm, he always knows how to act, and he always knows how to do the right thing."
Hawkins, who scored 7.9 points per game as a junior and averages 5.5 for his career, is not always the best player on the floor. But in a way, he's a mirror image of his coach.
"I would advise him against it," Rice said, laughing. "But Justin would be a terrific coach. If there comes a time when he wants to get into coaching, he would be terrific."
Contact reporter Matt Youmans at myoumans@reviewjournal.com or 702-387-2907. Follow him on Twitter: @mattyoumans247.
NORTHERN ARIZONA VS. NO. 18 UNLV
WHEN: 7 p.m. today
WHERE: Thomas & Mack Center
TV/RADIO: KWWN (1100 AM, 98.9 FM)
LINE: UNLV -28; no total
2012-13
Rebels section
Download a PDF of our look ahead at the Rebels as they go into the season.
(3.5 mb)
Also, have a look at a slideshow featuring each player on the Rebels roster, along with Coach Dave Rice. (Best viewed in full screen.)