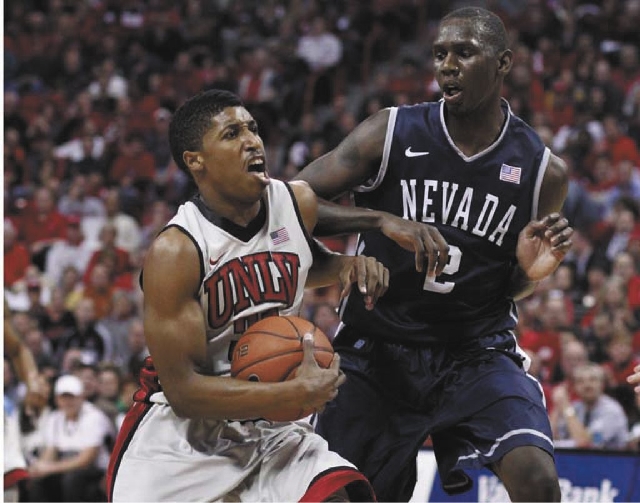 As usual, Justin Hawkins was a step ahead, anticipating what might happen before UNLV's season developed as he envisioned it.
In three years, he earned a bachelor's degree in hotel administration, and as a senior, he has been working toward a master's in public administration. He's more mature than the average player.
In November, when the Rebels were ranked in the Top 25, Hawkins was able to see through the hype and recognize an immature group headed for some growing pains.
"I knew it was going to be a long season and we were going to have our ups and downs. We were a young team with six new guys," he said. "I felt like as long as we started playing our best basketball around February or March that things were going to get good for us."
Finally on the upswing, UNLV (22-7, 9-5 Mountain West) hosts Boise State (20-8, 8-6) at 7 p.m. today at the Thomas & Mack Center. Both teams are riding four-game win streaks and seem to be peaking in the season's most important month.
The Broncos are off a 78-65 victory over Colorado State in which sophomore guard Derrick Marks lit up the Rams for a career-high 38 points. Marks is one of the conference's future stars.
For Hawkins, a solid college career is coming to a close. The 6-foot-3-inch guard from Taft High School in Woodland Hills, Calif., has been a longtime defensive and emotional leader for the Rebels, a rock for the program if not a star.
He played his first two years for former coach Lon Kruger and his final two for coach Dave Rice, with each man valuing Hawkins as much as anyone on the roster.
"He's the epitome of a team player and certainly the epitome of a student-athlete," Rice said. "Justin is such a good energy guy for us and a terrific leader. He always has done what is asked of him, and he has been that way since our coaching staff has been here.
"He's such a big part of helping us win 48 games in two years. He's been successful on the court, and there's no doubt he will have success off the court because of his character. He's a winner."
Often assigned to defend the opponent's top perimeter shooter, such as Marks, Hawkins also has hit big shots in big games. He just hasn't made many lately. In UNLV's past 12 games, Hawkins has shot 1-for-28 from 3-point range.
But individual statistics never influence his attitude. His scoring average of 5.1 points per game is down from 7.9 for his junior season. He last hit a 3-pointer Jan. 19 and last scored in double figures Dec. 22.
"I don't even care about the shooting slump," he said. "We're winning games."
Hawkins has played in all 131 games in four years but started only five times, accepting a reserve role again this season while Rice started freshman Katin Reinhardt and sophomore Bryce Dejean-Jones in the backcourt.
"I'm definitely mature about it," Hawkins said. "I just know that Coach is going to play whoever he feels needs to play at the time. I'm always going to believe in his judgment. He knows what's best for the team."
Hawkins and point guard Anthony Marshall are about to become the first Rebels to play in four consecutive NCAA Tournaments since Stacey Augmon and Chris Jeter did it from 1988 to 1991.
Winning a Mountain West tournament title and NCAA Tournament game for the first time are "definitely high on my list," said Hawkins, who plays his final two regular-season home games this week.
"There's a lot of stuff that I wish could have happened, but I don't really dwell on the past," he said. "I just live for the moment, and I'm happy for everything that is happening right now. The best is yet to come."
Rice said there is "no doubt" Hawkins will find a spot to play professionally.
"I know that I'm not done playing ball whatsoever," Hawkins said. "I love it."
■ NOTES — Rice said junior forward Mike Moser, who had 20 points and eight rebounds in an 80-63 victory at UNR on Saturday, will start again today. Freshman forward Anthony Bennett will come off the bench for the second straight game because of a left shoulder that is "still a little bit sore," Rice said. … Boise State won the first meeting 77-72 on Feb. 2, despite Bennett's game-high 25 points.
Contact reporter Matt Youmans at myoumans@reviewjournal.com or 702-387-2907. Follow him on Twitter: @mattyoumans247.