He said/He said: Graney, Kantowski sound off on UNLV's men's basketball season
November 13, 2015 - 8:00 am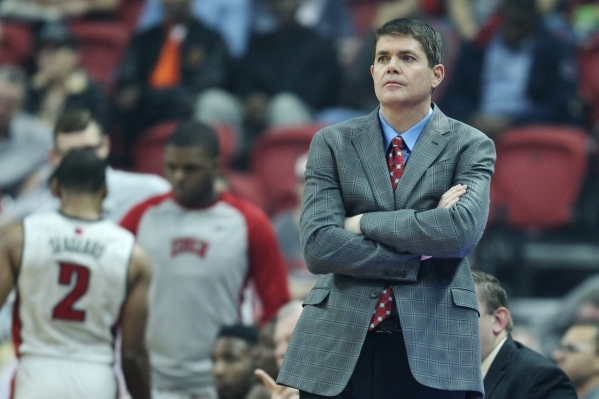 ED GRANEY
Do you know that saying about every mountaintop being within reach if you keep climbing?
Dave Rice must have really tired legs right now.
UNLV's basketball team opens its fifth season under Rice as head coach against Cal Poly
on Friday
night and never have the Rebels owned this much depth and talent since Rice assumed control of his alma mater's program.
And never have they achieved what most expected or Rice's recruiting hauls have suggested they should.
The Rebels are 89-47 under Rice, but have missed the past two NCAA Tournaments and have never finished above third in the Mountain West. They don't yet own an NCAA win under him.
I think all that changes this year, at least the part about returning to March Madness. I predict Rice and Co. can at least see the mountain's peak at season's end.
This won't prove a great Mountain West past a handful of teams. The opportunity for UNLV to do what it has struggled at in recent times — beating those inferior league sides it absolutely should — is there again.
Pressure can be a good thing if used in the correct manner, and that doesn't mean micromanaging players. Rice has the bodies to win 20 or more games, contend for the league title and reach the NCAAs. He just needs to trust those on the floor to execute when needed most.
I know in today's world of over-coaching that's like asking a brain surgeon to trust the anesthesiologist to make the first incision, but UNLV is good enough to compete and beat almost anyone on its schedule if allowed to play and use its skill.
Dave Rice needs to win. He knows that.
I believe he does this season to the point questions about his job status are removed from the discussion.
Why?
Because he and the Rebels have no reason not to.
There is no excuse now. At least not an acceptable one,
RON KANTOWSKI
If styles make fights, as Max Kellerman and a lot of boxing guys before him have said, do styles also make for a successful basketball season? UNLV is about to set sail on the Road to Indy, or at least the beaten path where the first-round NCAA Tournament games are played, and we may soon find out.
The season begins tonight against the Cal Poly from San Luis Obispo with coach Dave Rice promising again to run and gun. It's a pledge he first made upon taking over the program. That time, only the marketing department seemed to buy into it. "Run as One" it said on the big billboards near the airport, and other locations around town.
The Rebels did not Run as One, or Two, or Five. It seemed that by the time the conference season rolled around, they reverted to a fairly plodding style. It wasn't that different than when Charlie Spoonhour was coach, except the players had more talent. Kudos to Rice for recruiting them.
There's no slogan about running and gunning on the media guide cover this season — "And Now, Your Runnin' Rebels" it says, which essentially promises nothing, other than the Rebels will show up for the games.
The gunning has never been an issue with Rice's teams. But to run, you first must get after it on defense, and on the boards, and you must have depth, because full-court pressure can wear out a team in a hurry, especially in Mountain West road games played at altitude.
So we shall see, beginning tonight. The Cal Poly coach, also known for playing a plodding style, says his team now is all for running and gunning, too. Those sitting on Gucci Row might want to hang loose.
Las Vegas Review-Journal sports columnist Ron Kantowski can be reached at rkantowski@reviewjournal.com or 702-383-0352. Follow him on Twitter: @ronkantowski