Here are five coaching candidates for the UNLV basketball job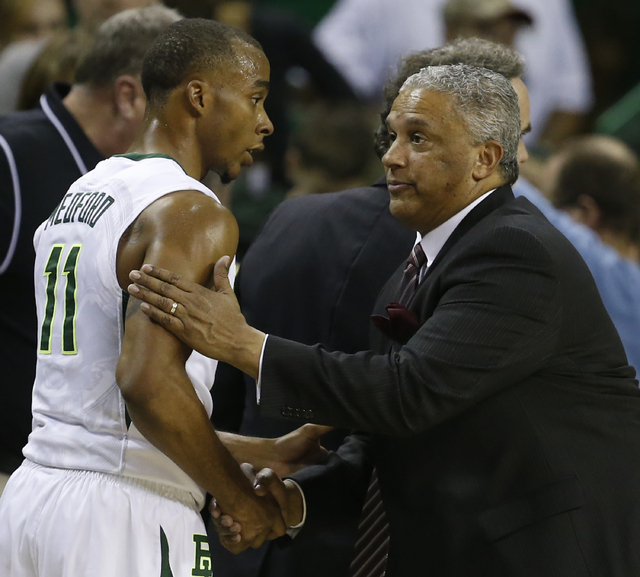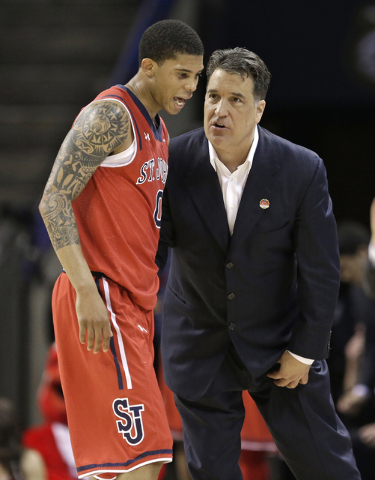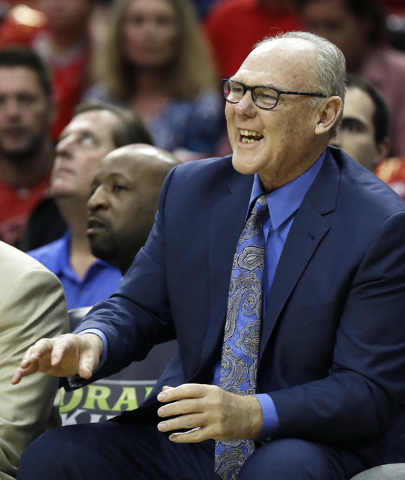 The Rebels have been led by three head coaches — Dave Rice, interim Todd Simon and Chris Beard — since January. A fourth, Cincinnati's Mick Cronin, was accused of backing out on an oral agreement to take the job. Here are the next five candidates on the list (listed in order of probability):
Marvin Menzies
Menzies just completed his ninth year at New Mexico State, where he has won 23 or more games in each of the past five seasons. He followed Reggie Theus, a former UNLV star, as the Aggies' coach. Menzies was a UNLV assistant to Lon Kruger in 2004-05, and a Louisville assistant to Rick Pitino from 2005 to 2007. Pitino has lobbied UNLV officials on Menzies' behalf. Menzies withdrew his name from consideration for the Rebels' job in late March, when it was obvious Beard would be hired.
Steve Lavin
A former coach at St. John's and UCLA, Lavin is employed as a TV analyst for Fox Sports. While guiding the Bruins from 1996 to 2003, he compiled a 145-78 record and made five NCAA Sweet 16 appearances in a six-season span. Lavin's record at UCLA in the first and second rounds of the NCAA Tournament was 10-1. He has several ties to Las Vegas and would be a strong recruiter.
George Karl
Fired this week by the Sacramento Kings, Karl has won 1,175 games as an NBA head coach with Cleveland, Golden State, Seattle, Milwaukee and Denver prior to leading the Kings the past two seasons. He has expressed an interest in the UNLV job for several years and is doing so again now. At 64, his age works against him, but Karl could hire a young staff to help with recruiting efforts. He coaches up-tempo offense. Money is probably not a factor, with the Kings owing him around $7 million. His hiring would bring instant credibility to a UNLV program currently in desperate need of it.
Stacey Augmon
Augmon and Larry Johnson, leaders of the 1990 NCAA championship team, rank as the two best players in UNLV history. Augmon retired as an NBA player in 2006, and he was hired to Karl's staff in Denver, where Augmon coached from 2007 to 2011. He spent the past five seasons as a Rebels assistant to Rice and Simon. Public relations is not his game. Augmon has not been a willing participant in booster and media functions, but the fans and former players who want a UNLV man in charge of the program would be thrilled to see Augmon get the job. He's more likely to be named than former Rebels assistant Ryan Miller, who also has no head-coaching experience.
Heath Schroyer
It's hard to fathom, but a coach who was fired at Wyoming is suddenly in the running to guide the Rebels. A powerful booster is pushing for his candidacy. The Cowboys dumped Schroyer after he posted a 49-68 record in four seasons. He was an assistant to Rice from 2011 to 2014. In the past two seasons at Tennessee-Martin, he turned a weak program into a winner, compiling a 41-28 record. Schroyer is a long shot.
Contact sports betting reporter Matt Youmans at myoumans@reviewjournal.com or 702-387-2907. Follow on Twitter:@mattyoumans247