Here's a look at what has happened during UNLV's basketball coaching search
April 16, 2016 - 11:50 pm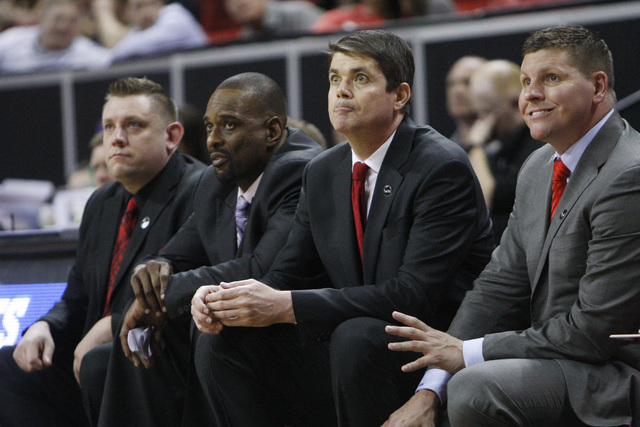 The series of events in UNLV men's basketball since the start of the year:
■ Jan. 9: UNLV blows 17-point lead in 59-57 loss at Wyoming, falls to 0-3 in Mountain West.
■ Jan. 10: Coach Dave Rice is fired, replaced by assistant Todd Simon on an interim basis.
■ Feb. 29: The ACT alerts UNLV it had vacated the test score for freshman forward Derrick Jones Jr., causing the NCAA to rule him ineligible.
■ March 10: UNLV suffers season-ending 95-82 loss to Fresno State in quarterfinals of Mountain West tournament, finishes 18-15 for second straight year.
■ March 14: Simon and UNLV assistant coaches Stacey Augmon and Ryan Miller interview for Rebels' vacant head coaching job.
■ March 21: UNLV granted permission by Cincinnati to interview Bearcats coach Mick Cronin.
■ March 22: Simon named Southern Utah's head coach.
■ March 23: Cronin meets with UNLV officials, but no agreement is reached.
■ March 24: Cronin meets again with UNLV, but returns to Cincinnati without reaching an agreement.
■ March 25: Cronin turns down UNLV's coaching offer of more than $2 million per year, remains coach at Cincinnati.
■ March 26: UNLV interviews New Mexico State coach Marvin Menzies and Arkansas-Little Rock coach Chris Beard.
■ March 27: Beard agrees to become Rebels coach after Menzies withdraws his name from consideration earlier in the day.
■ March 28: UNLV 7-foot freshman Stephen Zimmerman Jr., a Bishop Gorman product, declares himself eligible for the NBA Draft.
■ April 4: UNLV sophomore guard Patrick McCaw declares early for the NBA Draft.
■ April 7: Jones declares early for NBA Draft.
■ April 8: UNLV senior center Chris Obekpa, who redshirted this season after transferring from St. John's, declares early for NBA Draft. He's the sixth player to leave the program since the season ended and eighth player to leave since November.
■ April 8: Almost two weeks after Beard agreed to become UNLV's coach, he's officially hired when his five-year contract is approved by the University of Nevada Board of Regents by a 9-4 vote.
■ Monday:UNLV sophomore guard Jordan Cornish announces he's transferring to California.
■ Wednesday: Augmon is not retained on Beard's coaching staff.
■ Thursday: Beard meets with Texas Tech officials to discuss the Red Raiders' coaching vacancy that opened earlier in day when Texas Tech coach Tubby Smith left for the same position at Memphis.
■ Friday: Beard leaves UNLV to become Texas Tech coach. UNLV meets again with Marvin Menzies.
■ Saturday: UNLV announces hiring of Menzies as men's basketball coach.