High grades for Rebels on a night of dominance
December 27, 2014 - 10:43 pm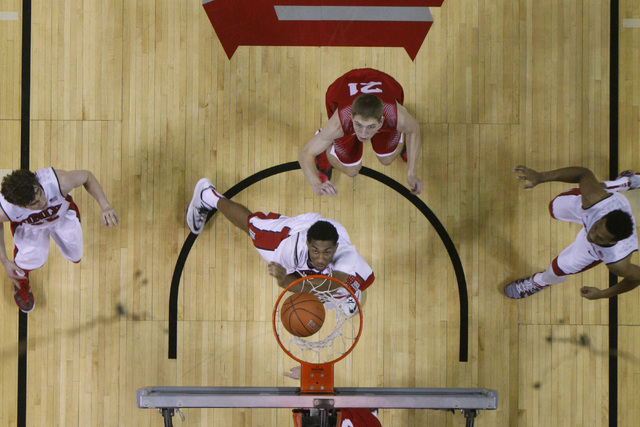 BACKCOURT: B
Another subpar game by Cody Doolin drops the grade for this unit. While most of the team played great against an overmatched Southern Utah team in a 79-45 win on Saturday night at Thomas & Mack Center, the senior point guard once against struggled. He hit 2 of 6 shots, missing all three of his 3-point attempts, and turned the ball over three times. Doolin did have four assists, but he just isn't playing up to the standard he set early in the season. The other two starters in the backcourt covered for his deficiencies. Rashad Vaughn scored 22 points, knocking down 5 of 8 from beyond the arc. Jelan Kendrick finished with just two points, but had 11 rebounds, seven assists and three steals in 33 minutes.
FRONTCOURT: A
Sophomore forward Chris Wood was once again outstanding. He hit his first seven shots and finished 9-for-12 from the field. Wood had 22 points, 14 rebounds and five blocked shots in the victory. He is becoming an absolutely dominant player for UNLV just as the Rebels get set to head into conference play. There isn't a whole lot more Wood could have done on Saturday night. His usual frontcourt mate was missing, however, as Goodluck Okonoboh missed the game with a knee injury. Dwayne Morgan started in his place and finished with six points and eight rebounds before fouling out after just 15 minutes on the floor.
BENCH: B
UNLV's typical eight-man rotation was shortened to just seven because of Okonoboh's injury. Morgan is usually one of three players off the bench to see significant minutes, but he was forced into a spot start. That left just Patrick McCaw and Jordan Cornish to spell the starters. Neither played particularly well. McCaw missed both of his 3-point attempts and went just 1-for-5 from the field. He also turned the ball over four times, though he did have five rebounds and five assists to go along with his four points. Cornish had nine points and two rebounds in 20 minutes of action. Fan-favorite Dantley Walker hit 2 of 4 from 3-point range and scored six points in seven minutes of action. Charles Rushman and Barry Cheaney each got three minutes of action, with Cheaney scoring two points.
COACHING: B
It can be difficult to fully grasp just how tough it can be for a team in a scheduling spot like UNLV faced on Saturday night. That is especially true of young teams, but Dave Rice and his coaching staff did an admirable job of having the Rebels prepared to face an inferior opponent just days after a huge upset victory followed by the Christmas break. UNLV may have started to look ahead to the two challenging games later this week during a poor offensive stretch late in the first half, but the ship was righted during the break. UNLV played back-to-back ranked opponents last week and now face the conference opener at Wyoming and a road game against Kansas next week. It could have been excused for sleep-walking on Saturday night, but Rice's staff didn't let that happen. It might have been nice to see the end of the bench guys get a few more minutes, though.
Contact reporter Adam Hill at ahill@reviewjournal.com or 702-224-5509. Follow him on Twitter: @adamhilllvrj.