Hot-shooting Wallace carries UNLV over No. 15 New Mexico
January 10, 2010 - 10:00 pm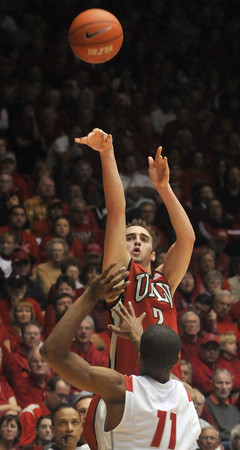 ALBUQUERQUE, N.M. — It was target practice for Kendall Wallace, and each shot he fired came with a silencer.
Wallace made six 3-pointers in the second half and finished with a career-high 21 points to trigger UNLV to a 74-62 victory over 15th-ranked New Mexico on Saturday.
Wallace was so lethal, so unstoppable, he shot a stunned silence into the crowd of 14,586 at The Pit. He was a shooter in the most dangerous frame of mind, because he had no fear.
"Sometimes you get that feel. I had that feel, and I was just shooting without even thinking about it," Wallace said. "You feel like you can't miss and the basket looks huge."
Every shot the junior guard took was a 3-pointer, and he made 7 of 10, including 6 of 7 in the second half as the Rebels pulled away to record what might end up as their most significant road victory of the season.
UNLV (13-3) stopped a two-game losing streak and climbed to 1-1 in the Mountain West Conference.
"We felt like this was almost a must-win game for us," Wallace said.
Tre'Von Willis scored 20 points, and Chace Stanback had 14 points and nine rebounds to help the Rebels rebound from a loss at Brigham Young on Wednesday.
"We fought, fought and fought all game and got the result we wanted," Willis said. "We knew it was a challenge, and we knew great teams step up to the challenge."
The Lobos (14-3, 0-2 MWC) had their 19-game home win streak stopped, and they had Wallace, Willis and UNLV's defense to blame.
After a layup by Will Brown put New Mexico ahead 46-45 with 10:30 left, the Rebels scored the next 11 points and Wallace went on the most impressive tear of his career.
Wallace hit four 3s during a 19-5 run that extended UNLV's lead to 64-51 with 4:56 to go. His last 3-pointer with 1:12 left made the score 71-62, and the only sounds heard in The Pit were from the celebration on the Rebels' bench.
"Kendall made some big shots, and he made several at critical times that kept them from being able to make a charge," UNLV coach Lon Kruger said.
Willis' 13 points, including a 3-pointer with one second left, lifted the Rebels to a 36-30 halftime lead.
Willis' steal and three-point play put UNLV in front 17-6 seven minutes into the game. The Lobos fought back to tie it 21-all on Phillip McDonald's 3-pointer 5:08 before halftime.
"Tre again was real tough," Kruger said. "He got a little more help."
Willis, who made 7 of 8 free throws, sparked the first-half surge that set the table for Wallace's second-half run.
"(Wallace) caught on fire," New Mexico coach Steve Alford said. "We tried a lot of different things, but he really got away from us in the second half."
After Wallace hit a couple jumpers, he said Kruger began calling more plays for him. The penetration of the Rebels' guards often left Wallace open in the corners and on the wings.
"Every time Kendall shot the ball, I thought it was going in," Stanback said.
Matt Shaw (nine points), Derrick Jasper (six points, seven rebounds and six assists) and Oscar Bellfield (seven assists) contributed to UNLV's efficiency on the offensive end.
The Lobos outscored the Rebels 22-9 on free throws, but UNLV's defensive pressure forced New Mexico into shooting 18-for-50 from the field.
Dairese Gary led the Lobos with 17 points, 13 on free throws. Roman Martinez had 15 points and 12 rebounds, and Darington Hobson scored 14.
Wallace's performance was reminiscent of former UNLV guard Kevin Kruger's memorable game at The Pit in 2007. Kruger shot 7-for-9 from 3-point range and scored 29 points in an 85-83 victory.
"I didn't get a chance to see that," Wallace said, "but I've heard about it."
Contact reporter Matt Youmans at 702-387-2907 or myoumans@reviewjournal.com.
UNLV 74
NEW MEXICO 62
KEY: Rebels junior Kendall Wallace made six 3-point baskets in the second half and scored a career-high 21 points.
NEXT: San Diego State at UNLV, 7 p.m. Wednesday, CBSC (333), KWWN-AM (1100)