How UNLV men's basketball got stuck in a rut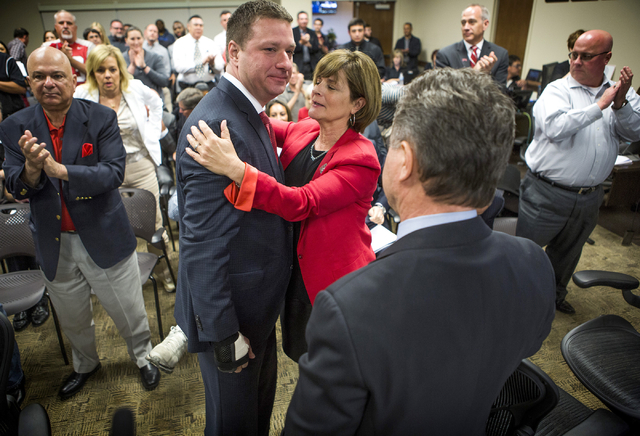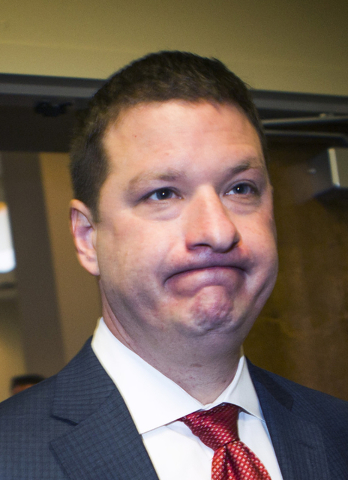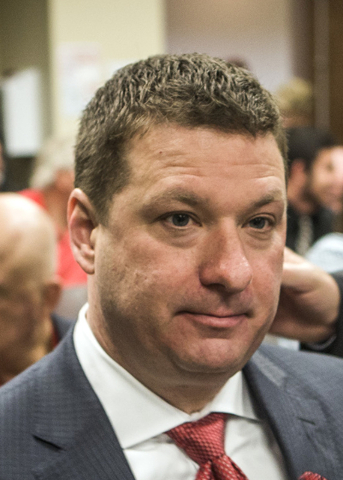 New UNLV men's basketball coach Chris Beard faces territory that was foreign to many of his predecessors.
Ahead of him are issues that were nonexistent in 2004 when then-athletic director Mike Hamrick turned to special adviser, former Rebels AD Brad Rothermel, for advice on the next coach to hire.
"I would try to hire Lon Kruger if I could," Rothermel told Hamrick. "I've known him for a long time and his wife and family for a long time. I believe he can win here."
Kruger got the job. He built on the stability that had been established under predecessor Charlie Spoonhour. And Kruger won.
But the program that Kruger built, as well as the expectation of playing in the postseason every year, has disappeared. UNLV has become a train station, with players making the program a stopover instead of a four-year commitment.
The result is a lack of cohesion that has led to 18-15 records each of the past two seasons. The run of seven consecutive postseason appearances, including six in the NCAAs under Kruger and successor Dave Rice, is a distant memory.
"You watch the Final Four and the NCAA Tournament, the teams with the most success are the teams that have had continuity within their program, guys that were there their freshman, sophomore, junior and senior year," said Ryan Miller, a Rebels assistant coach the past two seasons. "The whole thing is you've got to keep developing players within your program. When you have turnover or attrition, it sets you back."
CONSTANT TURNOVER
Nine players have declared early for the NBA Draft over the past four years. Just this year Derrick Jones Jr., Patrick McCaw, Chris Obekpa and Stephen Zimmerman Jr. went pro, Jordan Cornish and Dwayne Morgan announced they were transferring, and Goodluck Okonoboh walked away from the team in November.
The number of players who have left early for the pros or transferred to other schools since Kruger left in 2011 for Oklahoma is startling. He lost seven players in his seven seasons, though none went pro early, and Kruger was criticized for not attracting more talented players to UNLV. None of the seven who went elsewhere transferred to a power-conference program.
Kruger also had to dismiss two other players for off-court issues.
Under Kruger, at least, UNLV fans didn't spend each offseason wondering how much of the roster would be overhauled. Now it's an annual worry.
In the succeeding four years under Rice, who was much more aggressive than Kruger in going after NBA-type talent, UNLV lost 16 players, though Charles Rushman was a walk-on who graduated early.
Of the five who declared early for the draft, only Anthony Bennett (No. 1 in 2013) and Rashad Vaughn (No. 17 in 2015) were selected. Of the 11 who transferred, only three went to schools in power conferences — Mike Moser to Oregon and Katin Reinhardt to Southern California in 2013 and Bryce Dejean-Jones to Iowa State in 2014.
"Anytime you get better players, you're going to have more players wanting to test the waters for the pros sooner," said Danny Tarkanian, son of the Hall of Fame Rebels coach Jerry Tarkanian and a Rebels star in the 1980s. "That's only part of what's happening at UNLV. The other part is all the transfers. I think that's very unusual. You limit transfers from having success and people enjoying being on the team. When you don't have the real great success, you have people pointing fingers at others and people wanting to transfer.
"I think when you have your 11th, 12th or sometimes 13th player on the bench that are stars somewhere else, you're going to create some type of divisiveness within the team unless you just have extraordinary character."
A DIFFERENT DIRECTION
UNLV changed its recruiting approach two years ago under Rice by building most of the program around long-term players, and the staff put together a recruiting class last year the coaches believed would be the beginning of that plan.
They approached the team's current recruiting class the same way.
"We felt we started making some strides," Miller said. "We were always going to take an occasional one-and-done like a Stephen Zimmerman or Rashad Vaughn, knowing that they're going to be there to help enhance the profile of the program. But the base of your team has to be on program players, program kids that are successful student-athletes in the classroom and on the court.
"You hear the word culture a lot, and it's not a buzzword. It's setting the standard of your program at a high level and holding everybody accountable to that standard. What juniors and seniors do, they know that standard, and so they end up coaching your team for you because they hold the new kids … accountable to that standard. If you can't get those older classes, it becomes really difficult."
Maybe Beard can build the type of stability the previous regime couldn't deliver, which would be ironic considering this is his fifth head coaching job in six years. Beard, though, did spend 10 seasons as an assistant at Texas Tech.
He speaks as if he's in for the long haul at UNLV.
"To me, winning is not a result," Beard said. "Winning is a product of a process that we do. You'll never hear me talk about winning a certain amount of games or winning the championship. You'll hear everybody in our program have one voice and one message about a winning culture and a winning process."
MORE HURDLES TO OVERCOME
Beard is off to a late start. Though he agreed to take the job on March 27, his hire didn't become official until the University of Nevada Board of Regents approved his five-year contract on Friday.
"We need to build a foundation," Regent James Dean Leavitt said. "I don't think any of us know what players we're keeping and which ones we're getting. That's all to be determined, and that's why the delay in this has been so problematic."
Beard has been successful at every stop, including his most recent one at Arkansas-Little Rock. In his one season there, the Trojans went 30-5, won the Sun Belt Conference regular-season and tournament championships and advanced to the second round of the NCAA Tournament.
Translating that success to the Rebels certainly won't be easy, and it probably will take time given the long list of players to leave this year. Beard, however, is looking at the situation this way.
"We've got some really good players on our roster right now, and we've got some guys that are going to go into their senior year," Beard said. "I'm going to give those guys everything I have every single day to try to put a team on the floor next year that can compete. I think it is safe to say we can get it done next year."
No matter what happens next season, UNLV didn't hire Beard for the short term. He will be counted on to make UNLV a place where recruits sign with the intention of staying for multiple seasons — and winning consistently.
"I think it's a big challenge," athletic director Tina Kunzer-Murphy said. "We know it doesn't come easy, but I love talking to Coach Beard about it because he believes he can turn this program around. When he went to Arkansas, he talked about, 'We'll be cutting down the nets in 11 months.'"
Contact Mark Anderson at manderson@reviewjournal.com or 702-387-2914. Follow him on Twitter: @markanderson65
MASS EXODUS
UNLV players who left during or after the season.
Daquan Cook; Dismissed Feb. 5
Jordan Cornish; Will transfer
Derrick Jones Jr.; Declared Thursday for NBA Draft
Patrick McCaw; Declared Monday for NBA Draft
Dwayne Morgan; Will transfer
Chris Obekpa; Declared Friday for NBA Draft
Goodluck Okonoboh; Quit in November
Stephen Zimmerman Jr.; Declared March 27 for NBA Draft
Returning players
Ben Carter; 6-9; Forward
Tyrell Green; 6-7; Forward
Jalen Poyser; 6-4; Guard
Austin Starr; 6-3; Guard