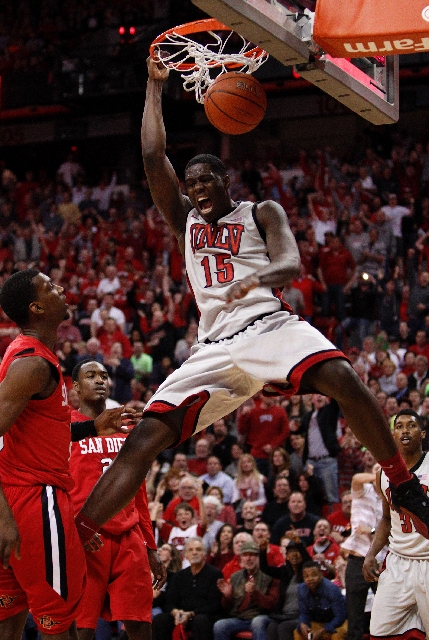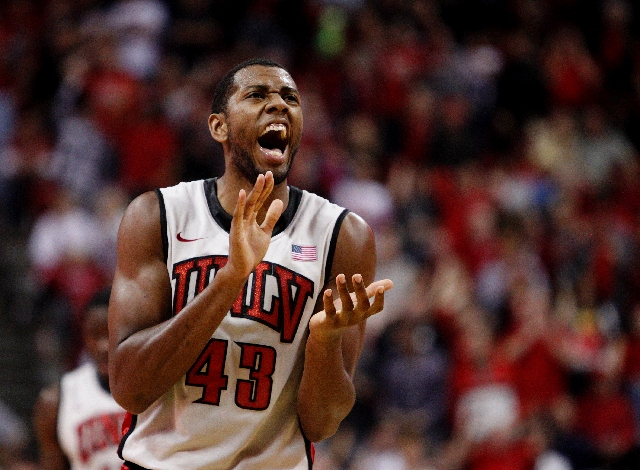 In need of motivation, freshman forward Anthony Bennett got a bump from a fired-up crowd and a pep talk from his coach. It was exactly what he needed to carry UNLV over the hump.
Bennett put a struggling team on his broad shoulders Saturday night, dominating in the second half to lift the Rebels to a 72-70 victory over San Diego State at the Thomas & Mack Center.
"The crowd was great. It really got me hyped up, and I'm pretty sure it got everybody else hyped up, too," said Bennett, who finished with 21 points and 12 rebounds. "It was a great win."
Energized by a sellout of 18,577, the Rebels needed a spirited comeback and a late defensive stop to climb back into relevancy in the Mountain West race.
"We played with heart and passion," UNLV coach Dave Rice said. "The key for our team is to play with heart and play with passion like we did in the second half."
Sophomore center Khem Birch finished with 16 points, seven rebounds and five blocks for the Rebels (19-7, 6-5), and Birch served as the safety net on the game's pivotal play.
After a critical turnover on an inbounds pass with 16 seconds remaining, UNLV was clutching a one-point lead and bracing for one last stand. But a misstep by Aztecs guard Jamaal Franklin settled a thrilling finish.
Franklin dribbled away the clock at the top before driving on Bryce Dejean-Jones with about five seconds left. The whistle blew as Franklin bumped into Dejean-Jones in the lane and Birch jumped to swat the shot away.
"I was pretty sure he was going to drive to the right. He drives right about 90 percent of the time," Birch said. "I heard the whistle, and I thought it was a foul at first, but then I saw the ref and I was so happy."
Franklin shuffled his feet and was called for traveling with 2.8 seconds to go. Katin Reinhardt made the second of two free throws, and Justin Hawkins batted away San Diego State's inbounds pass near midcourt as time expired.
For the fourth time in the teams' past five meetings, the final margin was two points. UNLV, off a lopsided loss at Air Force, completed a regular-season sweep of the Aztecs (18-7, 6-5) to gain a three-way tie for third place in the league.
"It's a tremendous rivalry," Rice said. "I was pretty confident at the half that we were going to get back in the game."
Chase Tapley scored 22 points, JJ O'Brien 15 and Franklin 11 for San Diego State, which trailed by 10 with 5½ minutes remaining.
The Aztecs pulled within 70-67 on Tapley's 3-pointer with 1:24 left. Hawkins missed a floater in the lane, Franklin missed a 3-point try and Hawkins rebounded for the Rebels with 27 seconds to go. Hawkins made one free throw before Tapley's fourth 3-pointer trimmed the Rebels' lead to one.
"We put ourselves in position to win and we just didn't finish it," San Diego State coach Steve Fisher said.
Bennett was held to five points in the first half, and the Aztecs led by six. He was benched near the end of the half by Rice, who was unhappy with Bennett's defensive efforts.
"Coach talked to me at halftime and said, 'You've got to take pride on defense and everything will start going your way,' and so I did," said Bennett, who had three blocks.
The Rebels erased a 40-34 deficit by scoring the first eight points of the second half, with five by Bennett. Franklin and Tapley put the Aztecs back in front 54-48, but a deep 3 by Bennett at the 12:38 mark triggered a 14-0 run to turn around the game.
UNLV went up 62-54 on Hawkins' short bank shot with 8:43 remaining. A fast-break dunk by Franklin stopped the Rebels' run at the eight-minute mark.
In the midst of the run, Bennett and junior forward Mike Moser each went to the floor to fight for a loose ball as fans and the UNLV bench went berserk.
"Bennett made some tough plays. His offensive performance was fabulous. He is capable of doing anything when he puts his mind to it," Rice said. "He made a tremendous commitment to the defensive end in the second half."
Moser (nine points) and Hawkins (seven) gave the Rebels a boost off the bench. Dejean-Jones made several key plays, including hitting a 3-pointer that stretched the lead to 67-57 with 5:37 left.
"That's a big monkey off our back, for sure. We beat a pretty good team twice," Moser said. "We've been a desperate team, and tonight was no different."
Contact reporter Matt Youmans at myoumans@reviewjournal.com or 702-387-2907. Follow him on Twitter: @mattyoumans247.
UNLV — 72
SAN DIEGO STATE — 70
KEY: Anthony Bennett, who finished with 21 points, hit a 3-pointer to trigger the Rebels' 14-0 run in the second half.
NEXT: Colorado State at UNLV, 7:15 p.m. Wednesday, Thomas & Mack Center, CBSSN (333), KWWN (1100 AM, 98.9 FM)