'It's been a blessing': UNLV honors seniors ahead of Utah State game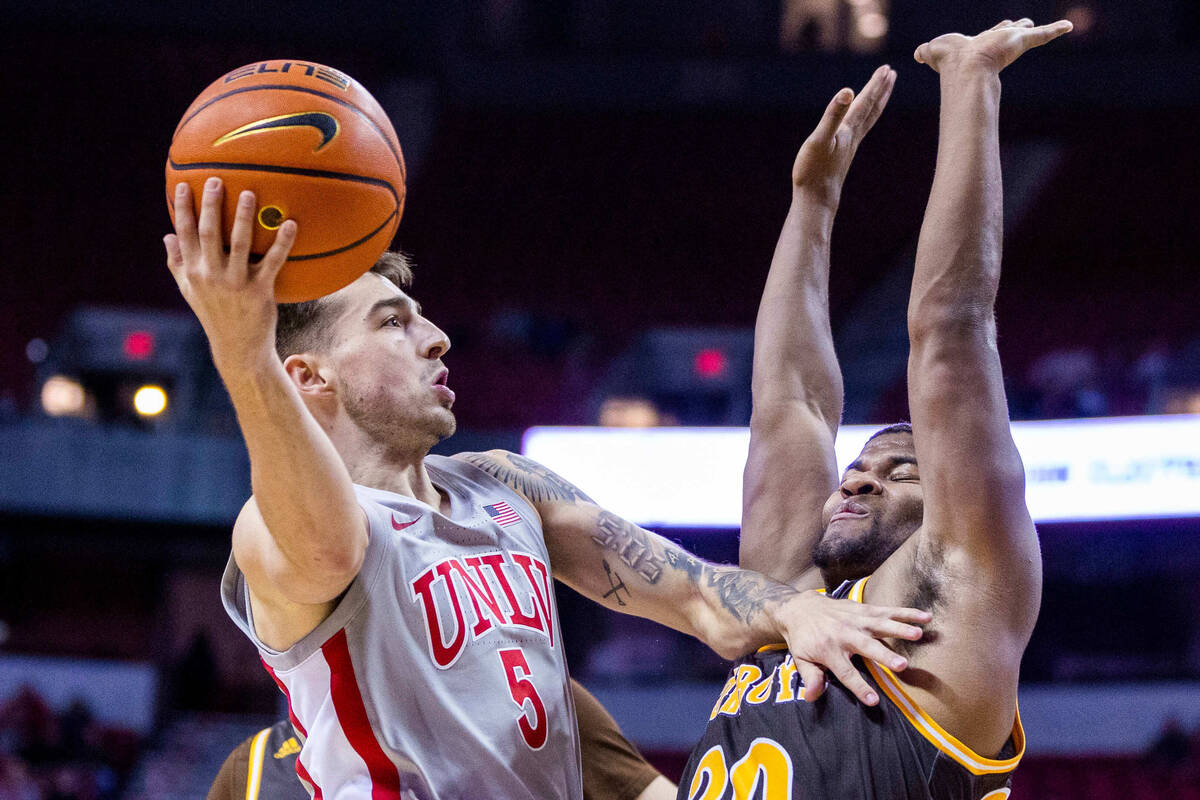 If Jordan McCabe had a time machine, he'd give himself some advice about letting go of the past.
Two years ago, McCabe was testing out the transfer portal. He was looking for a new opportunity after a three-year stint at West Virginia left him feeling underwhelmed. The point guard from Kaukauna, Wisconsin, hadn't played as much as he'd expected, and the Mountaineers' style didn't suit him.
McCabe chose a new path when he committed to UNLV and Kevin Kruger, a first-year coach with only one player on his roster. Two years later, McCabe has moved forward. He's at peace with the way his time at West Virginia played out, partially because he rediscovered his joy for basketball at UNLV.
"I think you have to take a look internally, instead of trying to blame everyone else," McCabe said. "I'd tell (myself) once you enter that portal, whatever happened before doesn't matter. You take everything that's happened and try to make yourself as good as you can possibly be."
McCabe is one of four players who will be honored during UNLV's senior night at 8 p.m. Wednesday, before the Rebels (17-11, 6-10 Mountain West) take on Utah State (22-7, 11-5) at the Thomas & Mack Center. McCabe will be joined by Elijah Parquet, EJ Harkless and Cameron Burist.
"Incredibly thankful and appreciative they chose to be here," Kruger said.
While McCabe spent two years at UNLV, Parquet and Harkless are completing their only campaigns with the Rebels.
Harkless is coming to the end of a well-traveled college career. He spent his first two seasons at Cal State Northridge before transferring to Oklahoma.
UNLV is the final stop for Harkless, who leads the team in scoring (18.4 points per game). While the season hasn't gone exactly as planned, the San Bernardino, California, native has enjoyed proving he can play at the Mountain West level.
"It's been a blessing," Harkless said. "It's something I could only dream of. I'm glad I had the opportunity to come out and do it."
Parquet, who spent four seasons at Colorado before arriving at UNLV, is also approaching the end of a long college career. The fifth-year wing was a defensive difference-maker at the beginning of the season, but has struggled with injuries and has missed UNLV's past two games.
Kruger said his heart goes out to Parquet, whose final season with the Buffaloes also ended early due to injuries, but is appreciative that the veteran chose to spend his final year of eligibility with the Rebels.
Burist, a walk-on guard and Las Vegas native who played at Liberty, spent two seasons at UNLV after arriving from Mesa Community College in Arizona. Kruger has repeatedly praised him for his attitude and ability running the scout team.
McCabe and Harkless know it's possible these last few games will be their last time playing high-level basketball. While they want to pursue professional careers at some level, they recognize it's not a guarantee.
Both players said they hope their legacies at UNLV will be as teammates who helped others get better.
"This was the culture I wanted to be a part of," McCabe said. "It was everything I expected it to be."
Contact reporter Andy Yamashita at ayamashita@reviewjournal.com. Follow @ANYamashita on Twitter.
Up next
Who: Utah State at UNLV
When: 8 p.m. Wednesday
Where: Thomas & Mack Center
TV: CBS Sports Network
Radio: KWWN (1100 AM/100.9 FM)
Line: Utah St -2; total 148