'It's everything': Former Clark star excited for UNLV homecoming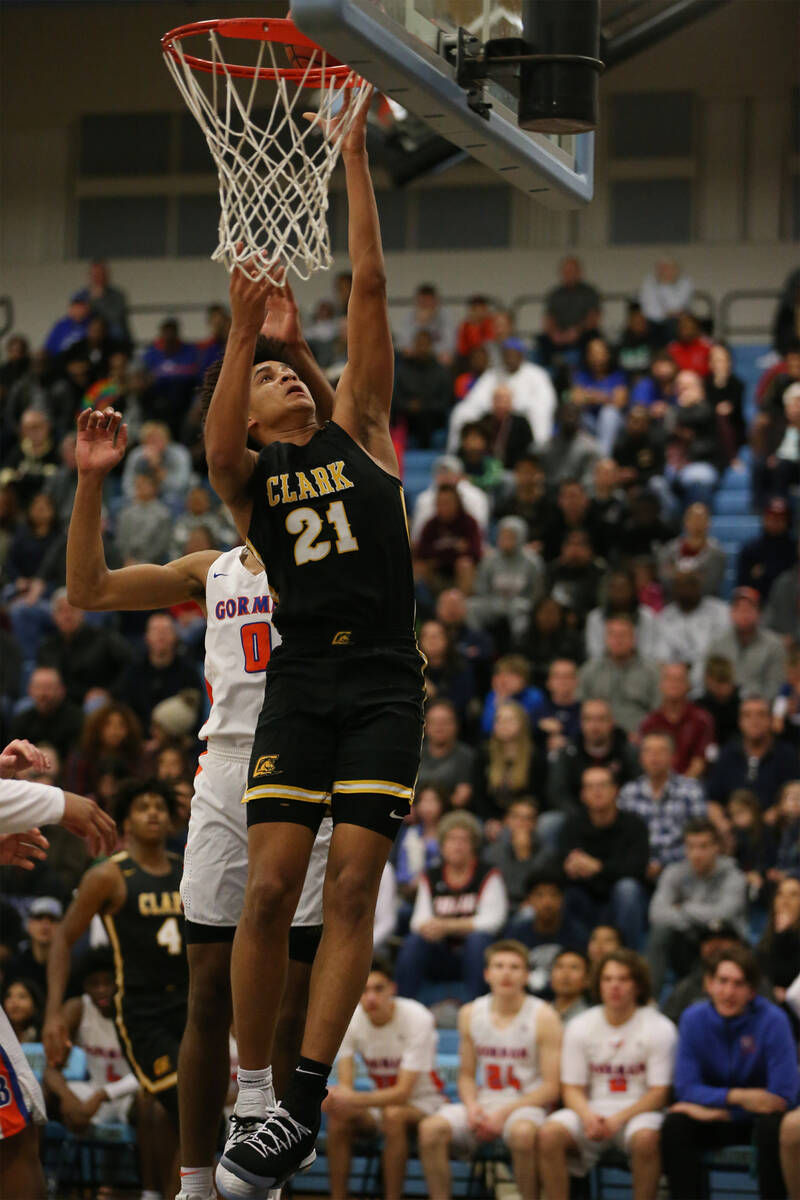 Jalen Hill had options.
The 6-foot-6-inch forward entered the transfer portal following four seasons at Oklahoma and was quickly contacted by Arkansas, Baylor, Arizona State, Utah and Florida State, among others.
One opportunity stood out above the rest — the first one he received.
"As soon as I hit the portal, (UNLV coach Kevin Kruger) was the first coach to call me," Hill said. "It went pretty quick."
Hill, the Las Vegas native who starred at Clark before heading to Oklahoma, announced a commitment to UNLV on Wednesday, one of three transfers landed by Kruger.
Hill said the chance to play for his hometown university in front of friends and family for his final season of college basketball was the perfect opportunity.
"Home has always been a place that I've wanted to be at," Hill said. "I just felt like this was the best chance for me to come back."
Hill has history with UNLV. The 2018-19 Gatorade Nevada Boys Basketball Player of the Year grew up a Rebels fan, and he said he went to UNLV basketball games throughout middle and high school. He remembers raucous crowds and an electric atmosphere at the Thomas & Mack Center, something he hopes will return in the upcoming season.
"It felt like it was an NFL game with how many people were there," Hill said.
Kruger was another reason UNLV appealed to Hill. He originally committed to Lon Kruger at Oklahoma and spent two seasons playing for the former UNLV coach. But it was Kevin Kruger, then an assistant for his father, who initially recruited and convinced Hill to head to Norman, Oklahoma.
They never got to spend a season together. Instead, they swapped places. Kruger's first season as an assistant for T.J. Otzelberger at UNLV coincided with Hill's freshman campaign at Oklahoma.
Hill said didn't want to miss a second chance to play for Kruger.
"I have a lot of trust in Kevin," Hill said.
The final factor that convinced Hill that he wanted to be at UNLV was his familiarity with the program. He spoke to former Rebels guard EJ Harkless — who transferred to UNLV from Oklahoma before last season — about the adjustment between the Big 12 and the Mountain West and what to expect from Kruger's program.
Hill is also longtime friends with former Bishop Gorman standout Isaiah Cottrell, who transferred to UNLV from West Virginia but missed most of last season because of injuries. They've known each other since middle school, played on the same AAU team and competed against each other in high school. Cottrell hosted Hill's visit to UNLV.
"That's my friend, my brother for life," Hill said.
The Rebels' season is still several months away, but Hill is already looking forward to reintroducing himself to Las Vegas. He averaged 9.7 points, 5.8 rebounds and 1.3 assists during his final year at Oklahoma, and he said his game has matured since his time at Clark.
Hill said his only goal is to help guide UNLV back to March Madness for the first time since 2013. Hill played in the NCAA Tournament with Oklahoma in 2021 and hopes to bring similar success back to his hometown.
"Growing up watching UNLV basketball, and now being able to wear that across my chest — it's everything," he said. "I get to represent my city, put us back on the map and get UNLV basketball back to where it has been."
Contact reporter Andy Yamashita at ayamashita@reviewjournal.com. Follow @ANYamashita on Twitter.