'Jackie stepped up big': Overtime heroics give UNLV win over UNR
Updated March 4, 2023 - 7:32 pm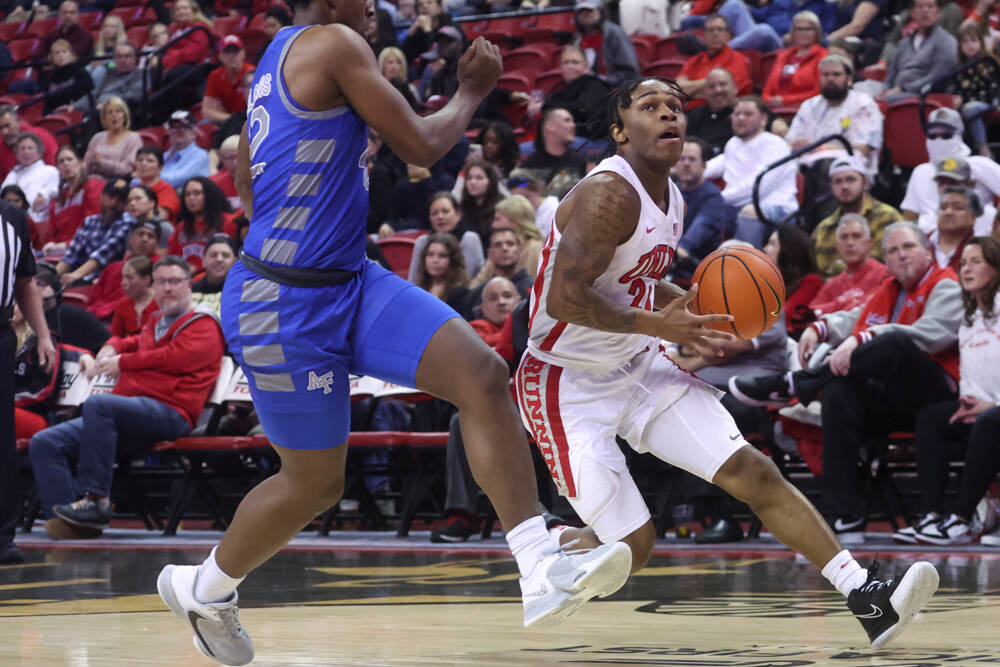 UNLV coach Kevin Kruger didn't have any options left. His guard rotation had been completely depleted during Saturday's 69-67 overtime win against UNR.
Sophomore Keshon Gilbert was ejected less than six minutes into the game after being called for a flagrant-two foul. Fifth-year guard Jordan McCabe exited early in the second half after taking a hard fall on a layup attempt.
Fifth-year guard EJ Harkless had been the team's only source of offense, but he fouled out with 52 seconds remaining.
Missing Gilbert, McCabe and Harkless, Kruger turned to sophomore Jackie Johnson III, the last ballhandling guard available off his bench.
"Jackie stepped up big tonight," Kruger told reporters.
Johnson did more than just step up. He took over, scoring seven points and dishing out two assists in overtime to lead UNLV (18-12, 7-11 Mountain West) to a rivalry win against UNR (22-9, 12-6) at Lawlor Events Center in Reno in the Rebels' regular-season finale.
Johnson's deep 3 from the top of the arc with 43 seconds remaining gave the Rebels a lead they never gave back.
Kruger is 4-0 against UNR after the Rebels finished a second straight sweep of the season series. Saturday also marked the Wolf Pack's first loss at home this season.
The win gives the Rebels the No. 7 seed at the Mountain West tournament at the Thomas & Mack Center. UNLV will play No. 10 Air Force at 1:30 p.m. Wednesday.
Kruger was glad to see the team bounce back after a disappointing 25-point loss Wednesday against Utah State.
"It was great to see them come out and fight," Kruger said.
"We can't get too high, just like we didn't get too low," he added. "Now we've just got to get ready for Wednesday."
Harkless led all scorers with 24 points, and senior Luis Rodriguez added 14 points and 13 rebounds. Johnson finished with 12 points on 5-of-9 shooting.
UNLV got off to a great start, taking a 13-0 lead behind eight quick points from Harkless. UNR fought back, taking its first lead near the 10-minute mark, 17-15, but UNLV surged to a 31-21 halftime lead largely because of its defense.
The Rebels held the Wolf Pack to just seven made shots from the floor in the first half, and a Nick Davidson layup with 6:56 remaining before the break was UNR's final field goal of the period. UNLV forced nine turnovers, and UNR shot just 29.2 percent from the field.
But the Wolf Pack stormed back again. With Harkless in foul trouble, UNR tied the game at 40 before taking a seemingly commanding eight-point lead near the two-minute mark.
Kruger reinserted Harkless, and it paid off, as his 3 from the left wing with 1:14 remaining tied the game at 54. However, he picked up his fifth foul on the ensuing UNR possession.
Wolf Pack guard Jarod Lucas made both free throws to re-establish a two-point lead, but a long rebound with 12 seconds remaining fell to Rodriguez, who charged down the court and made a tough layup through contact to send the game to overtime.
Johnson took over for the final period. He blew past his defender and converted two difficult layups, while also facilitating for his teammates. Johnson scored or assisted all but two of UNLV's 13 overtime points. The Rebels survived a late scare after the Wolf Pack won a jump ball with five seconds remaining, and held on to grab the rivalry win.
"Our character got challenged on that senior night," Harkless said. "But we came out and responded, so it's a great moment going into the tournament."
Contact reporter Andy Yamashita at ayamashita@reviewjournal.com. Follow @ANYamashita on Twitter.