Knowles triggers Louisville rally, saddles UNLV with first defeat
December 11, 2010 - 8:55 am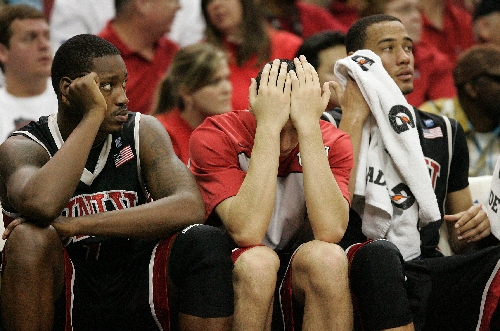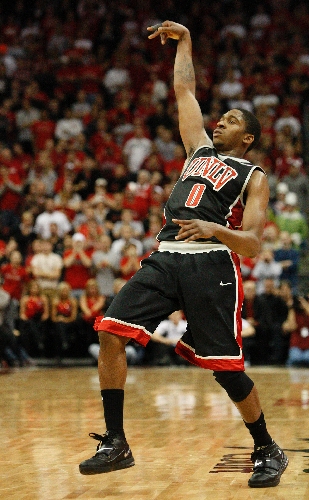 LOUISVILLE, Ky. — Just when it appeared UNLV junior Oscar Bellfield might shoot down Louisville for the third year in a row, a timeout was called and the script was changed.
Soon after, the Cardinals' Preston Knowles introduced himself to the game.
Knowles, a senior guard, started firing and could not be stopped. He scored all of his 20 points in the second half as 24th-ranked Louisville dealt the No. 20 Rebels their first loss, 77-69 before a crowd of 22,489 at the KFC Yum! Center on Saturday.
"I knew he was capable of doing things like that," Bellfield said of Knowles, who took over the matchup of unbeaten teams.
UNLV (9-1) seemed to be gaining control before suddenly falling apart on both ends of the floor with a flurry of turnovers and defensive lapses.
"When you lose, it's a jolt," Rebels coach Lon Kruger said. "It's a bit humbling and a little tough to handle."
Bellfield's 3-pointer put UNLV up 45-36 with 16:45 remaining. Louisville coach Rick Pitino called timeout and the Rebels' run came to an abrupt end.
Kyle Kuric's 3 triggered an 11-2 surge for the Cardinals, who tied it at 47 and went ahead 52-51 on Knowles' 3-pointer with 12:11 to go.
Knowles struck again by hitting a 25-footer to extend Louisville's lead to 57-51 with 10:05 left. UNLV closed within four points twice but ran out of steam.
"UNLV is a great team. We don't want to hang our hat on this victory, but it was a great one," Knowles said.
Pitino switched to a zone defense out of the timeout. The Rebels, who built their lead by rotating the ball and knocking down perimeter jumpers, were slow to react and became stagnant offensively.
"The zone was kind of confusing," said Bellfield, who made four 3-pointers and finished with 16 points. "We were kind of just standing around waiting for somebody to do something. Not everybody was in the flow. We really weren't making shots."
Bellfield scored 11 points to lift UNLV to a 38-33 halftime lead. The Rebels shot 50 percent from the field, including 7-for-12 from 3-point range.
The second half was a completely different story, as UNLV made only one 3-pointer and committed 10 of its 18 turnovers.
"During that stretch when they were making the run, they were tougher with the ball and quicker to the ball," Kruger said. "We got a little sloppy with the ball, and on the road especially, you've got to play stronger."
Tre'Von Willis, coming off the bench, scored 17 points to lead the Rebels. Anthony Marshall had nine points and 11 rebounds, and senior guard Derrick Jasper had 10 points but six turnovers.
Chace Stanback shot 2-for-8 and finished with eight points, well below his team-leading 14.6 average. With three minutes left, Stanback took an open 3 from the corner and shot it off the side of the backboard.
"Offensively, we weren't able to run our stuff as effectively as we've been running it," Stanback said. "We made a lot of mistakes on the defensive end, and they were able to capitalize on it."
Kuric and Chris Smith scored 17 points apiece for the Cardinals (8-0). Kuric made 5 of 8 3-pointers as Louisville shot 10-for-28.
"We beat a tremendous basketball team," said Pitino, who spent all week hyping the Rebels as one of the nation's elite teams. "We have been preparing for them for a long time."
UNLV's big men were no-shows. Starting forward Quintrell Thomas played only five minutes, and backup Brice Massamba had one point and four rebounds in 23 minutes.
The full-court pressure defense the Rebels used so effectively through nine games also was a nonfactor, as Cardinals point guard Peyton Siva proved too tough to rattle.
Siva, who had nine points and seven assists, said, "It's a big game because they are UNLV, they beat us two years in a row and they were ranked."
Contact reporter Matt Youmans at myoumans@reviewjournal.com or 702-387-2907.
Slide show
Video
• REBEL NATION: Louisville goes small to hand Rebels a big loss, 77-69
LOUISVILLE 77
UNLV 69
KEY: Preston Knowles scored all of his 20 points in the second half to lead the Cardinals' comeback.
NEXT: UNLV vs. UC Santa Barbara, 7 p.m. Wednesday, Thomas & Mack Center, KWWN (1100 AM, 98.9 FM)