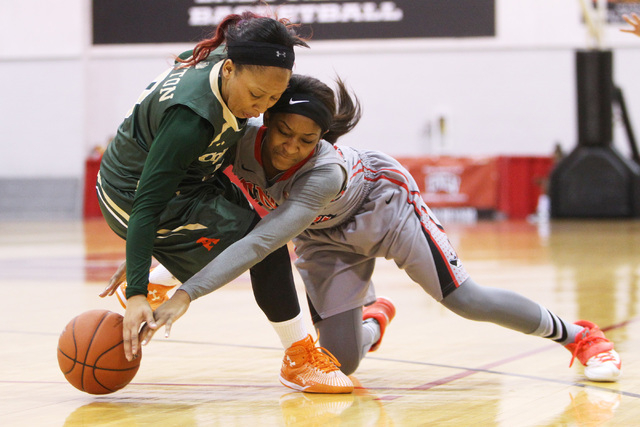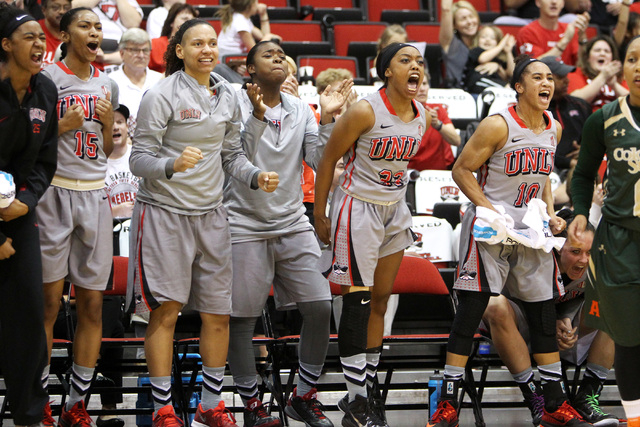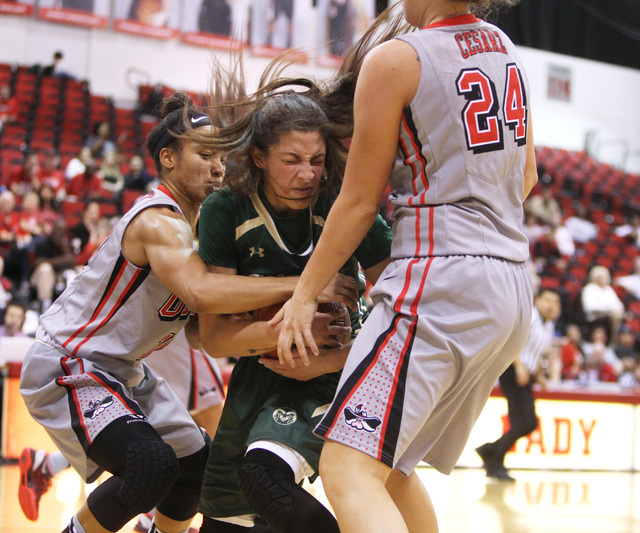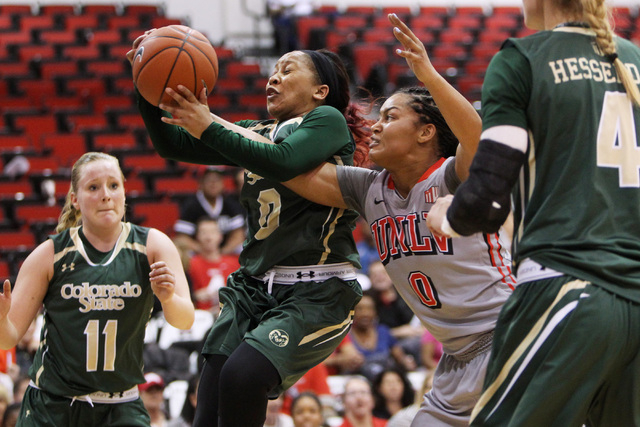 UNLV had won two straight games, but playing Colorado State on Saturday would be the true sign of whether the Lady Rebels could make a strong showing in the season's final month.
And they stood right with one of the Mountain West's best women's basketball teams.
At least until the final three minutes.
That's when the Rams took over, scoring the final 11 points in a 55-43 victory at Cox Pavilion.
UNLV's task doesn't get easier, with a trip to conference leader Fresno State (17-4, 9-1 Mountain West) on Wednesday. Now 5-5 in the conference (8-13 overall), the Lady Rebels are in danger of slipping in the standings.
But if they play as well as they did most of the game against Colorado State (17-5, 9-2), the Lady Rebels still could be a factor down the stretch.
Neither team looked all that good for much of Saturday's game, with UNLV missing 12 of its first 13 shots and the Rams eight of their first nine. Points were at a premium throughout, and no UNLV player scored in double figures.
In facing the conference's leading defense — Colorado State was allowing 57 points per game — UNLV players knew they had to rely on their own defense and rebounding. The Lady Rebels did well in both areas, holding the Rams to 32 percent shooting and outrebounding them 47-36.
"When you're not hitting shots, all you can depend on is defense," said UNLV forward Amie Callaway, who had nine rebounds. "We had a really good defensive game."
UNLV, though, could never find enough offense, shooting 25.4 percent, and it didn't help that guard Danielle Miller struggled with missed shots and fouls. Miller's 19-point average led the Mountain West entering the game, but she made 2 of 12 shots and scored seven points.
Lady Rebels coach Kathy Olivier so badly wanted an offensive spark, however, she put Miller in with 10:19 left, even though the player had four fouls.
"She sat so long in the first half," Olivier said. "So I was like, 'I'm just going to play her and see what I can do. I'm hoping to get three solid minutes.'"
Miller provided a boost, making a free throw, feeding Callaway for a layup and sinking a 15-footer for a 39-37 lead with 6:02 left.
With 5:13 remaining, however, Miller was whistled for her fifth foul and then a technical. Colorado State took advantage, thanks largely to an offensive rebound off a missed free throw, to score five points without the ball leaving its end of the court to go ahead 42-39.
UNLV then twice cut the lead to a point, but the Rams took over with their closing run.
"We did execute at times, but I felt toward the end, we didn't executive," UNLV point guard Nikki Wheatley said. "That's what killed us."
Wheatley's nine points topped UNLV's scorers, and she also had nine rebounds. AJ Newton made 4 of 9 3-pointers and scored 19 points to lead Colorado State.
The Lady Rebels can focus on those final three minutes and trying to improve their end-of-game play. Or they can look at the first 37 points and know they gave a conference contender a battle.
"I don't know how much (Colorado State) can get better," Olivier said. "We can get better as a team."
Contact Mark Anderson at manderson@reviewjournal.com or 702-387-2914. Follow him on Twitter: @markanderson65.
COLORADO STATE 55
UNLV 43
• KEY: Colorado State scored the final 11 points to blown open a one-point game.
• NEXT: UNLV at Fresno State, 7 p.m. Wednesday, Mountain West Network (online only)