Lady Rebels end nonconference season with third straight loss
December 22, 2017 - 9:04 pm
Updated December 22, 2017 - 10:52 pm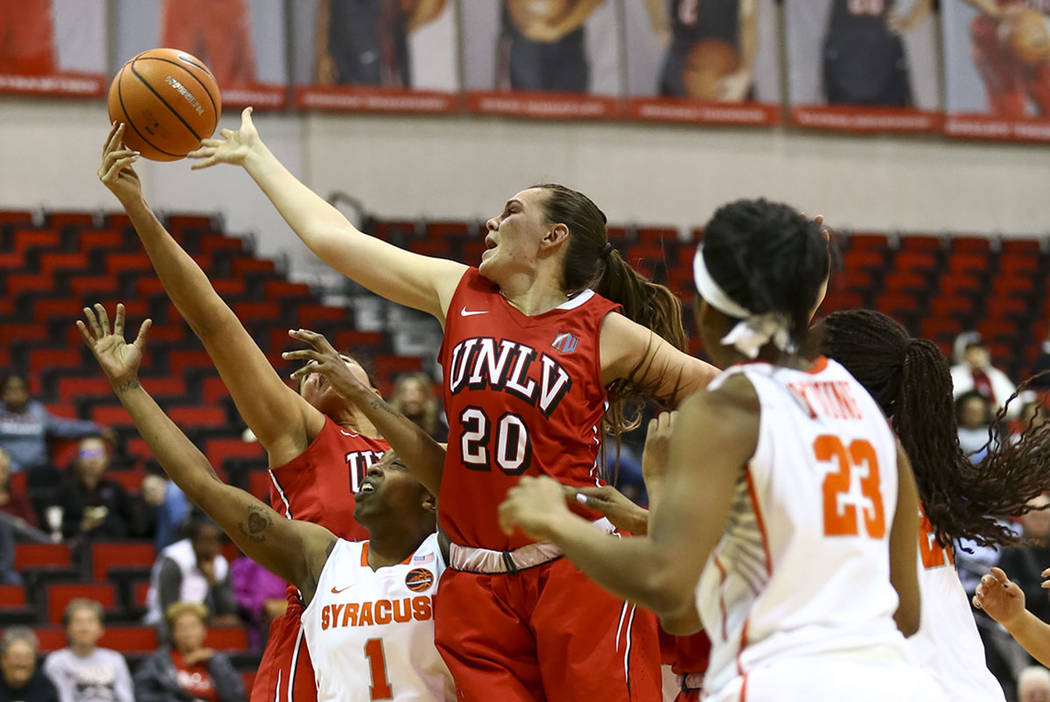 The UNLV women's basketball team wanted a nonconference schedule that would prepare it for Mountain West play.
The Lady Rebels certainly accomplished that, though perhaps at the expense of a few wins.
UNLV concluded its nonconference schedule Friday, losing to Syracuse, which received votes in the latest AP poll and is ranked No. 22 in the coaches poll, 69-55 in the final game of the Duel in the Desert at Cox Pavilion.
"We're playing another Top 25 team," said coach Kathy Olivier, whose team lost its third straight game. "The reality is we've played three Top 25 teams the last three games, and I feel like we've gotten better."
On Friday, the Lady Rebels (5-6) played relatively well for the final three quarters, even outscoring Syracuse in two of them.
But the effort went for naught, as Syracuse (12-1) scored the first 18 points of the game.
"The first quarter was a horrible start for us," Olivier said. "We've got to go back to the drawing board as far as the beginning goes, but once we settled down and realized the pace that Syracuse played at, I thought we did a good job."
The Lady Rebels committed eight turnovers in the first quarter, shot 9.1 percent and couldn't keep up with Syracuse's pace. They trailed 28-6 after the quarter.
"We talked and talked about the pace," Olivier said. "Not ready. There's no excuse for that."
Trailing 65-42 after three quarters, the Lady Rebels outscored the Orange 13-4 in the fourth to make the final score somewhat respectable.
Tiana Mangakahia led Syracuse with 12 points, nine assists and eight steals. Four Orange players scored in double figures, with Miranda Drummond setting the pace with 18 points.
Katie Powell led UNLV with 15 points and 12 rebounds, her sixth double-double this season.
Brooke Johnson scored 12 points on four 3-pointers but she shot 4-for-15.
The Lady Rebels begin Mountain West play Dec. 30 at Boise State having lost six of their past seven games.
"We said from the get-go we have a very demanding schedule, and we knew that and the team wanted it, so they better show that they're ready to compete for conference, because that's why we did it," Olivier said.
Contact Betsy Helfand at bhelfand@reviewjournal.com. Follow @BetsyHelfand on Twitter.