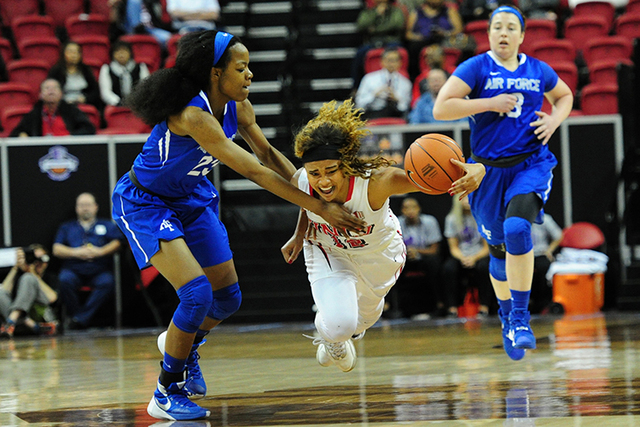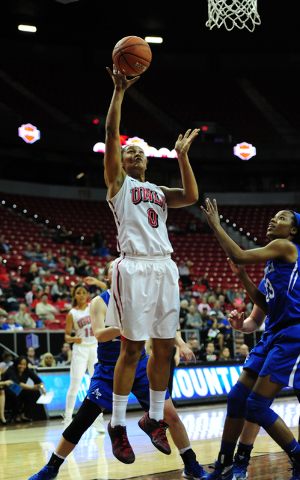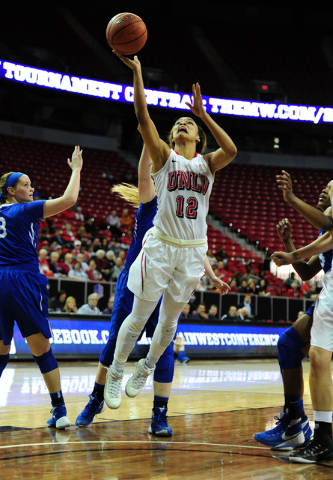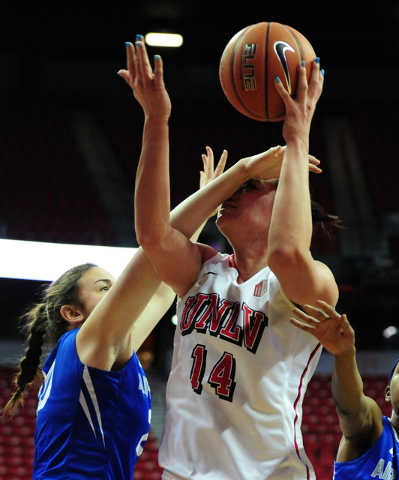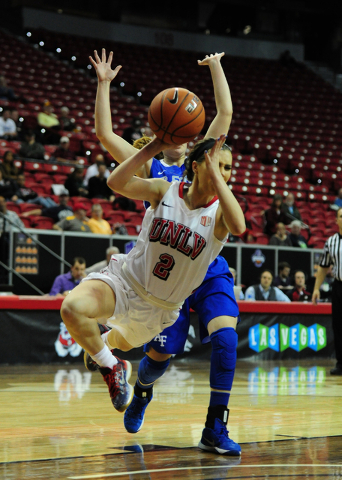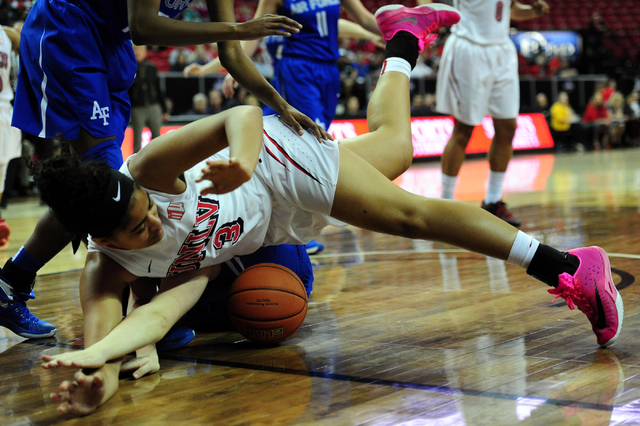 On paper, the UNLV women's Mountain West tournament first-round matchup against Air Force looked like it might turn into a blowout.
After all, the Falcons entered Monday night's game with just one victory on the season and had lost twice already to UNLV.
And though the end result Monday was a lot closer than conventional wisdom might have suggested, the Lady Rebels escaped to the quarterfinals with a 55-42 victory.
Sixth-seeded UNLV will play Boise State, the No. 3 seed, tonight.
"We looked like a team that didn't want to have their season over," coach Kathy Olivier said.
But despite that, it took the Lady Rebels most of the game to shake off the Falcons.
"I think that Air Force is … extremely difficult competition, especially at their place. Even here," senior Aley Rohde said. "They fight for our country. They're not going to give it up on the court either."
With the game tied at 32 in the third quarter, the Lady Rebels finally started to break away.
Sophomore Dakota Gonzalez took a feed down low and converted it. She was fouled on the play and showed some emotion, letting out a scream and a first pump.
One free throw and two easy baskets later, the Lady Rebels had gone on a 7-0 run and had taken a lead they wouldn't relinquish.
"That play, I definitely get really into it," Gonzalez said. "I'm a very passionate player, but I think we had a few plays, Jordyn (Bell) to Aley, her and-one, just a lot of plays that really pushed the momentum for us where we felt it and it was an electric atmosphere for us on the court."
Gonzalez, who was named All-Mountain West honorable mention in the morning, finished with a game-high 14 points.
Gonzalez led a balanced attack in which three players finished with more than 10 points. Rohde added a double-double, finishing with 13 points and 10 rebounds, and sophomore Brooke Johnson pitched in 11 points.
"We have a lot of weapons right now, and that's a good feeling from a coach's standpoint and for the players," Olivier said. "I think it's finally that time of the year where everyone trusts each other. We're moving the ball better. A lot of options, a lot of options. We can go inside. Our three is going. We're attacking the basket, getting to the free-throw line."
Olivier said she liked how aggressive her team was, outrebounding Air Force 46-31 and getting to the foul line, taking 23 free throws on the night.
Though the Lady Rebels shot 32.7 percent from the field and often traded baskets with the Falcons, they were able to convert late in the game when they needed to, outscoring the Falcons 14-8 in the final quarter.
The Lady Rebels are 1-1 this season against Boise State, defeating the Broncos by 10 points in their last matchup and losing by 19 when the teams faced off in January in Idaho.
The Broncos eliminated the Lady Rebels from the tournament a season ago en route to winning it.
"I think it's exciting for us because we know how good they are, and I think that it's really going to challenge us and (we'll) see what we're made of," Gonzalez said. "And we're excited because we know the potential we have, we know the talents we have. We know all the threats we have."