Lady Rebels hoping for WNIT bid
Updated March 7, 2018 - 11:49 pm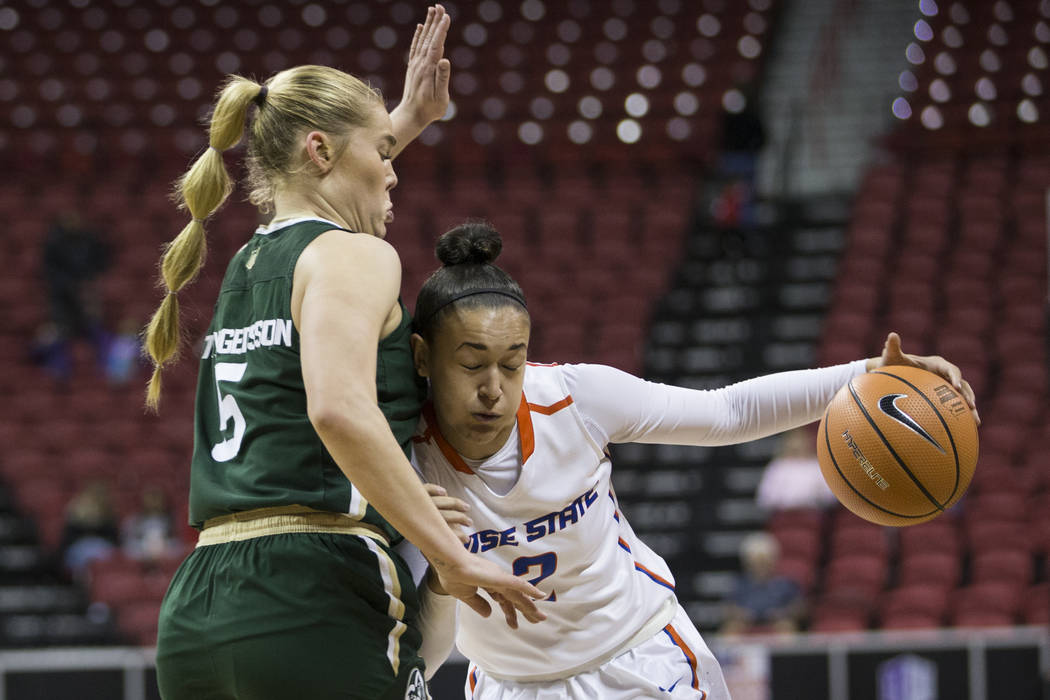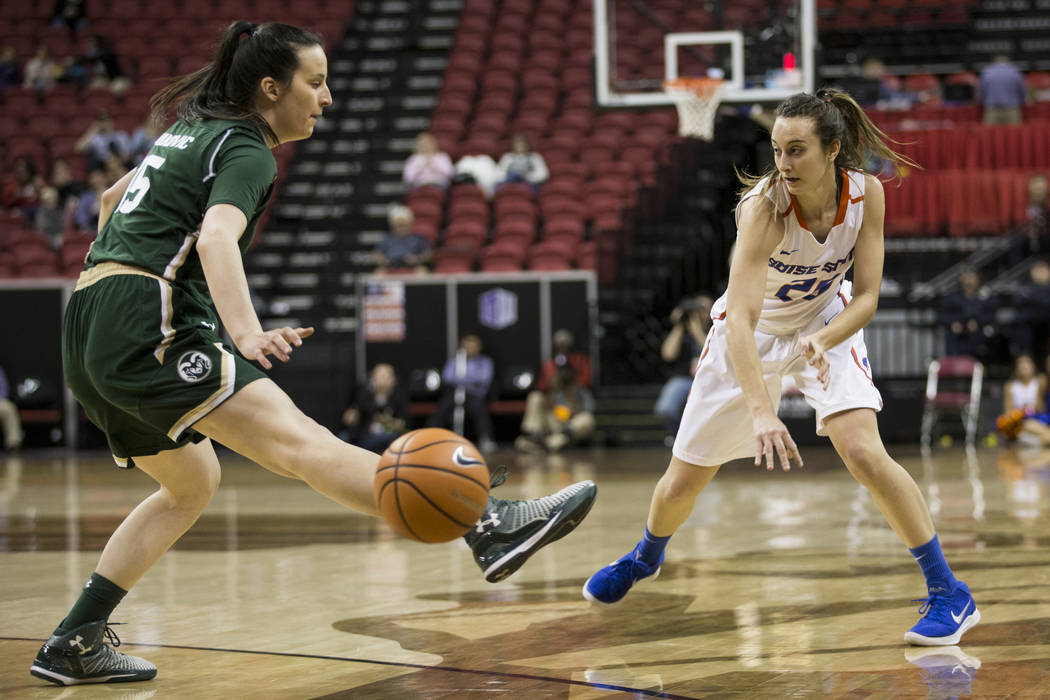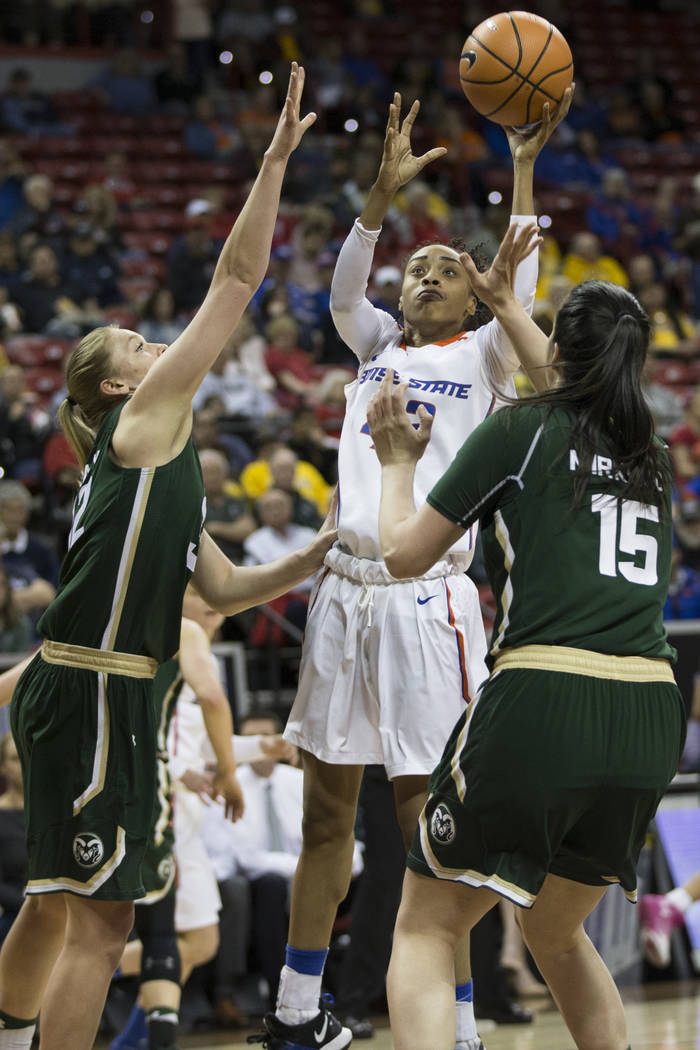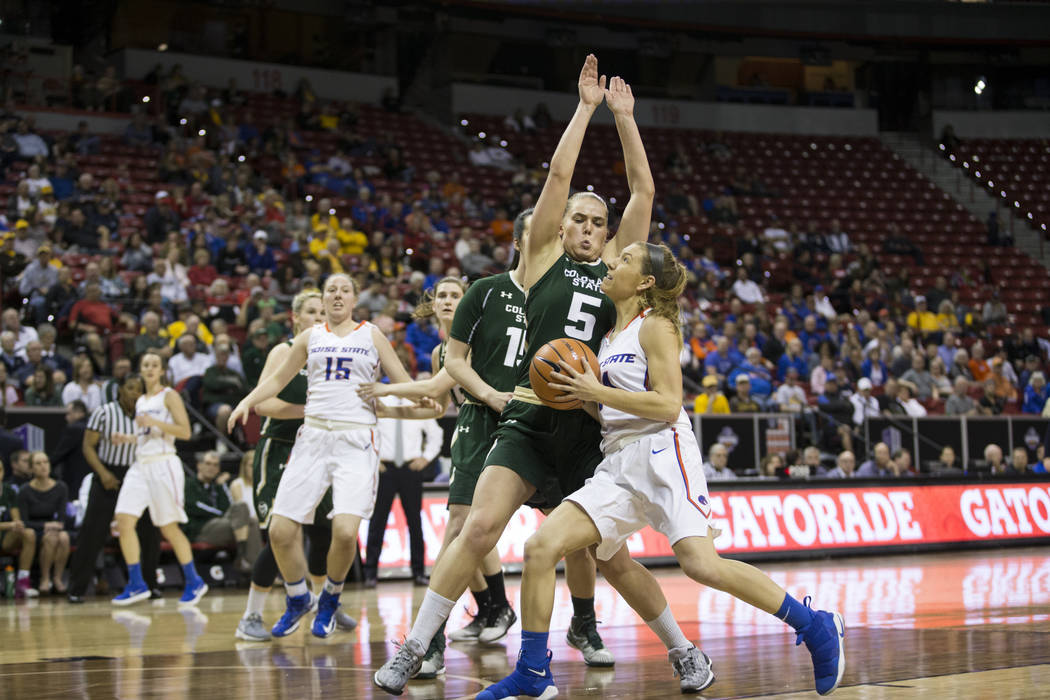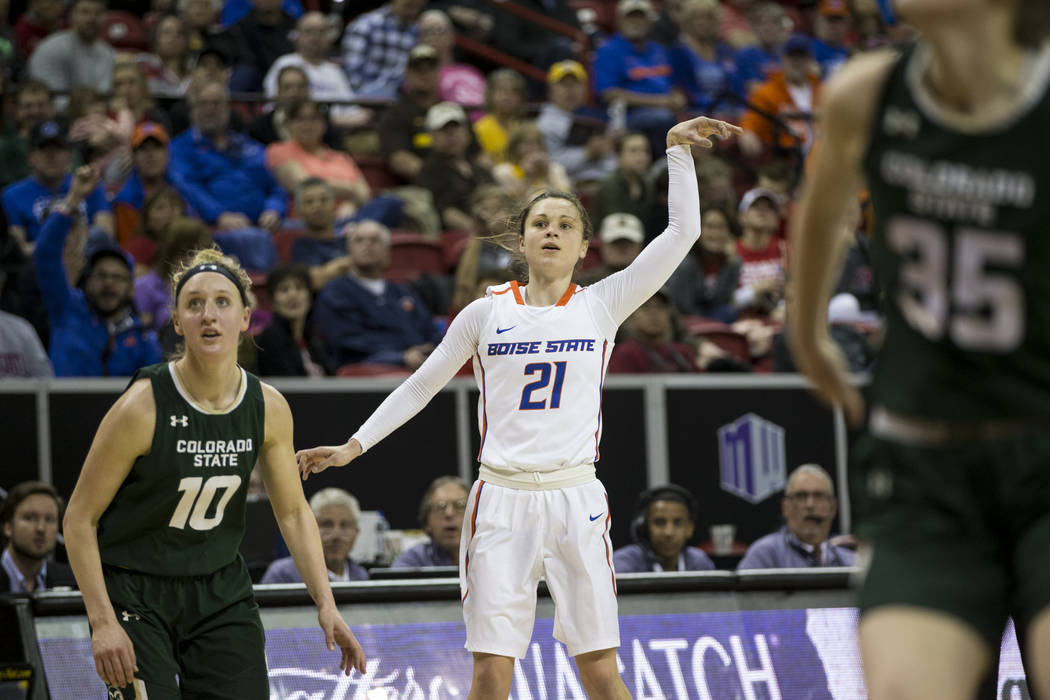 Kathy Olivier sat at a podium at the Thomas &Mack Center shortly after her team suffered a 77-73 double-overtime loss in the Mountain West conference tournament Tuesday night and delivered an important message.
"They have more basketball to play," the Lady Rebels coach said of her team.
The Lady Rebels will have to wait a few more days to find out if they've done enough to earn a WNIT bid.
The WNIT reached out to UNLV this past month to gauge their interest, Olivier said. UNLV ranks 92 in the RPI — thanks in part to a challenging nonconference schedule — and it had a more successful conference season (14-4) than last year's team, which was one of three Mountain West squads to participate.
"I was just in downer mode when I woke up. I couldn't even think of the next thing which is WNIT because I was so mad that we're not playing (Wednesday night) so when I was kind of trying to regroup, snap out of it, I was like 'OK, yeah we're getting in,'" Olivier said.
The Lady Rebels could earn the Mountain West's automatic WNIT bid if Boise State wins the Mountain West tournament. The Broncos won 76-51 on Wednesday night and will play Friday for the championship.
If Boise State ends up with the automatic WNIT bid, UNLV will have to wait for the at-large bids thatl be announced Monday night after the NCAA Tournament bracket is revealed.
Olivier said the Mountain West usually gets anywhere from three to four bids and if that's the case, UNLV undoubtedly would be one of those.
If the Lady Rebels do make the WNIT, they would be unable to host a first-round game at Cox Pavilion because of scheduling conflicts.
"We love playing in front of our home crowd. No brainer that we'd want to be at home, but our team's done really well on the road," Olivier said. "I know these players want to play, want to continue to play so I think wherever they put us, we'll be like 'OK, we'll play on the playground. Is it blacktop? OK, yeah, let's go.' "
UNLV went on the road last year in the WNIT and lost 66-52 to Colorado, but it was a valuable experience for the Lady Rebels.
"This team, because we did it last year, kind of has a feel of it, and I think it would be really, really good for us and good for the program and they deserve to keep playing because we … won a Mountain West championship," Olivier said.
More Rebels: Follow all of our UNLV coverage online at reviewjournal.com/Rebels and @RJRebels on Twitter.
Contact Betsy Helfand at bhelfand@reviewjournal.com. Follow @BetsyHelfand on Twitter.
MW women's semifinals
— No. 1 Boise State 76, No. 5 Colorado State 51 —The Broncos advanced to Friday's championship game by beating Colorado State handily Wednesday night at the Thomas & Mack Center. Braydey Hodgins led the Broncos with 25 points. Marta Hermida added 14 and Riley Lupfer had 12. Hannah Tvrdycq paced the Rams with 18 points.
— No. 7 UNR 67, No. 3 Wyoming 63 — One day after upsetting No. 2 seed UNLV in the quarterfinals, the Wolf Pack upended the Cowgirls and advanced to Friday's title game. T Moe scored 17 points, Teige Zeller had 16 and Camariah King added 11 for UNR. Taylor Rusk paced Wyoming with 15 points.
Las Vegas Review-Journal