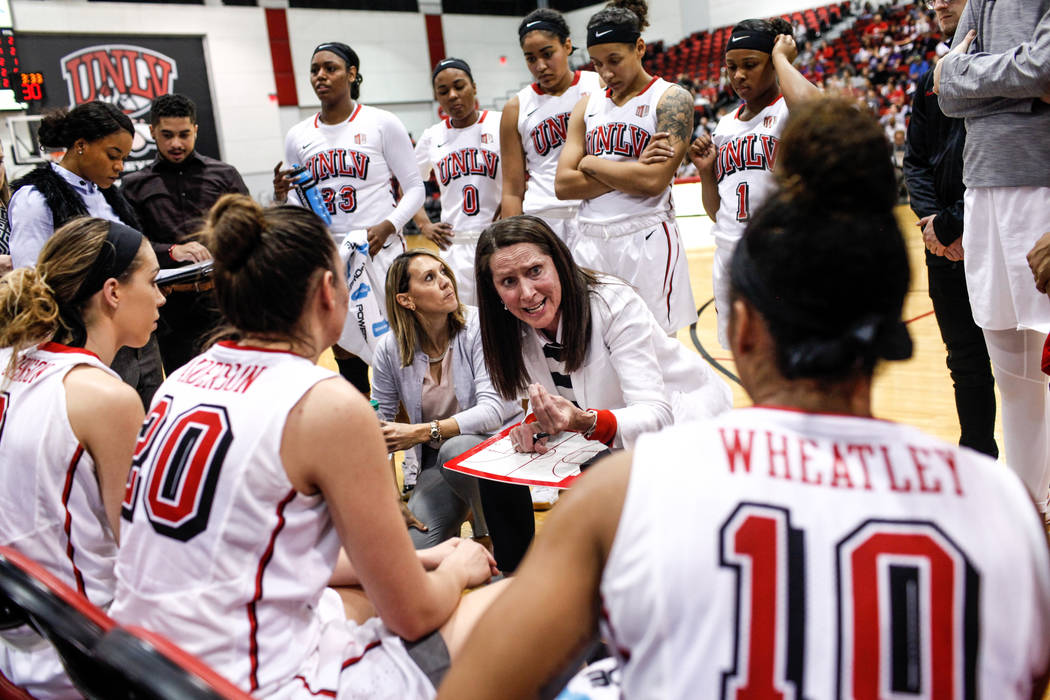 Finals might be over for students at UNLV, but the tests keep coming for the Lady Rebels.
They lost their matchup over the weekend at No. 18 Stanford 74-33.
Wednesday, they might have their toughest test, hosting No. 5 Mississippi State.
The Lady Rebels (5-4) also play Syracuse, a team that received votes in the latest AP poll, on Friday as part of the Duel in the Desert, a tournament at Cox Pavilion that will feature some of the nation's top women's basketball teams.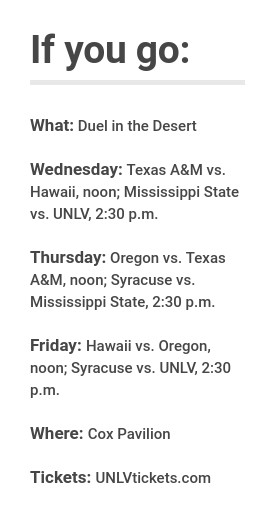 No. 10 Oregon, No. 19 Texas A&M and Hawaii also are entered, though UNLV won't face those three teams.
"It's a chance to see what the best teams in the country play like. … I think it's one of the best tournaments in women's basketball," coach Kathy Olivier said. "We're excited to have them and to host such a big-time tournament."
The Bulldogs (11-0), their first opponent, supplant Stanford as UNLV's highest-ranked opponent so far.
"They play different," Olivier said of Stanford and Mississippi State. "Stanford (is) really big, very disciplined, a lot more movement where Mississippi State are attackers and very aggressive defensively so it's just a different game. They're going to be very, very good."
The Bulldogs fell to South Carolina in the championship game of the NCAA Tournament last year but not before knocking off perennial powerhouse Connecticut in a 66-64 overtime thriller in the Final Four.
This year's team averages 29 more points than opponents.
"(They're) very athletic, have quick guards and a very talented post player," Olivier said. "A couple actually. They're good inside and out, and they get after it defensively. They'll press you, and they'll play very aggressive defense."
The Lady Rebels enter the game having lost four of their last five. They didn't like how they played earlier this month in the ASU Classic, but felt like they had taken a step forward against Gonzaga before getting blown out by Stanford.
"We kind of took a couple steps back after finals and for us, it's just a matter of getting better when things get rough for us," Olivier said. "We've got to stay together. We've got to do things right."
Against Stanford, Olivier said the team started hesitant but settled down late in the first before a second quarter which she said "was a disaster."
Stanford outscored the Lady Rebels 18-3 in the quarter and broke the game open, building a seven-point lead to a 22 points.
"There's times where we looked really good at what we do and then when we looked bad, we can't be so bad where …. you can't work your way out of the hole so to speak, so everyone just needs to go hard, play together and that's when we play good basketball," Olivier said.
The tournament will serve as the final nonconference tune-up before the Lady Rebels begin conference play Dec. 30.
"Our plan was to play really good opponents to be prepared for conference. We've talked about it and talked about it and that's what we're doing," Olivier said. "We're playing high-powered teams to get us ready for conference."
More Rebels: Follow all of our UNLV coverage online at reviewjournal.com/Rebels and @RJRebels on Twitter.
Contact Betsy Helfand at bhelfand@reviewjournal.com. Follow @BetsyHelfand on Twitter.