Lady Rebels move into second-place tie in Mountain West
February 22, 2017 - 10:20 pm
Updated February 22, 2017 - 11:13 pm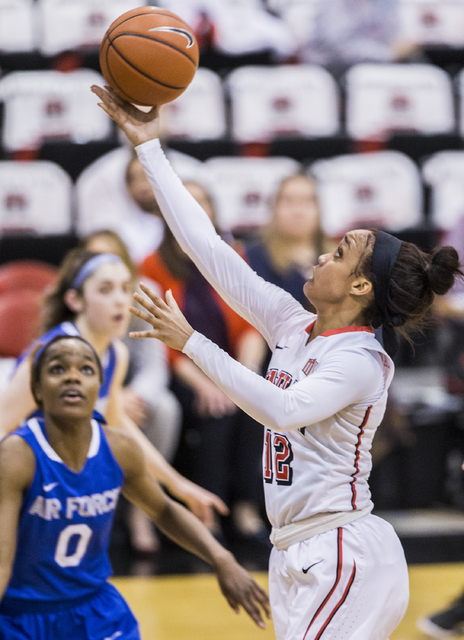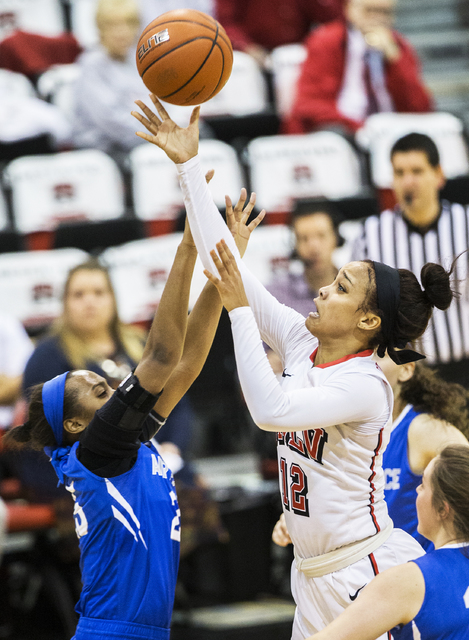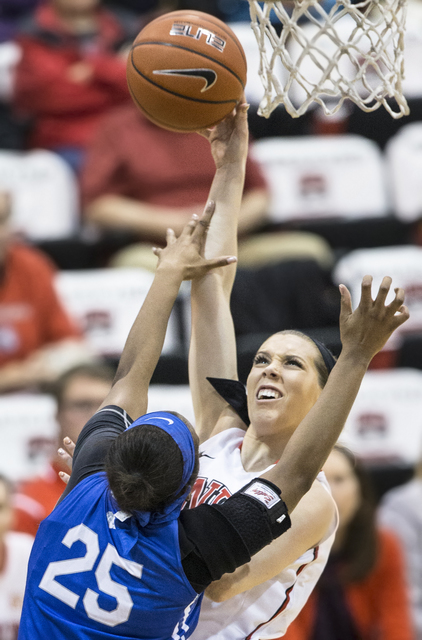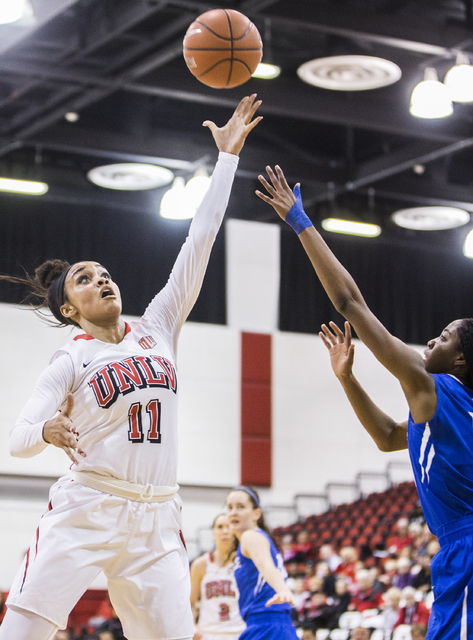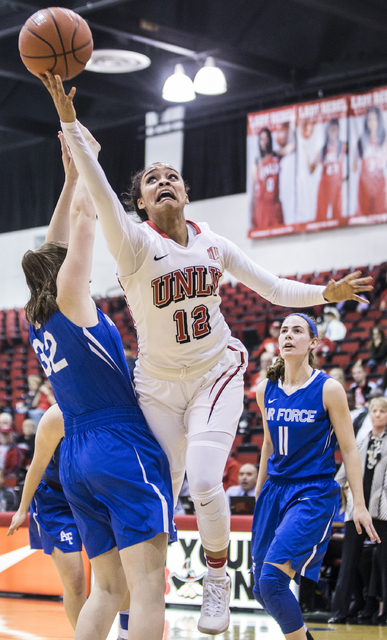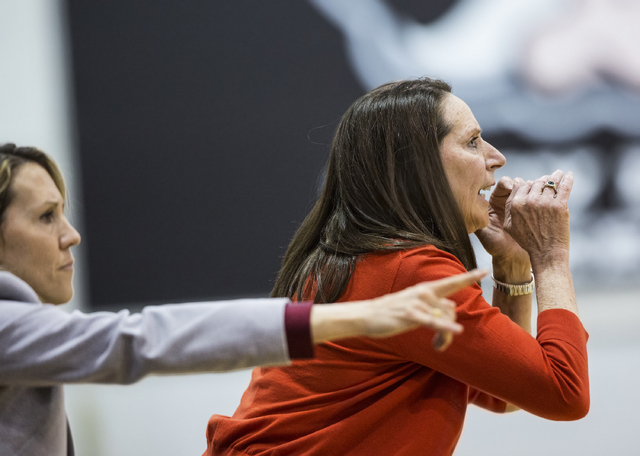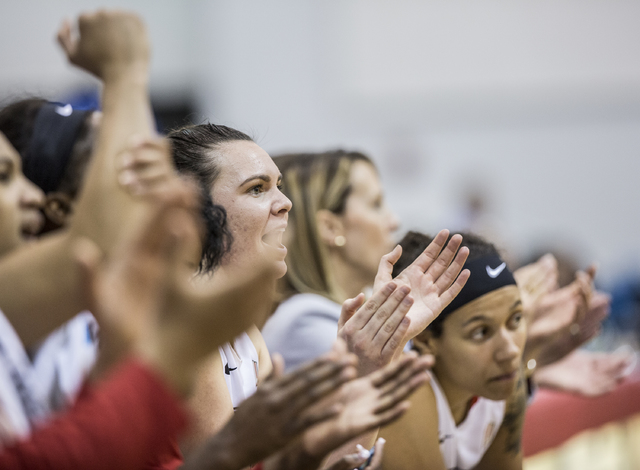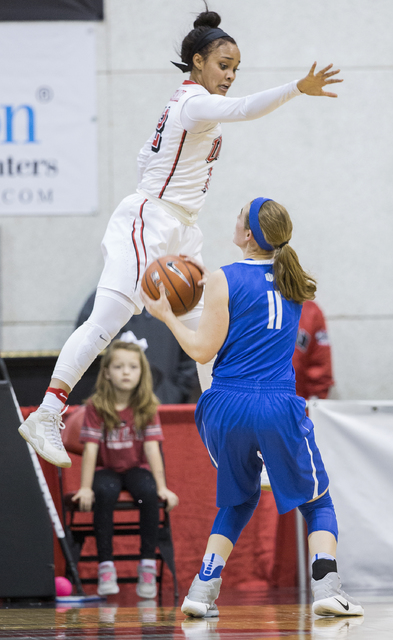 UNLV entered Wednesday's game fourth in the Mountain West women's basketball standings.
By the time the night was over, the Lady Rebels were tied for second. And they have a fairly good shot at finishing second if they continue to take care of business.
They did that Wednesday, though it wasn't necessarily pretty, beating conference bottom feeder Air Force 52-38 at Cox Pavilion for their fourth consecutive victory.
The game was relatively uneventful, with UNLV taking a lead from the start and never surrendering it. But by no means was it the team's best game of the season.
"We did a really good job tonight not getting frustrated with our offense and relying on our defense," UNLV coach Kathy Olivier said. "We had excellent defense, constant digging up the line, caused a lot of turnovers. Offensively, we can be better, and we know that."
The Lady Rebels (19-8, 10-5 MW) limited Air Force (3-24, 1-14), the conference's lowest-scoring team, to 11 points in the first half. It was the first time this season that they held an opponent to fewer than 40 points.
But UNLV also was sloppy at times, committing 13 turnovers in the first half and 18 overall.
"That's a big part of our success is taking care of the basketball, and we definitely didn't do that tonight," Olivier said. "The second half, we were much better. We only had five turnovers. We were just getting antsy. We were attacking the basket, getting some travels, getting some offensive fouls, and those are all turnovers, so they were unforced turnovers."
The Lady Rebels stretched their lead to 20 points near the end of the third quarter. That gave Olivier a chance to clear her bench, and the Falcons cut into the lead.
"I think that it gets at times (where) you feel like it might be a little lethargic, you sometimes can play almost out of your game and you get a little bit out of sync," junior Dakota Gonzalez said. "I think that's an area that we definitely want to work on where mentally we're able to just stay completely focused and dialed in to what we're doing regardless of what the other team may be doing whether we're up, whether we're down."
Gonzalez led UNLV with 17 points and nine rebounds.
The Lady Rebels welcomed back leading rebounder Katie Powell, who suffered a sternoclavicular sprain and bone bruise in her sternum, rib and clavicle against UNR on Feb. 8. She had four points and seven rebounds in 18 minutes.
"It was nice to have everyone back, nice to have everyone healthy," Olivier said. "I thought Katie looked good. She's been out for about a week. Everyone's popping."
Maintaining their health will be crucial as the Lady Rebels try to secure one of the top seeds for the conference tournament. Olivier doesn't want them to be distracted by the standings, but she did talk to them about where they stand with three games left.
"I hope I didn't jinx us," Olivier said. "We can't jump ahead. You've got to stay on what's next, and right now it's Reno (Saturday)."
Contact Betsy Helfand at bhelfand@reviewjournal.com. Follow @BetsyHelfand on Twitter.