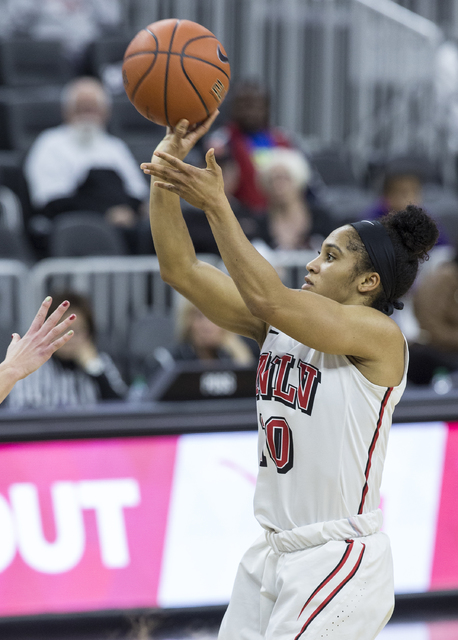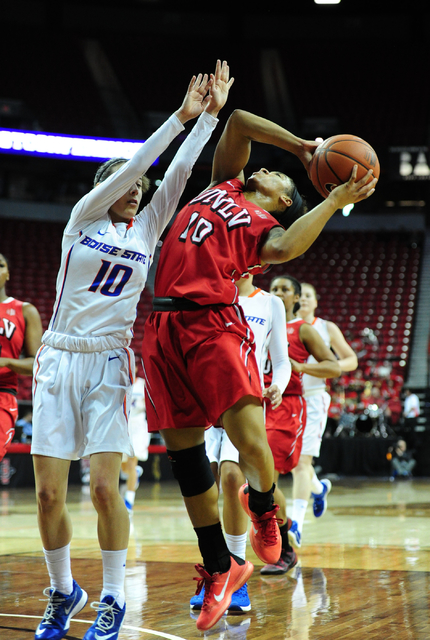 The 40-day countdown to the season has begun.
The UNLV women's basketball team began practice Sunday. From that point, they can hold 30 practices in those 40 days before the Nov. 10 season opener against Portland State.
So far, so good.
"As much as it's the first day, I don't feel like it's the first day because we're already further along than a normal first day," coach Kathy Olivier said. "We have a lot of returners. They already know our defensive philosophy. Offensively, we're going to do a lot of the same stuff. They just have a really good energy to them."
The Lady Rebels lost two crucial starters — Dylan and Dakota Gonzalez — but they return the rest of their team and have added two freshmen.
"Everyone's just really excited," co-captain Nikki Wheatley said. "We have a lot of returners coming back, so I feel like we're really experienced and we're way ahead of where we've been any other year."
Though Sunday marked the official start of practice, the Lady Rebels were around Las Vegas during the summer. Per NCAA rules, teams can practice for eight hours a week over the summer but only two with the ball.
Without coaches, they also can have open gyms, though co-captain Brooke Johnson said that was more "street ball" than actually working on their systems.
"It's very, very nice to have a ball," Johnson said. "We've been doing a lot of individual work and conditioning as a team, and now it's finally a great feeling to get to put it all together and into action for practice and trying to make the next 29 practices count."
Wheatley and Johnson, who will be relied upon as two of the team's top scorers, are coming back from knee surgeries.
Wheatley tore her right meniscus during a game last season. She was released for full activity when the Lady Rebels started summer work and said she feels fine.
Johnson had her knee cleaned up after dealing with cartilage damage that impacted her throughout last season. Sunday was her first practice.
"During the summer I was maybe doing ball-handing drills and passing and some stationary shooting, so it was nice to be able to full go," Johnson said.
Though Johnson said she's not 100 percent, Olivier likes what she sees.
"As the team puts it, it doesn't look like she missed a beat, and that's what they say about both these two (Johnson and Wheatley), which, when I hear that, I have a big smile on my face, and it looks that way in practice so far," Olivier said.
Having them healthy will go a long way for UNLV.
"The Lady Rebels have really good energy right now. They all are working hard. They're very enthusiastic," Olivier said. "I mean, right now we're undefeated, so they're feeling good about themselves."
Contact Betsy Helfand at bhelfand@reviewjournal.com. Follow @BetsyHelfand on Twitter.