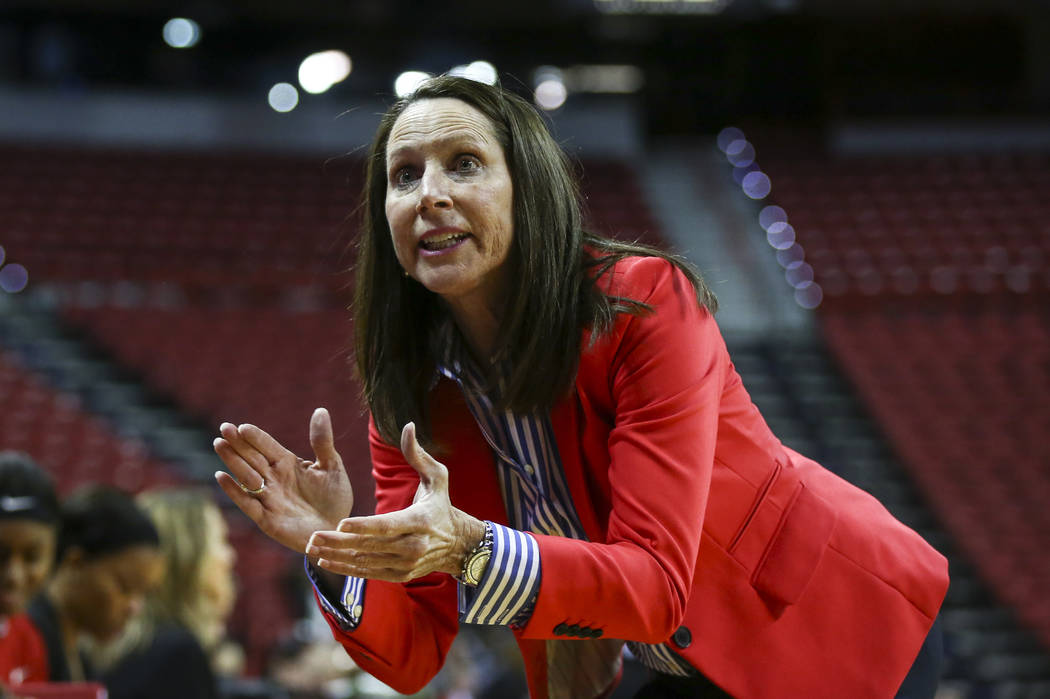 The frustration started to rear its face in full force in the fourth quarter.
Brooke Johnson had been whistled for a technical foul in the quarter, and Nikki Wheatley fouled out and then was given a double technical.
But after an impassioned huddle and a few words from coach Kathy Olivier with the UNLV women's basketball team trailing by 21 points, the Lady Rebels roared back.
They reeled off a 19-0 run in about four minutes and tied the score on Johnson's 3-pointer with 18 seconds left before defeating Portland State 88-80 in overtime Friday night in the season opener at Cox Pavilion.
"I just said "Enough. Enough already,' " Olivier said. "It was just time to kind of gather yourself and hunker down and make good decisions on the court."
The Lady Rebels did just that, playing lockdown defense in the final five minutes and overtime.
"Probably when Nikki got kicked out, I think the team realized, 'This is nonsense. We can't do this,' " Olivier said. "We've got to work hard without letting our emotions get the best of us. I thought the team just defensively, we really picked it up."
It was an improbable finish to a game UNLV looked destined to lose. The Lady Rebels shot 28.6 percent in the first half and trailed 38-31 at halftime.
Things got worse from there, as the Vikings built a double-digit lead for most of the second half.
The Lady Rebels couldn't gain much traction into the fourth quarter and the frustration started to show, especially from team captains Johnson and Wheatley.
"As players, that aggression is just something that's within you, but as leaders on the team you need to learn how to keep calm, keep poised so that other players on your team can still look up to you," Johnson said.
Johnson eventually did that, hitting the most important shot to tie the score. It was her first 3 after going 0-for-8 on 3-pointers before then.
"I was really thankful that my team had full confidence in me when I was maybe 0-for-8 from the 3," Johnson said. "Really bad, but it was great just 'I got this. I'm going to be confident. My team believes in me, and I'm going to take this shot,' and when it went in, I didn't even know the other team had called a timeout. They may have scored on me if they hadn't because I was jumping."
Five Lady Rebels scored in double digits. Katie Powell scored 19, Johnson 16, Alyssa Anderson 15, Jordyn Bell 13 and Wheatley 12.
But it was a tough shooting night for the Lady Rebels, who finished 27-for-78 (34.6 percent).
"It's kind of sad that it has to be that drastic in order for us to have to bounce back like that, but when we realize how tough times actually get, that's just something within us to keep fighting and never give up, so that was the best part about it," Johnson said. "We were all just telling each other, 'It's fine, we need to stay calm and we're going to get this win.'"
Contact Betsy Helfand at bhelfand@reviewjournal.com. Follow @BetsyHelfand on Twitter.