Lady Rebels set for Play4Kay Shootout at T-Mobile Arena
December 18, 2016 - 1:39 pm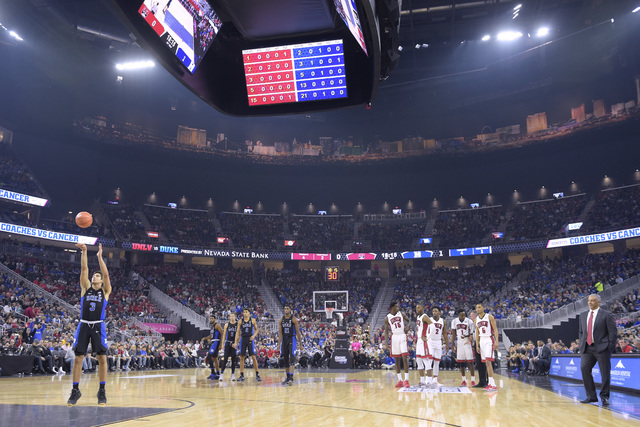 The Runnin' Rebels were obliterated by Duke earlier this month in their introduction to T-Mobile Arena.
The Lady Rebels are hoping for a better result when they try out the new arena for the first time.
UNLV will begin the three-day inaugural Play4Kay Shootout on Monday night against Oregon State, a Final Four team last year.
bd Global, which also put on the Duke/UNLV game, had long wanted to launch a women's tournament, senior associate director Jon Albaugh said. They partnered with the T-Mobile staff to make it happen at the new arena.
"They said 'While we have the building set up for basketball, we're launching all our basketball with Duke/UNLV, the CBS event, can you bring us a women's tournament?" Albaugh said. "We've talked about it for two or three years now. Trying to do this here, now it just makes sense."
From there, bd Global partnered with the Kay Yow Cancer Fund, which, named in honor of former North Carolina State coach Kay Yow, brands itself as an organization that is "committed to being part of finding an answer in the fight against women's cancers by raising funds for scientific research, assisting the undeserved and unifying people for a common cause."
One of bd Global's partners is college basketball analyst Debbie Antonelli, who played for Yow in college.
"She serves on their board so we were familiar enough with the fund and everything they do and it just made it a natural fit," Albaugh said. "We're coming off of Coaches vs. Cancer with Duke/UNLV and then (said) what makes sense? Well the Play4Kay makes sense on a lot of levels."
And from there, it was a no brainer for UNLV to participate.
"Play4Kay, it's a great event. It's probably one of the best tournaments, if not the best tournament in the country this year," coach Kathy Olivier said. "We had phone calls, they wanted to be out in Vegas, it worked with our schedule. We had the rodeo here. Coach (Caitlin) Collier does our schedule and it just it was a win-win situation I think for Play4Kay at T-Mobile and for UNLV."
In addition to UNLV and Oregon State, the field also includes Oklahoma State, South Florida, New Mexico State, Long Beach State, Santa Clara and Quinnipiac.
"This is just a huge opportunity I think for every team that's coming into this tournament because its such respected programs coming here," junior Dakota Gonzalez said. "This has definitely been a tournament that that from the summertime, we were really looking forward to and so for it to already be here, it's kind of crazy."
The Lady Rebels will enter the tournament 8-1 and on a three-game winning streak.
This next tournament will provide yet another gauge for the Lady Rebels to see where they're at after testing themselves on the road for the past few weeks while the National Finals Rodeo took over their home in early December.
"We wanted to get better on the road and I think we've done that. We wanted to play against better talent to get ready for conference and we've done that," Olivier said. "We've beaten a Pac-12 team, we've beaten a SEC team, we're undefeated in California, so we're feeling good but again, Oregon State, they're a very good basketball team."
Contact Betsy Helfand at bhelfand@reviewjournal.com. Follow @BetsyHelfand on Twitter.
IF YOU GO:
Who: UNLV Lady Rebels vs. Oregon State
Where: T-Mobile Arena
What: Play4Kay Shootout
When: 8 p.m. Monday
Tickets: Tickets available on T-Mobile Arena's website