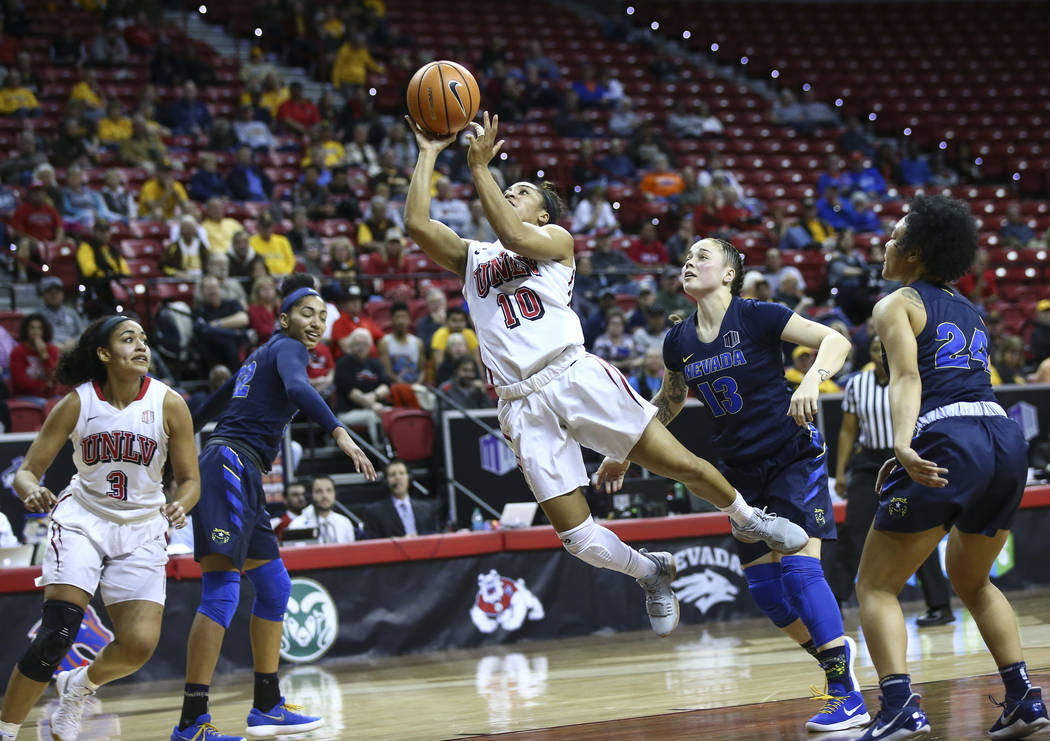 The Lady Rebels have known they were WNIT-bound since Thursday.
On Monday, they learned their opening opponent: Utah.
The Lady Rebels will head to Salt Lake City to face the Utes on Thursday in the first round of the second-tier postseason tournament. Game time is 6 p.m. PDT.
It will be the first game for the Lady Rebels (19-11) since a 77-73 double-overtime loss to UNR in the Mountain West quarterfinals last Tuesday at the Thomas &Mack Center.
"It was such a roller coaster. We win the Mountain West, we're cutting down nets, we're psyched," coach Kathy Olivier said. "We're going into the (Mountain West) tournament now (and) we're thinking we could win the tournament (because) we just won the conference and then to get put out by Reno, we were disappointed to say the least in a double-overtime game.
"But we regrouped. We've had two practices and they had good energy."
The Lady Rebels earned the conference's automatic WNIT bid by virtue of Boise State — who they tied as co-conference champions — winning the Mountain West tournament and thus earning an automatic berth into the NCAA Tournament.
Along with the Lady Rebels, Wyoming (21-10), Colorado State (20-11) and New Mexico (23-10) will play in the WNIT.
The Lady Rebels were automatically road-bound because of a cheerleading competition already scheduled for Cox Pavilion.
WNIT matchups are based more on geography than seeding, and UNLV will play the winner of Kansas State-Saint Louis if the Lady Rebels advance to the second round.
The Utes went 17-13 this season, losing in the first round of the Pac-12 tournament to Colorado. They were one of 32 at-large teams picked for the 64-team WNIT field.
Utah played two Mountain West teams this season — UNR and Utah State — and won both games.
"We know that they have a big post and they have some good perimeter players, a good freshman that can shoot the ball and two good post players," Olivier said. "They have a good four player and a good five."
This is UNLV's second consecutive WNIT appearance.
Last year, the Lady Rebels bowed out of the WNIT in the first round, falling to Colorado 66-52 on the road.
"I think for us last year we were on the road, which we are again, and we played a Pac-12 school and we're doing that again," Olivier said. "I think everyone wants to compete and I think that's really important. … People are ready to compete, so hopefully we go in there and win one on the road. That would be great for our program."
Contact Betsy Helfand at bhelfand@reviewjournal.com. Follow @BetsyHelfand on Twitter.
2018 WNIT bracket by Las Vegas Review-Journal on Scribd