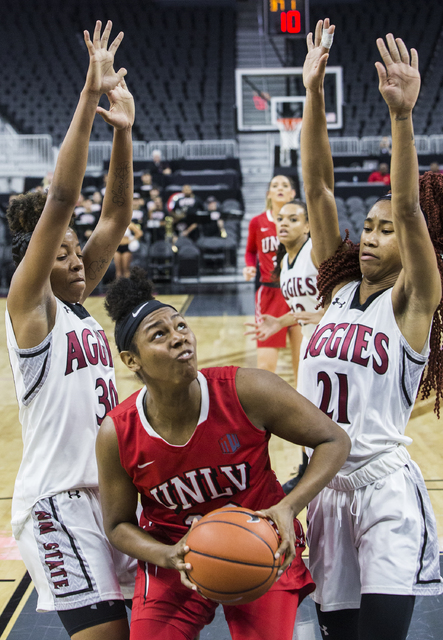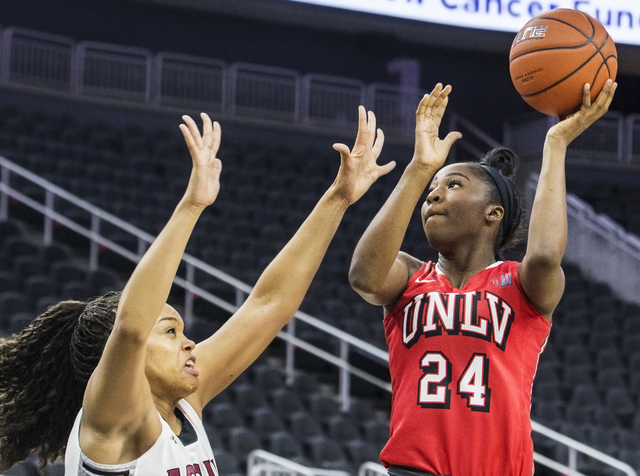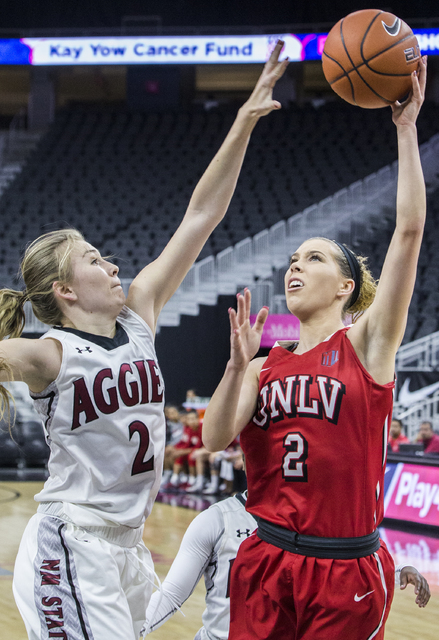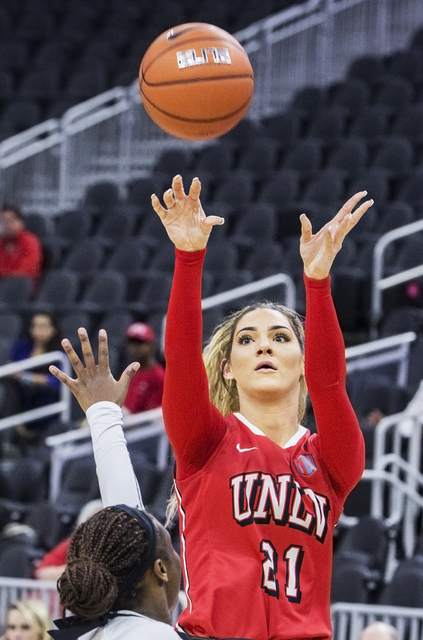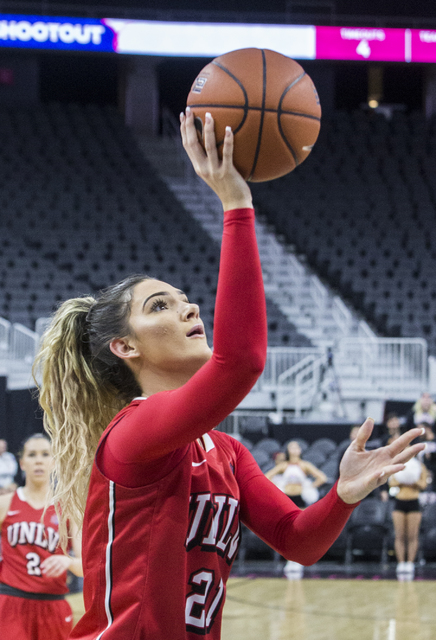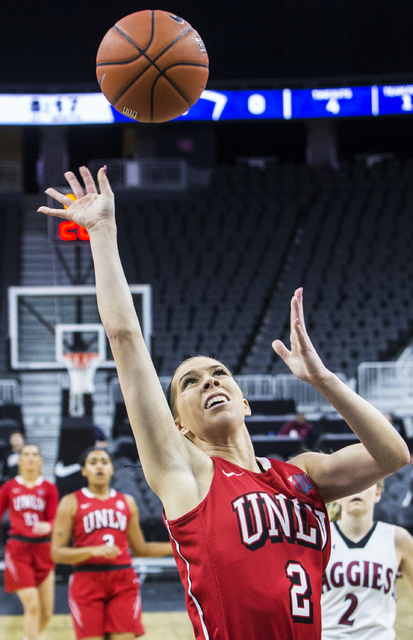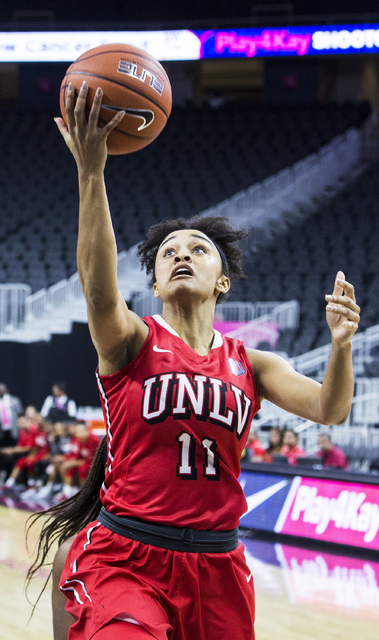 When the UNLV women's basketball team fell to Oregon State on Monday, it lost more than just a close game.
The Lady Rebels also lost point guard Nikki Wheatley, one of their top players, for the season with a torn meniscus.
UNLV felt her absence Tuesday but overcame it, beating New Mexico State 52-47 in the Play4Kay Shootout at T-Mobile Arena.
"She comes in the locker room right before the game and tears are flowing," UNLV coach Kathy Olivier said. "I mean, it's just hard when you lose a player, and Nikki plays that point guard spot, she's a leader on the floor. You can't take things for granted. We kind of kept it together — last night after losing to Oregon State, we gave them that game — and we really kind of picked it up and pulled through. I thought there were chances where we could have folded (today) and we didn't do that."
With Wheatley out, Brooke Johnson took over at point guard and scored a game-high 17 points. It's a role she's used to.
"I thought Brooke played great. She really came through. Smart, in control," Olivier said. "She does a great job of seeing people on the floor."
The Lady Rebels (9-2) kept up with No. 25 Oregon State on Monday before letting a lead slip away in the final minutes, missing layups that could have sealed the victory.
That didn't happen Tuesday. Johnson was especially clutch for the Lady Rebels down the stretch, hitting two 3-pointers and getting a crucial steal with less than a minute left.
"We weren't going to let the same thing happen that happened the night before," Johnson said. "We needed stops, and we just had to be patient. The night before, we weren't as patient. We were rushing shots, and we just needed to make a change this game."
Katie Powell added 12 points and nine rebounds for UNLV.
Leading scorer Dakota Gonzalez hit only 1 of 6 shots and scored three points.
"I'm still waiting for Dakota and Brooke to both play well in the same game, and we would be really tough to beat," Olivier said.
Along with Johnson, Olivier said Gonzalez will play the point in Wheatley's absence.
"She's got big shoes that I'm going to try to fill," Johnson said. "She's my roommate even, so even being at home dealing with all the emotional aspects, we were just 'We're going to get these wins. We're going to do this for you,' and that's kind of how we're looking at it now."
The Lady Rebels will meet No. 21 South Florida at 3 p.m. Wednesday for fifth place in the tournament.
"As a coach, I was like, 'You've got to be kidding me, right?' So we announce it to the team, though, and they all start cheering. So I think they're a basketball team that gets fired up to play good teams," Olivier said. "I think our team is up for the challenge, and hopefully we play well. When we're together, we play together and we're all hyped up for each other, that's when we're a good basketball team."
Contact Betsy Helfand at bhelfand@reviewjournal.com. Follow @BetsyHelfand on Twitter.
PLAY4KAY SHOOTOUT
Who: UNLV vs. South Florida
Where: T-Mobile Arena
When: 3 p.m. Wednesday
Tickets: T-Mobile Arena website