Lady Rebels work to keep recruits home
Updated August 22, 2018 - 6:49 pm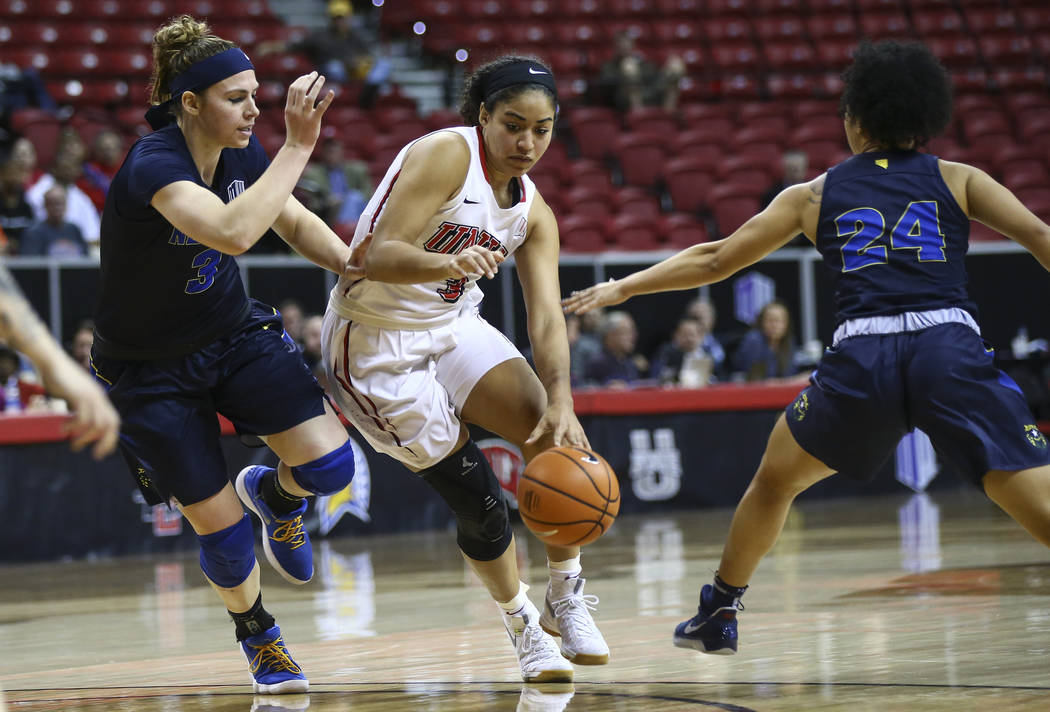 Paris Strawther awoke one morning in 2014 with a sudden realization.
The high schooler, a senior-to-be at the time at Liberty, was in the middle of the recruiting process, trying to decide between UNLV and San Diego State.
"I literally just woke up one day and I was like, 'What am I doing? Why am I trying to leave? I don't even really want to leave,' " Strawther said.
Strawther, now a senior, is one of three natives on the roster for the Lady Rebels, who wrapped up summer practice this month. Along with incoming freshman Justice Ethridge, it will be the first time since the mid-1980s that the Lady Rebels will have two locals on their roster that started their careers at UNLV.
Transfer Bailey Thomas will also play for the Lady Rebels when they start their season in November and next year, Centennial's Melanie Isbell, one of the top seniors in Las Vegas, will join the fold.
Like most schools, UNLV tries to recruit hard at home. But the roster hasn't always reflected that lately, with girls opting to go elsewhere.
"I'm all about the city. I'm a hometown girl. I'm all about representing and I get really, really down to be honest when someone that's talented and could play for us goes to another school," coach Kathy Olivier said. "We're trying so hard to keep the best players from Las Vegas at UNLV. That's one of our goals. That's one of the things we talk about as a staff in recruiting."
The Lady Rebels lost out on Centennial's Eboni Walker, the top recruit in Nevada, earlier this month but have landed highly ranked players in Ethridge and Isbell in recent years.
Ethridge and Strawther both said they had people encouraging them to leave town, but deflected that advice.
"My mom wanted me to leave home and just get away. I thought about it but I love this city," Ethridge said. "There's no reason that I would actually want to leave. I don't hate being here. I like being here."
Ethridge said she never thought about playing at UNLV when she was growing up. Like others around her, she wanted to go away. She had nixed the East Coast but was deciding between two schools in California and one in Hawaii when she made her decision to stay home.
And lately she's noticed more people looking at UNLV, too. Ethridge was teammates with both Isbell and Walker, who had UNLV on her final list, at Centennial.
"A lot more people are starting to actually look at UNLV and consider it in their options because everybody would think 'I want to get out of the city and leave home and have a college experience,' but now they're starting to see more like this is still a good school."
The team has been near the top of the conference in the past couple years, which helps, too. The Lady Rebels have played in the WNIT in two consecutive seasons and were co-Mountain West Conference champions last season.
"For us, we've been successful the last few years and people realize that this is a really good option for them," Olivier said. "UNLV's a good school, our academics have gone up tremendously. We're starting a med school. Women's basketball, we've increased our attendance. There's a lot of support and a lot of hype around Lady Rebel basketball."
More Rebels: Follow all of our UNLV coverage online at reviewjournal.com/Rebels and @RJRebels on Twitter.
Contact Betsy Helfand at bhelfand@reviewjournal.com. Follow @BetsyHelfand on Twitter.