Layup in final seconds gives Rebels victory over Air Force
Updated February 24, 2023 - 10:27 pm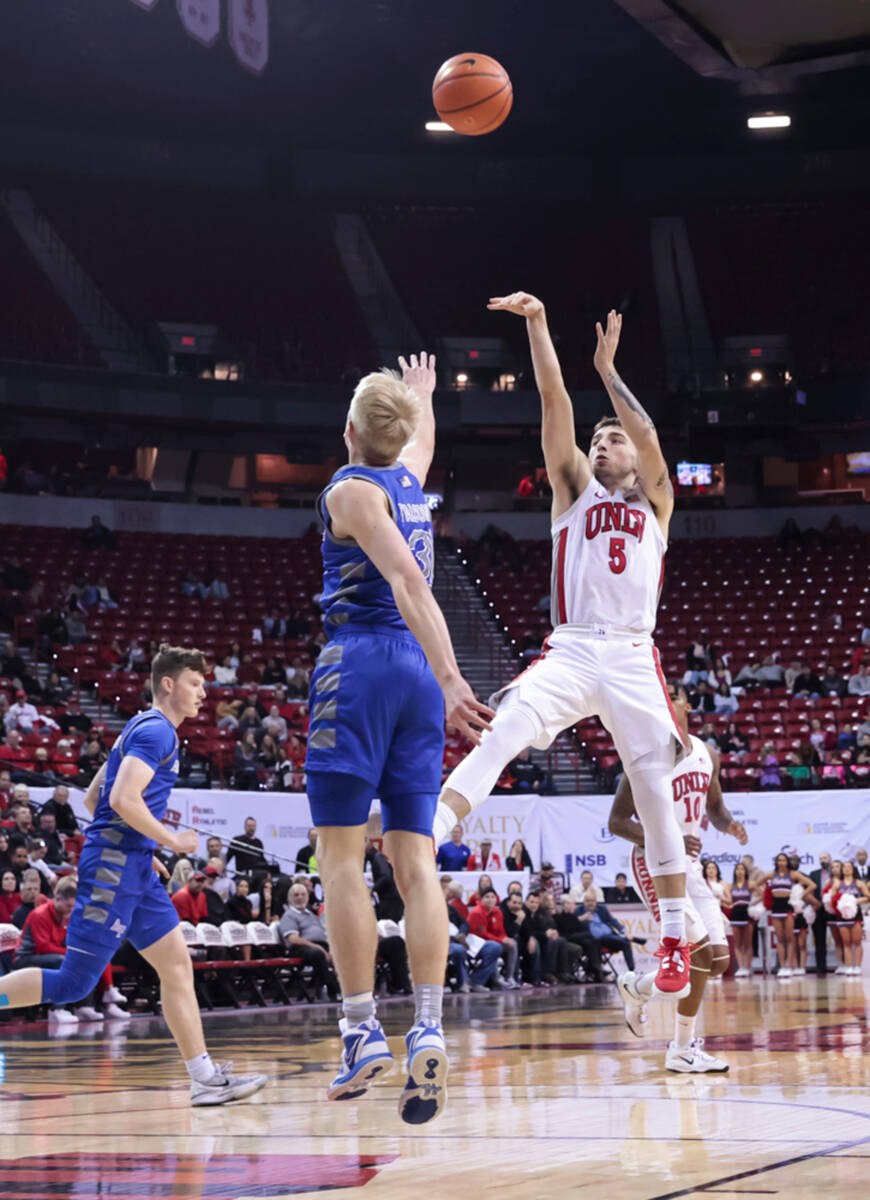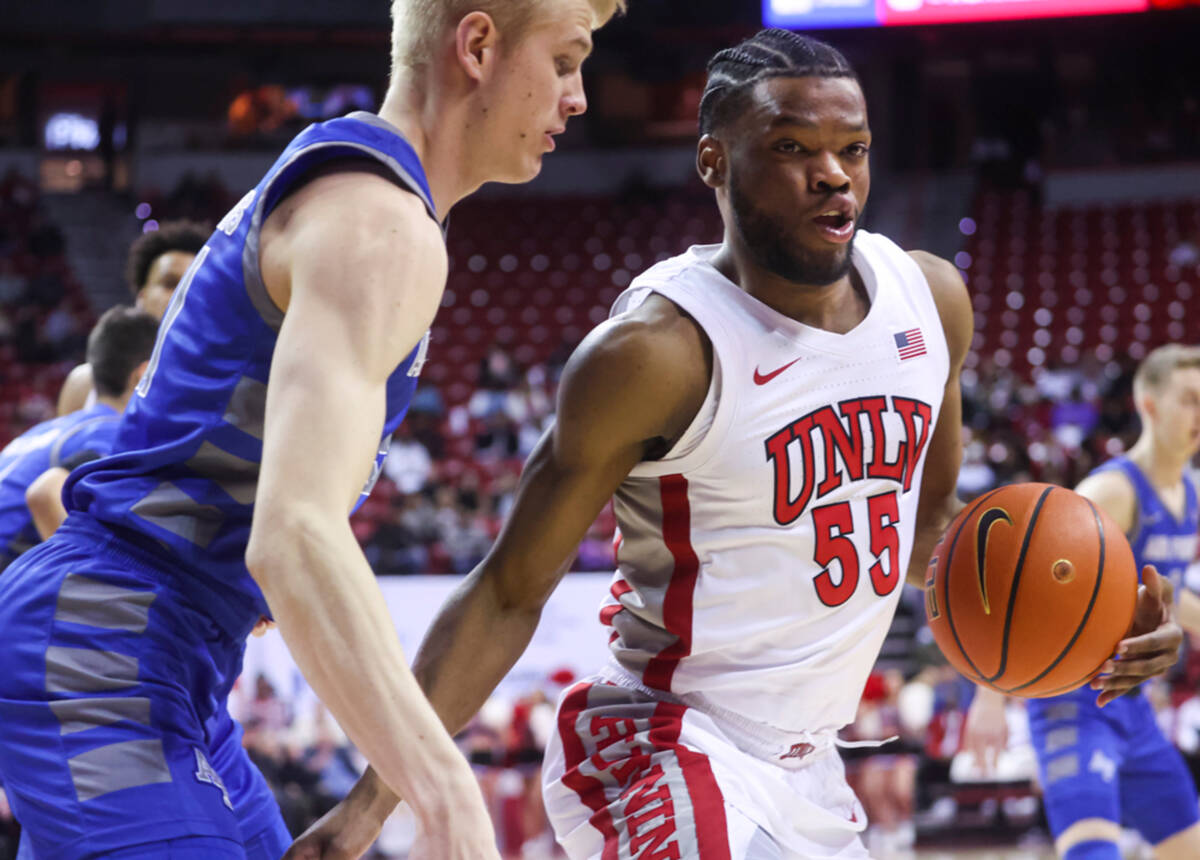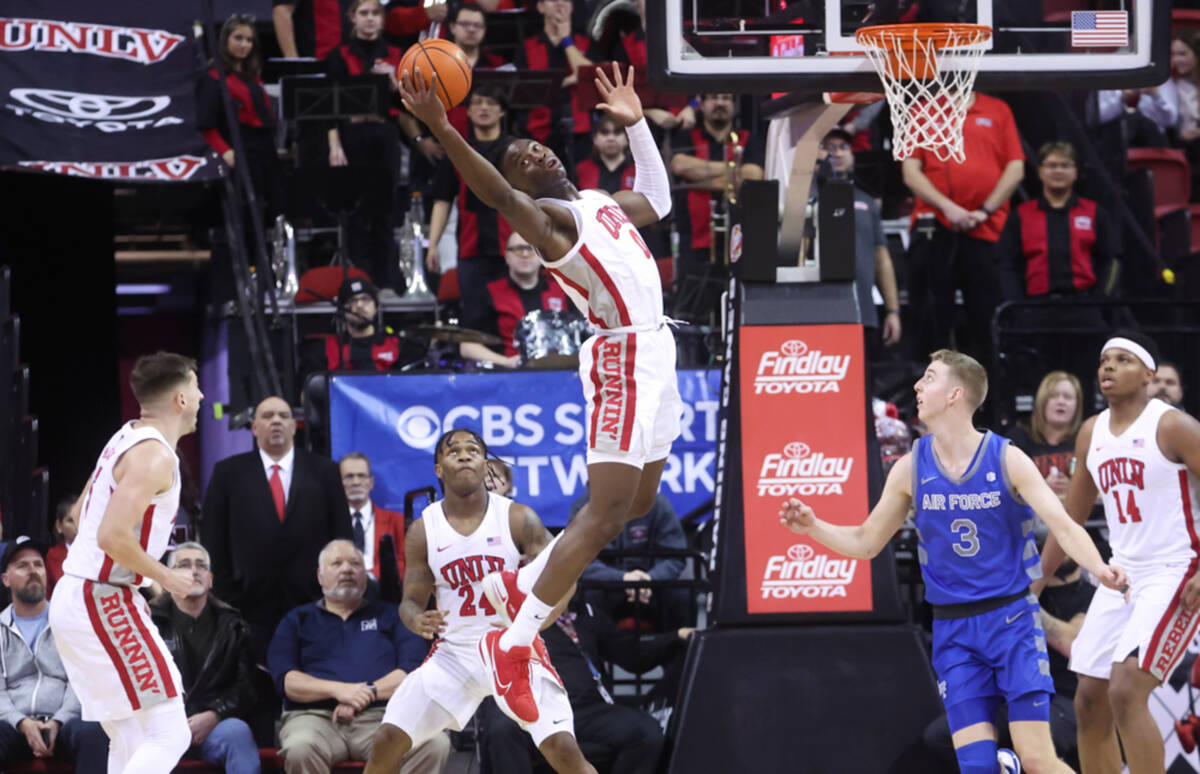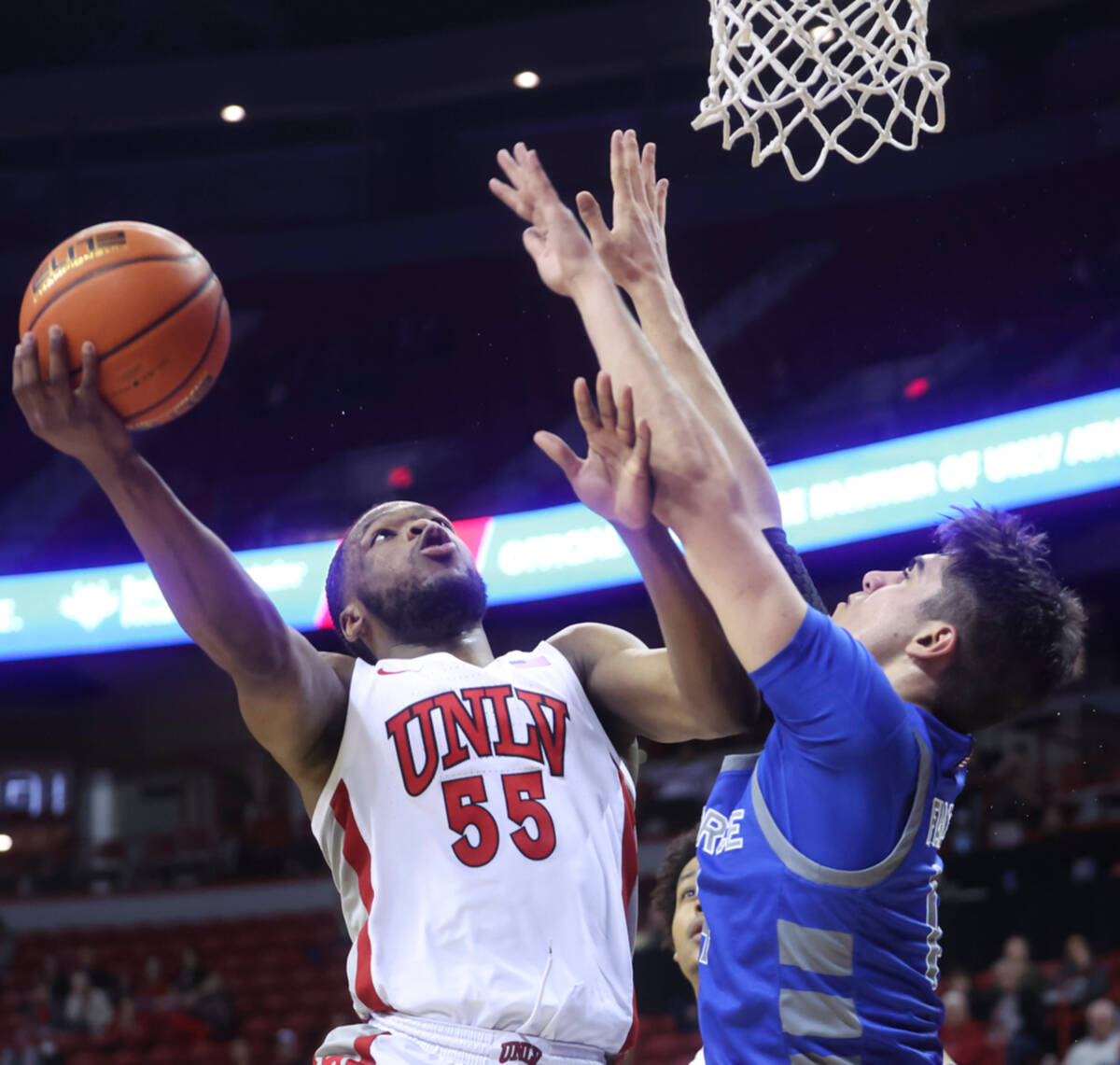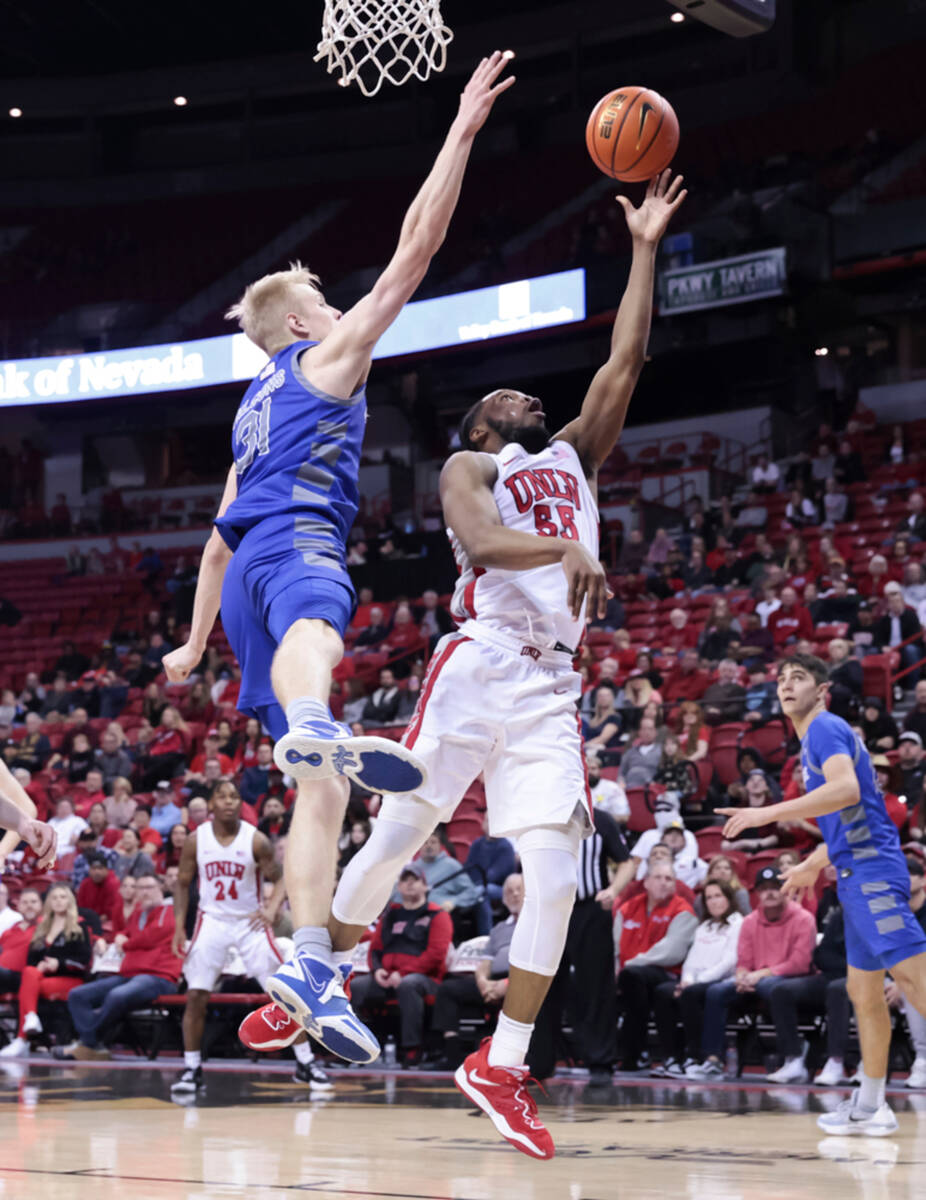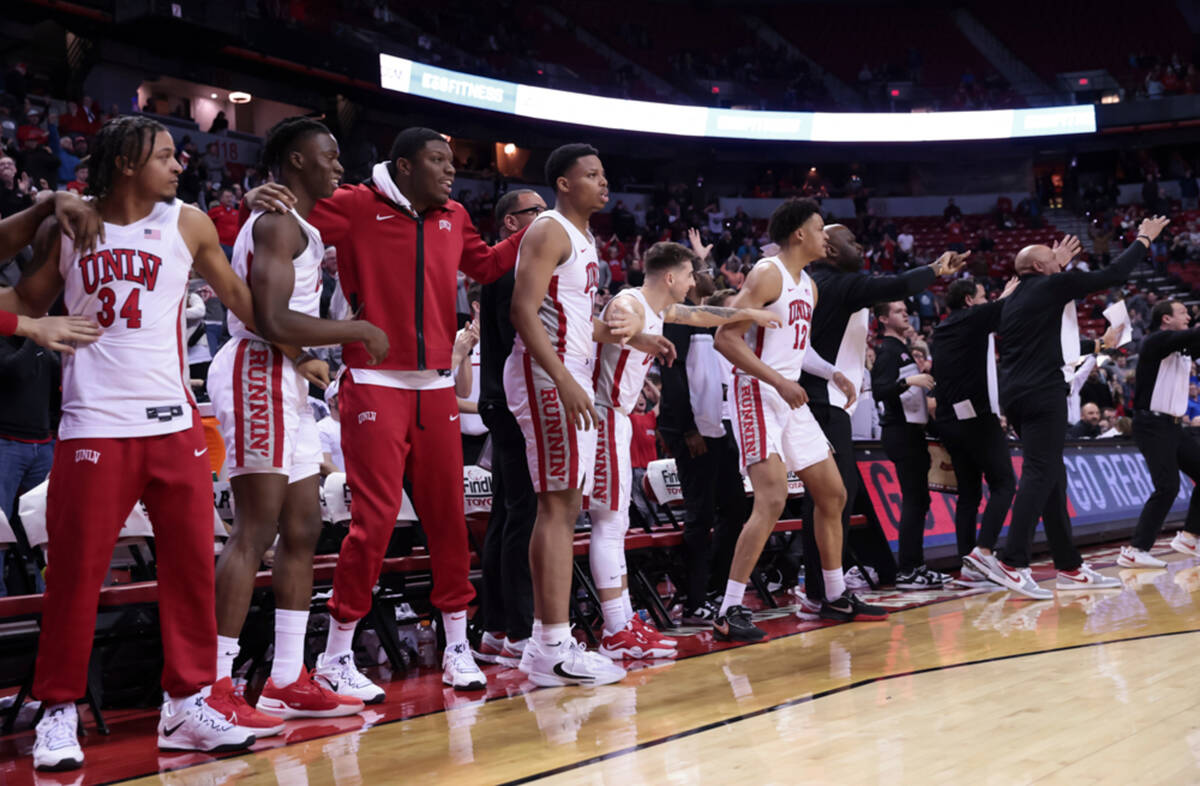 UNLV needed a miracle.
Trailing by one point with eight seconds remaining Friday, the Rebels got one in the form of sparingly used sophomore guard Jackie Johnson III to earn a 54-53 victory over Air Force at the Thomas & Mack Center.
All Air Force had to do to condemn UNLV to a fourth consecutive defeat was inbound the ball. Falcons sophomore Ethan Taylor tried to lob the ball past the Rebels press up the court to a teammate.
Instead, Johnson — doing his best impersonation of a defensive back in coverage — leapt just high enough to snatch the pass out of the air. He attacked Air Force's scrambling defense before kicking the ball out to sophomore Keshon Gilbert in the right corner, who drove baseline for a tough layup between two Falcons defenders.
Gilbert missed. But his drive freed up UNLV fifth-year guard EJ Harkless for an easy tip-in layup with 1.8 seconds remaining.
"Just put the ball in the hole, go and get it," Harkless said. "Whoever wants it more (will get the ball) at that point. We got beat half the season on not blocking out, just happened to fall our way. They didn't block us out, and we got a win out of it."
UNLV (17-11, 6-10 Mountain West) snapped its three-game losing streak with the win over Air Force (14-16, 5-12). Harkless led all scorers with 23 points, while senior center David Muoka added seven points and sophomore wing Shane Nowell scored six. Johnson was plus-14 in 19 minutes, leading all players despite scoring just three points on 1-of-6 shooting.
It was UNLV's lowest-scoring game of the season, but the Rebels also improved to 15-0 when holding opponents to 72 points or less. UNLV has beaten Air Force in seven of the past eight meetings between the teams.
"Couldn't be more proud of them," UNLV coach Kevin Kruger said. "Couldn't be more happy for them to get one to go our direction, which it's kind of felt lately like we've been on the wrong side of those."
UNLV was short-handed for a second consecutive game with senior Luis Rodriguez and fifth-year wing Elijah Parquet still out injured.
The Falcons took advantage of the Rebels' poor ball security early. UNLV committed 12 first half turnovers that Air Force turned into 13 points, despite shooting just 36 percent from the floor before the break. Harkless was responsible for five turnovers, and the Rebels trailed by one point at halftime.
Neither team seized the opportunity to take control of the game out of the break. UNLV and Air Force scored four points each during the first nine minutes of the second half.
The Rebels shot 38.7 percent in the final 20 minutes, and went 0-for-9 from 3. Their only offense came from Harkless, who scored 19 second-half points. He was 7 of 9 on shots inside the 3-point line, including his game-winning putback layup.
"That's one of the hardest games I've played at any level at any school I've been at," Harkless said. "Just to do it with these guys when we've gotten challenged the most this year. It speaks volumes to our character. That was a great solid team that fought every single play, and it was our first game that we pulled out, grinded out."
Contact reporter Andy Yamashita on Twitter at ayamashita@reviewjournal.com. Follow @ANYamashita on Twitter.