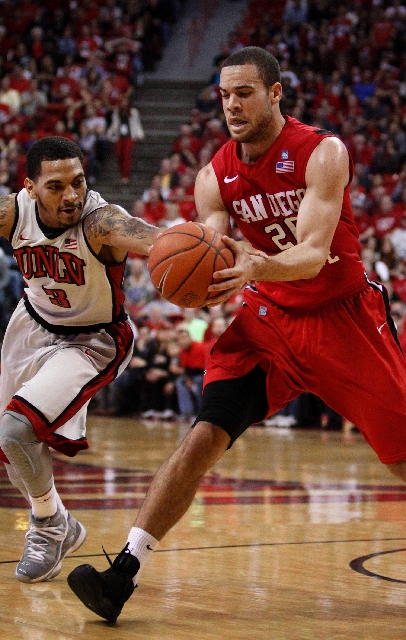 Losing on the road in the Mountain West isn't something exclusive to UNLV.
The Rebels have plenty of company when it comes to failing to close games out away from home.
San Diego State continued to have its problems away from Viejas Arena, as the Aztecs squandered an 11-point first-half lead Saturday and found themselves down 10 in the second half before falling short, 72-70, to the Rebels in front of a sellout crowd of 18,577 at the Thomas & Mack Center.
It was the third straight conference road loss for the Aztecs, capping a tough week after San Diego State fell at Colorado State 66-60 on Wednesday. The Rebels, Aztecs and Air Force are tied for third place in the Mountain West at 6-5.
"We've just got to make plays at the end," said Aztecs forward JJ O'Brien, who had 15 first-half points along with 11 rebounds but was held scoreless in the second half thanks to the defense of UNLV's Khem Birch and Anthony Bennett. "It's coming down to the last possession or two, and we've got to find a way to finish."
It was a rough night for San Diego State from the outset.
Senior guard James Rahon injured his right shoulder three minutes into the game and never returned.
Coach Steve Fisher got run over by UNLV's Justin Hawkins in the first half and had a sore hip after the game. Fisher said the collision was unintentional and that he thought he would be OK.
Letting a big lead evaporate proved more painful to Fisher.
The Aztecs had to expend a lot of energy to fight back after the Rebels used a 14-0 run midway through the second half to take a 62-54 lead.
UNLV extended its lead to 67-57 with 5:35 to go, but Chase Tapley, who had a game-high 22 points, shot his team back in it with eight straight points as the Aztecs pulled within 70-67 with 1:25 to play.
"We came back and fought," Tapley said. "We put ourselves in a position to win."
Tapley's heroics were stymied by two missed free throws with 2:05 to play. Tapley, an 84 percent foul shooter, was perplexed as to why they didn't drop.
"It felt good when I shot them, they just didn't go in," he said. "If they go in, it's a different story."
Yet the Aztecs still had a chance in the final minute. They had the ball with 39 seconds left, and they looked to their best player, Jamaal Franklin, to carry them to the finish line.
Franklin, who had been held in check for the most part and finished with 11 points, took a rushed, contested 3-pointer with 29 seconds to go and the Aztecs down 70-67. He could have chosen to drive to the basket and score and then foul to extend the game.
"It was set up for a 3," he said of the miss from the top of the key. "I thought I had a good look."
He redeemed himself to an extent by forcing a turnover by Bryce Dejean-Jones with 16 seconds to go and giving San Diego State a chance to win down 71-70.
This time, he did try to get to the rim. But with 2.8 seconds remaining, Franklin was whistled for traveling. It may not have mattered, as Birch cleanly blocked his shot before the whistle blew.
"I tried to get to the rack and get the ref to call a foul," Franklin said. "I had made the same move I usually make, but they called it (traveling)."
Fisher said as hot as Tapley was, he wanted the ball in his best player's hands at the end.
"I wish Jamaal had attacked the rim a little quicker, but he didn't," Fisher said. "Sometimes things like that happen in the heat of the moment."
Contact reporter Steve Carp at scarp@reviewjournal.com or 702-387-2913. Follow him on Twitter: @stevecarprj.